1.2 mn. 'Tuks' to undergo 'e-Wheel' revolution in SL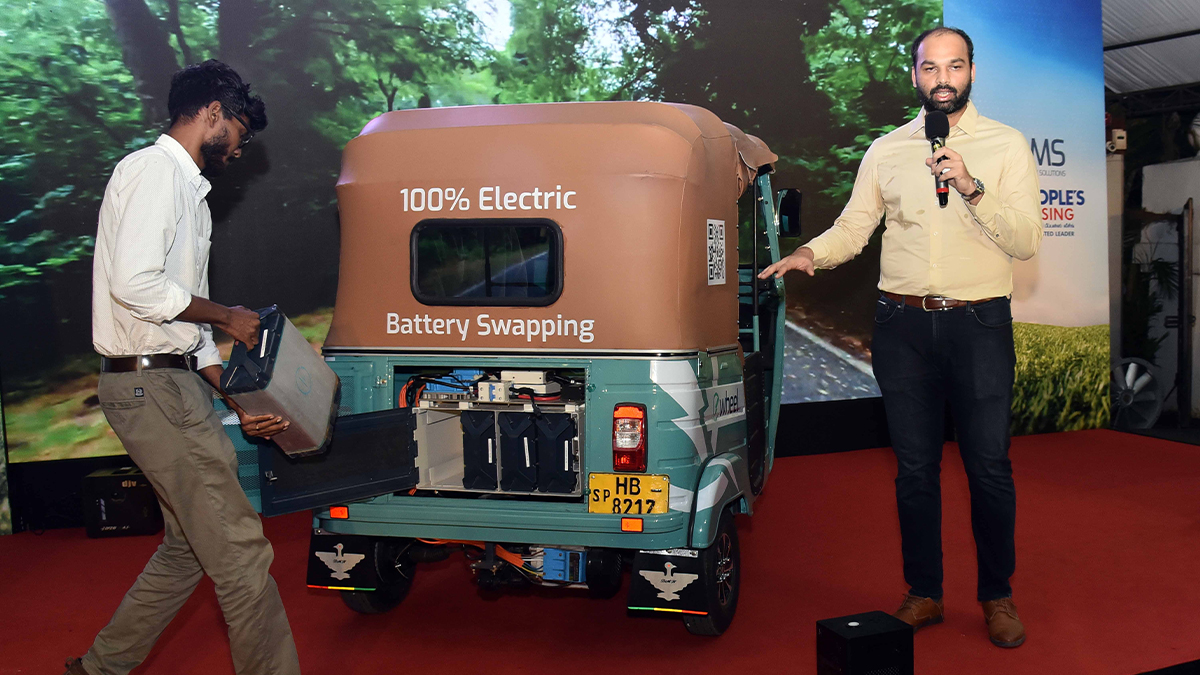 A clean and affordable transportation solution is now available for Sri Lanka's 1.2 million three wheelers with Lanka E-Mobility Solutions (Private) Limited (LeMS), introducing electric three wheel battery swapping technology, branded 'e-wheel'.
The launch of this novel battery swapping technology means the three-wheeler owner no longer has to purchase a costly battery, or worry about end-of-life replacement, while the battery swapping process takes a mere two minutes! The most expensive component in any electric vehicle is the battery and when converting a petrol three-wheeler to an e-wheeler, the owner does not need to pay for the batteries as they are owned and managed by LeMS, as are the Swapping Stations. The e-wheeler owner only pays for the energy used on a 'pay-as-you-go' basis.
This marks a significant milestone in Sri Lanka's journey towards sustainable transportation, with its founders being driven by the urgent need to reduce carbon emissions and combat harmful air pollution. "Sri Lanka's 1.2 million three wheelers currently guzzle a staggering 5.5 million liters of petrol a day and each 'e-wheel' will help reduce that figure. The e-wheel driver, often the breadwinner of the family, with a mere Rs 450,000 investment, can now save nearly Rs 20,000 per month", said Managing Director of LeMS, Chaminda Rajapakse. "The advantages are prodigious, with savings on valuable FOREX spent on fuel imports, lubricants, and routine maintenance spare parts".
LeMS was conceived in 2020 and incubated by Island Climate Initiative (ICI) over the last 2 years. ICI facilitates investment in circular economy, smart agriculture, and clean energy projects, and is dedicated to revolutionizing Sri Lanka's transport industry with cutting-edge electric technology.
"We take existing petrol three wheelers, remove their engine and replace it with a brand-new electric powertrain. The entire conversion process takes just two hours. Once converted, the vehicle can immediately start using our battery swapping services", said LeMS Co-Founder & Director, Shirendra Lawrence. He added that battery swapping stations will initially be conveniently located across Colombo and its immediate suburbs, with expansions to Galle and Kandy already being planned.  "Once converted, no oil changes or services are required. "What's more,  to run a petrol  three  wheeler  costs over Rs 20 a km, whereas the cost of running an 'e wheel' is less than Rs 15 a km . With Sri Lanka having more three-wheelers per capita than even India, the birthplace of three wheelers, LeMS is committed to electrifying the country's tuk fleet".
"We, at Peoples Leasing & Finance PLC, are thrilled to be the exclusive finance and leasing partner in this groundbreaking e-Wheel Revolution. This initiative is not just a technological advancement; it aligns seamlessly with our commitment to Environmental, Social, and Governance (ESG) principles and represents a pivotal milestone in our sustainability roadmap" said Shamindra Marcelline Chief Executive Officer of Peoples Leasing & Finance PLC. He went on to say that "by supporting Lanka E-Mobility Solutions (LeMS) in introducing this innovative electric three-wheel battery swapping technology, branded as the 'e-wheel,' we are contributing to a cleaner and more sustainable transportation solution for Sri Lanka. This project is a crucial component of our broader sustainability initiatives, aiming to reduce carbon emissions and combat air pollution"
LeMS uses technology developed and tested for over six years by RACE Energy, a Hyderabad based deep-tech company dedicated to advancing electric mobility. "We simply have the most advanced, lightest, safest and most energy dense swappable battery in the market' said Arun Sreyas, co-founder RACE Energy.
LeMS' innovative solution, being revolutionary and affordable, will mean more vehicle owners will be able to go green sooner, rather than later.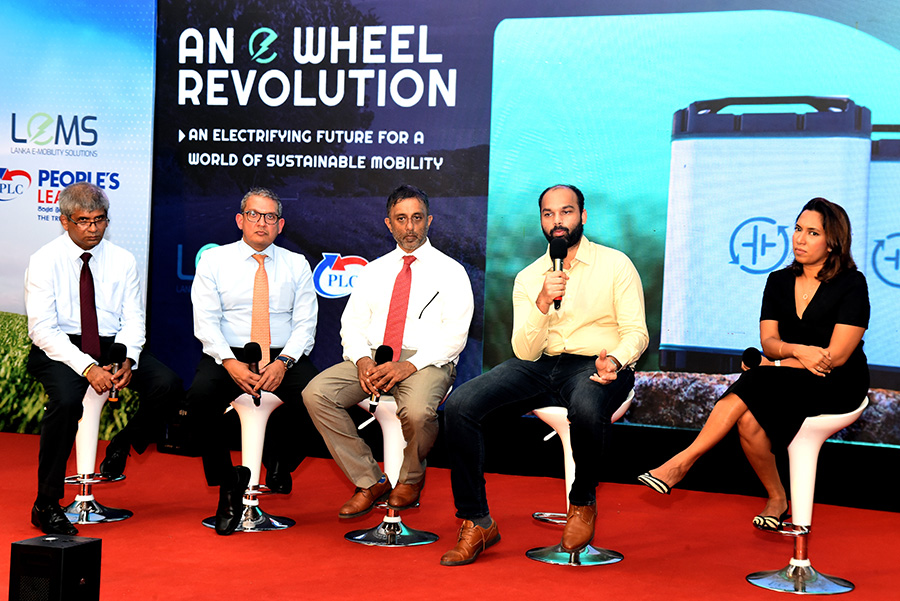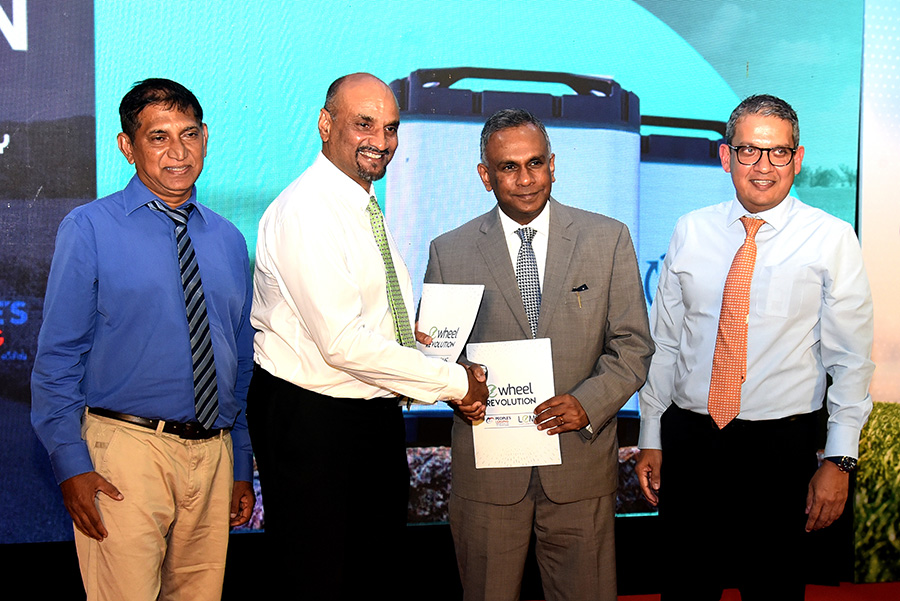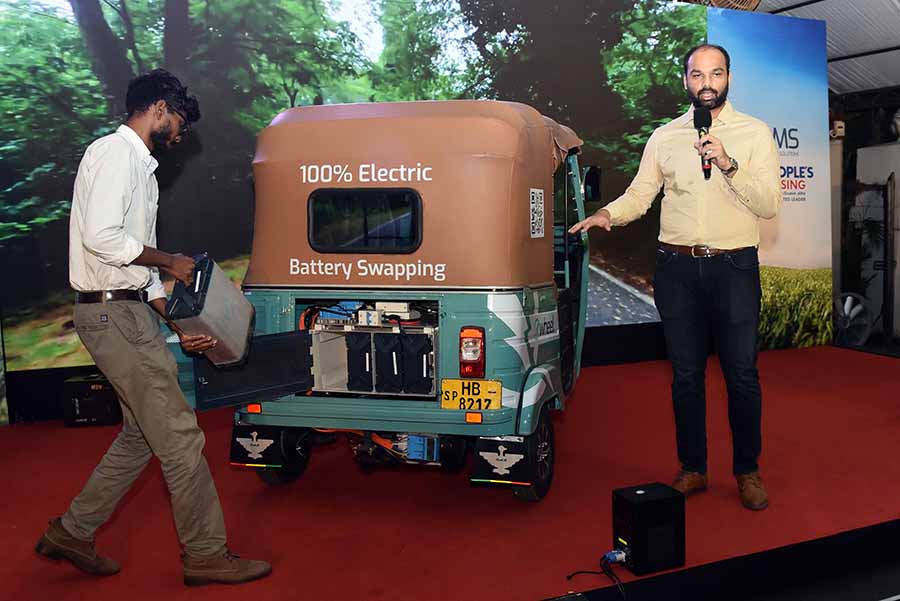 SL records record tourist arrivals in November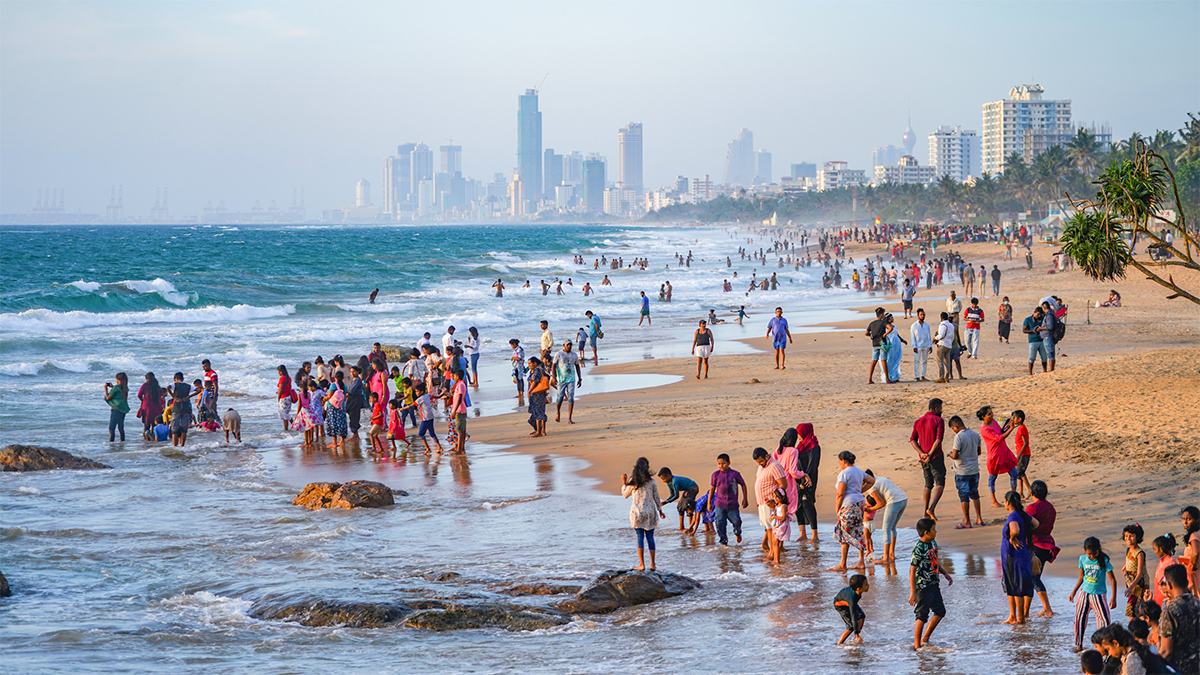 Sri Lanka Tourism has recorded its highest arrivals figure mark for a month in November after a lapse of nearly 4 years.
The November 2023 arrivals hit 151,496, passing the previous best of 143,039 recorded in July 2023.
The November arrivals figure also is a 153.5% increase against 2022 November which was 59,759.
With this the total number of arrivals from January to November end was at 1,276,951 in comparison 719,978 arrivals recorded in the entire last year.
Once again for the seventh month in succession India was the best course destination for Sri Lanka fielding 30,339 tourists and accounting to 20% of total arrivals for November.
The Russian Federation was in second place with 24,912 (16%) arrivals while Germany (12,331) and the United Kingdom (11,526) were the third and fourth source markets for Sri Lanka. Australia (7,900) and China (6,673) remained fifth and sixth.
SriLankan doubles Colombo – Mumbai daily flights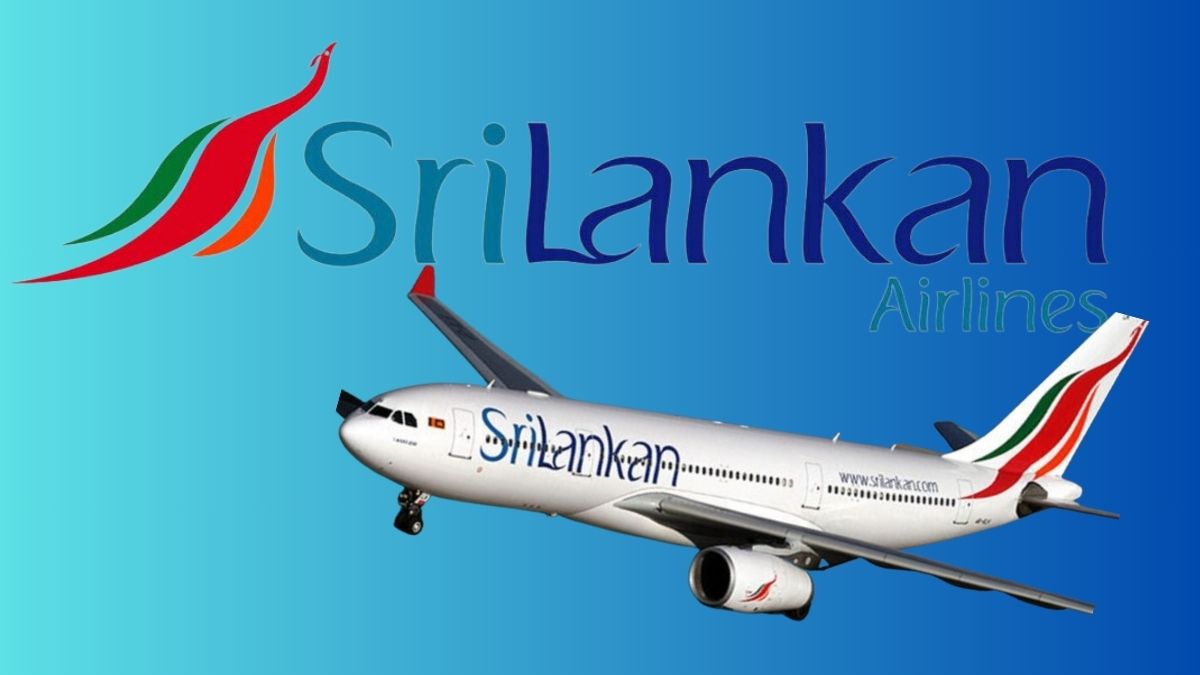 SriLankan Airlines has introduced double daily flights between Colombo and Mumbai, multiplying the convenience for passengers travelling to and from India's financial and entertainment capital, the Sri Lanka's national carrier announced.
In a statement, SriLankan Airlines said the new double daily service to Mumbai will not only give a 50 per cent boost to SriLankan's capacity on its Mumbai route, but will also strengthen the airline's already vast network in India.
Flights UL 142 and UL 144 will depart daily from Mumbai to Colombo at 3:10hrs and 20:45hrs and flights UL 141 and UL 143 from Colombo to Mumbai will depart at 23:45hrs and 17:10hrs, respectively, according to SriLankan Airlines.
Thus, passengers travelling out of Mumbai on SriLankan Airlines will now have the advantage of more flight options to Colombo and convenient connections via Colombo to popular destinations in the Far East, Europe and Australia including Singapore, Kuala Lumpur, Bangkok, London, Frankfurt, Paris, Melbourne and Sydney.
Meanwhile, the Head of Worldwide Sales and Distribution of SriLankan Airlines Dimuthu Tennakoon stated: "The Indian market has been incredibly important to SriLankan Airlines since the get-go, and with India fast becoming one of the world's largest outbound travel markets, we are only happy to expand our operations in one of India's most celebrated cities and make travel between Mumbai and Colombo extra seamless. Our frequency increase comes on the heels of Sri Lanka announcing free visa for Indian visitors and we hope that these positive developments will encourage more travellers from Mumbai to stop by Sri Lanka."
India is the only country with nine cities featured in SriLankan Airlines' network. This includes Delhi, Bangalore, Hyderabad, Kochi, Trivandrum, Chennai, Trichy and Madurai in addition to Mumbai, to which altogether SriLankan operates close to 100 flights every week.
Given the geographic and cultural proximity of the two countries, most Indians are likely to find a welcoming familiarity in Sri Lanka not found elsewhere, and SriLankan Airlines is the best bet for Indians who want to experience the best of both worlds onboard, it added.
For more information in this regard and bookings you can visit the official website of SriLankan Airlines through www.srilankan.com
Removal of VAT exemptions, doesn't affect UBER & PickME fares – CoPF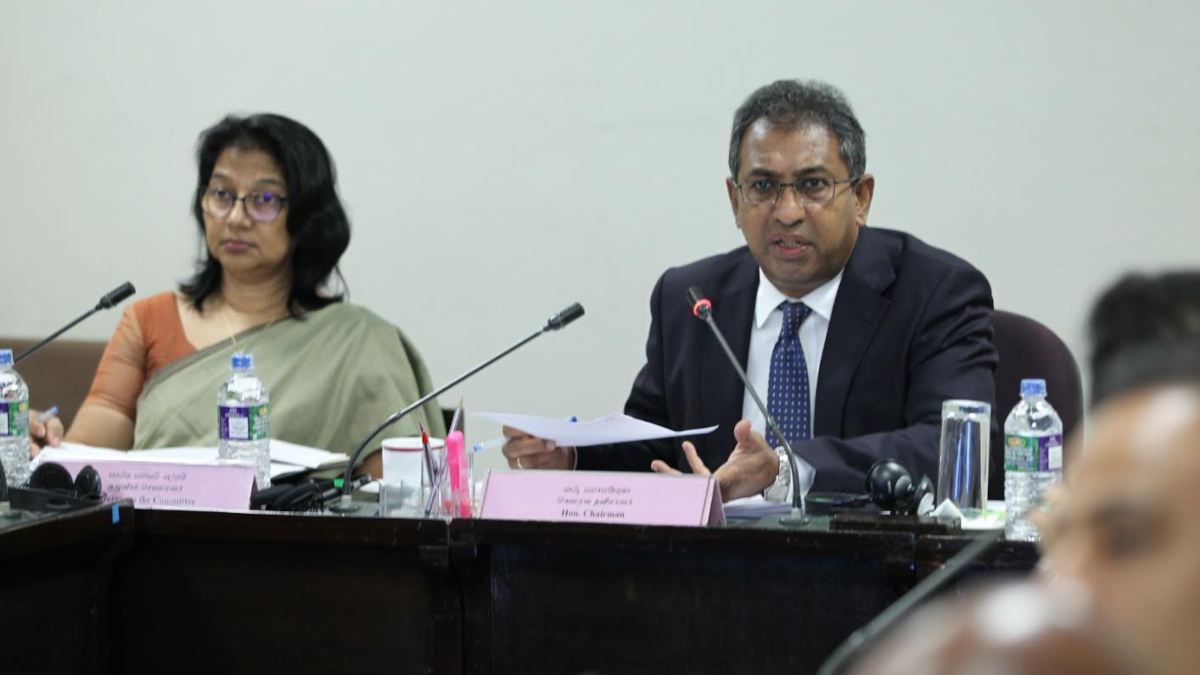 The Committee on Public Finance (CoPF) has taken into consideration the Value Added Tax (Amendment) Bill which aims to remove VAT exemptions on certain items and includes provisions to discontinue the Simplified VAT (SVAT) system.
An official representing the Ministry of Finance stated that agricultural machinery and other equipment including chemical fertilizer which was listed as exempted previously will be VAT liable under the said Bill. Adding to the said, officials stated that agricultural seeds, agricultural plants, shrimp feed inclusive of prawn feed and animal feed excluding poultry feed will however be exempted from VAT.
Thus, the Committee questioned the rationale behind including VAT for agricultural items which will impact the domestic agricultural and food industry. The aforesaid was taken up for discussion at the Committee on Public Finance held recently (28) in Parliament, Chaired by Dr. Harsha de Silva when the Committee met to consider the Value Added Tax (Amendment) Bill, The Finance Bill to amend the Finance Act, No. 35 of 2018 and the Finance Act, No. 12 of 2012 and the Imports and Exports Control Act pertaining to the Gazette No. 2353/16.
Re-evaluate
Furthermore, dairy products such as liquid milk and eggs will also be liable for the VAT. However, the Ministry of Finance stated that wheat, wheat flour or powdered milk, pharmaceutical products, drugs will be exempted. The Committee questioning the officials inquired why food products made out of grains cultivated in Sri Lanka, identified as high protein and high energy agro foods falling in the category of "Posha" is subjected to VAT in a context where Child malnourishment is considered to be on the rise.
The Committee questioned the officials as to why ambulances and medical equipment are being subjected to VAT. After thoroughly examining the Value Added Tax (Amendment) Bill, the Committee has granted approval, contingent upon the Ministry of Finance incorporating the amendments proposed by the Committee on Public Finance, provided they are in accord. Nevertheless, the Committee has urged the officials present to reevaluate VAT exemptions for medical equipment, ambulances, fertilizer, and food products derived from grains classified as high-protein agro foods and agricultural items.
No impact for UBER and PickME
The Committee of Public Finance further revealed that the elimination of VAT exemptions will not impact the fares of UBER and PickME. Dr. Harsha de Silva, the Committee Chair, emphasized that as UBER and PickME have included VAT since their inception, contrary to other beliefs, thus the proposed VAT changes will only result in a 3% rise without significantly affecting the ultimate fare that customers are required to pay.
The Committee on Public Finance also took into consideration the Finance Bill to amend the Finance Act, No. 35 of 2018 and the Finance Act, No. 12 of 2012 which propose provisions to release motor vehicles imported into Sri Lanka which were not cleared from customs due to import restrictions or non-payment of taxes. However, given the matters arising from importing and opening LCs post the suspension of motor vehicle imports by Gazette Extraordinary No. 2176/19 dated May 22, 2020, under the Import and Export Control Act, the Committee Chair instructed the Ministry of Finance to submit a report on the provisions to release 119 imported vehicles yet to be cleared from customs. The Committee thus decided to reconsider the said from thereon.
Moreover, following the consideration of the Imports and Exports Control Act pertaining to the Gazette No. 2353/16, the Committee approved the said.