UK counts down to King Charles' historic Coronation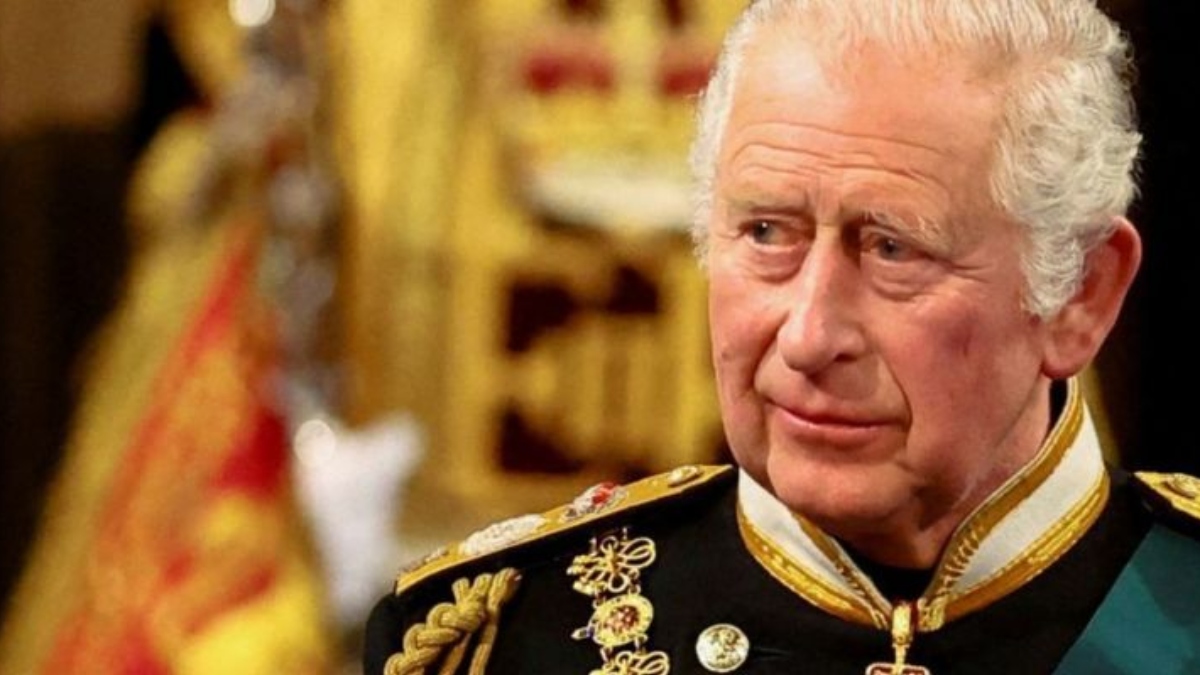 The first coronation in 70 years is to take place on Saturday morning, with King Charles III and the Queen Consort preparing for their historic carriage ride to Westminster Abbey.
Despite forecasts of rain, crowds have already begun to gather on the procession route.
There will be a huge security operation in central London, with 100 heads of state set to attend.
Protests have been promised by those opposed to the monarchy.
The Coronation service, which will last almost two hours, will be seen first-hand by 2,300 guests, including Prince Harry, the Duke of Sussex, who arrived from the United States on Friday on a commercial flight.
It will be the first time since the release of Prince Harry's memoir that he will have been seen in public with his brother, Prince William, the Prince of Wales.
It is thought Prince Harry may fly back to the US a matter of hours after the ceremony to rejoin his wife Meghan.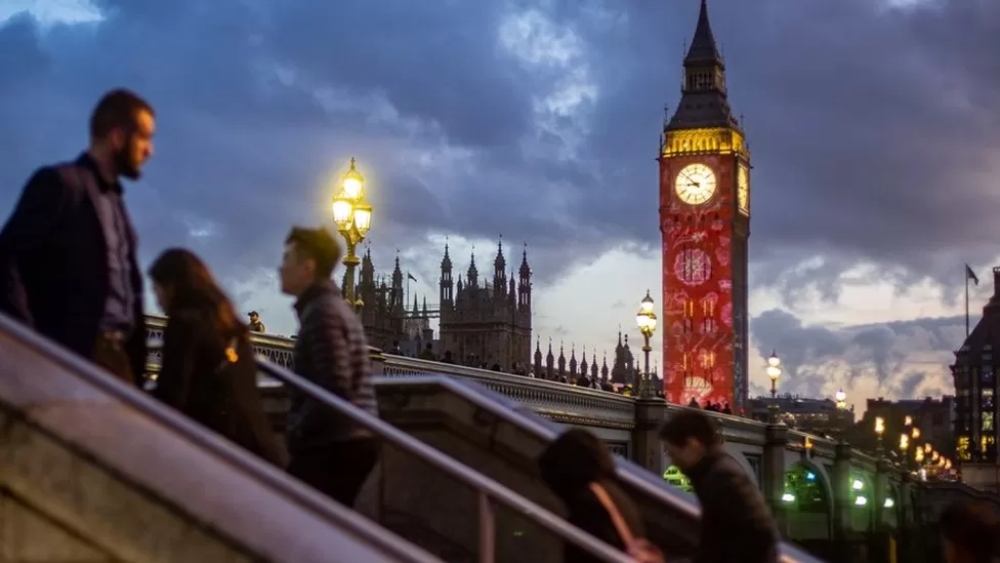 Charles became king of the United Kingdom and 14 other realms in September, when his mother Elizabeth died after 70 years on the throne. Months of intense planning have gone into the coronation celebrations – the 40th to take place at Westminster Abbey since 1066.
On the eve of the Coronation, the King looked relaxed as he went on a walkabout on the Mall, flanked by the Prince and Princess of Wales and a heavy security detail.
Barbara Crowther, 69, and her friend Pauline, joined the crowds holding a "Coronation Street" banner.
"We weren't going to camp, but there are so many people here, we thought that if we don't camp out, we won't get anywhere near the front," said Ms Crowther.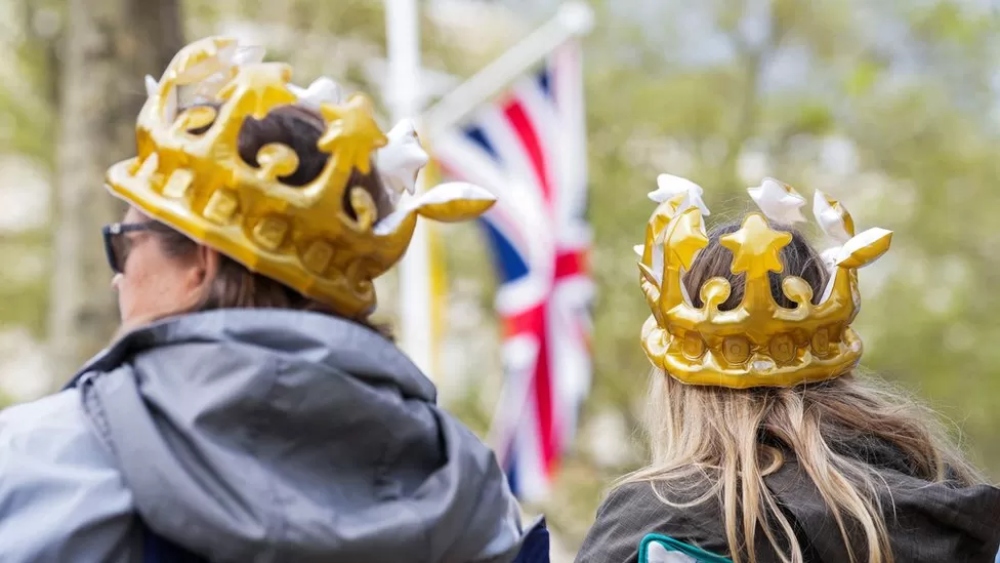 Katie Gordon, from Wiltshire, was painting faces with her two daughters on Friday. She thinks the new King and Queen are "going to be great".
"We're camping out tonight ready for the Coronation, and they're painting everyone's faces as they walk by," Ms Gordon said.
"We're doing it for free, it's just something we're doing. We bought the facepaints for ourselves and thought, why not do it for other people too?
As the sun set on Friday, hundreds of tents had appeared along the Coronation route, with those gathered hoping to witness the historic event.
The Archbishop of Canterbury, Justin Welby, will preside over the service, with guests ranging from US First Lady Jill Biden to President Macron of France and entertainers Ant and Dec.
Olena Zelenska, wife of the Ukrainian president Volodymyr Zelensky, met Catherine, Princess of Wales at a pre-Coronation reception at Buckingham Palace on Friday.
Charles was photographed sharing warm words with the First Lady of Ukraine, and greeting Mary, Crown Princess of Denmark, with a handshake and a kiss on the cheek.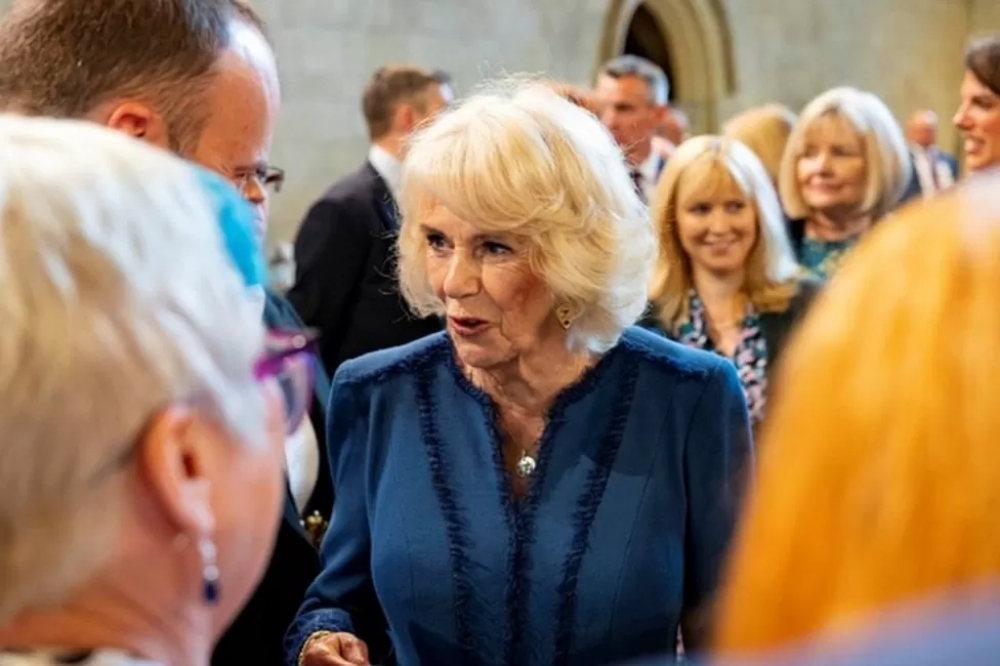 There has been controversy over whether people at home were being asked to pledge their allegiance to the King.
The Church of England has made clear this is entirely optional and people might instead have a "private moment of reflection".
The keynote message of the Coronation from King Charles is in his first prayer when he reaches the Abbey reads: "I come not to be served, but to serve."
The high point of the ceremony will come when the St Edward's Crown is placed on the King's head, a moment that will be marked by the Abbey bells being rung and a gun salute in nearby Horse Guards Parade.
Camilla will be crowned alongside Charles – and after the couple's long and often complicated relationship, she will now be officially described as "Queen Camilla".
The ceremony will emphasise diversity and inclusion, with more multi-faith elements than any previous coronation, with contributions from Jewish, Muslim, Buddhist and Sikh representatives.
A Bible lesson will be read by Prime Minister Rishi Sunak, who is Hindu, and music will be sung in Welsh and Scottish and Irish Gaelic.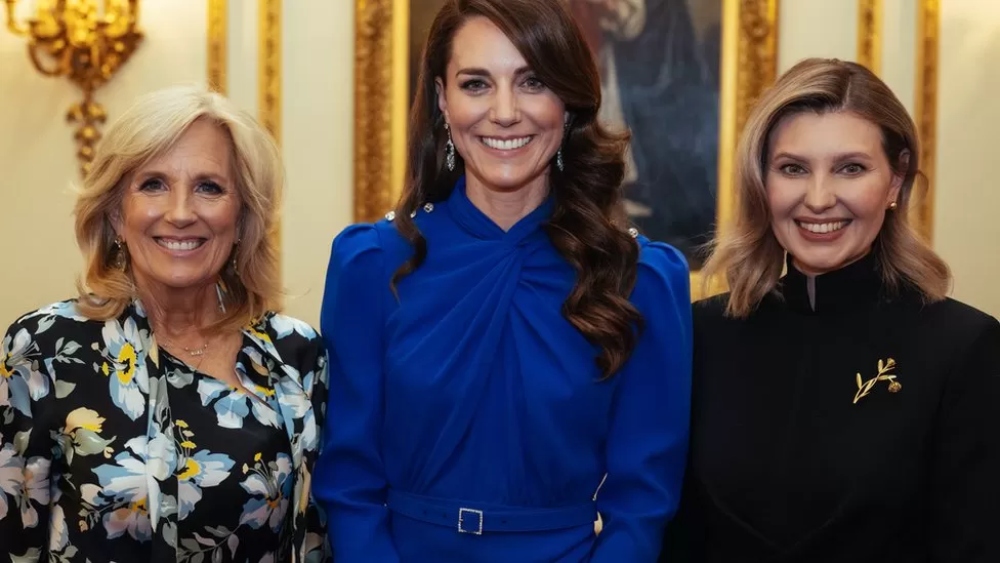 There will be women bishops taking part in the service for the first time in a coronation service that goes back almost a thousand years.
After the service, at around 13:00 BST, King Charles and Queen Camilla will travel in the Gold State Coach back to Buckingham Palace, in a spectacular mile-long (1.6km) procession, with 4,000 soldiers and 19 military bands.
Meticulous rehearsals for the procession were carried out by marching around a replica route with landmarks such as the Cenotaph marked out with traffic cones.
When they reach the Palace, it remains uncertain who will be seen with the King and Queen for the traditional balcony appearance.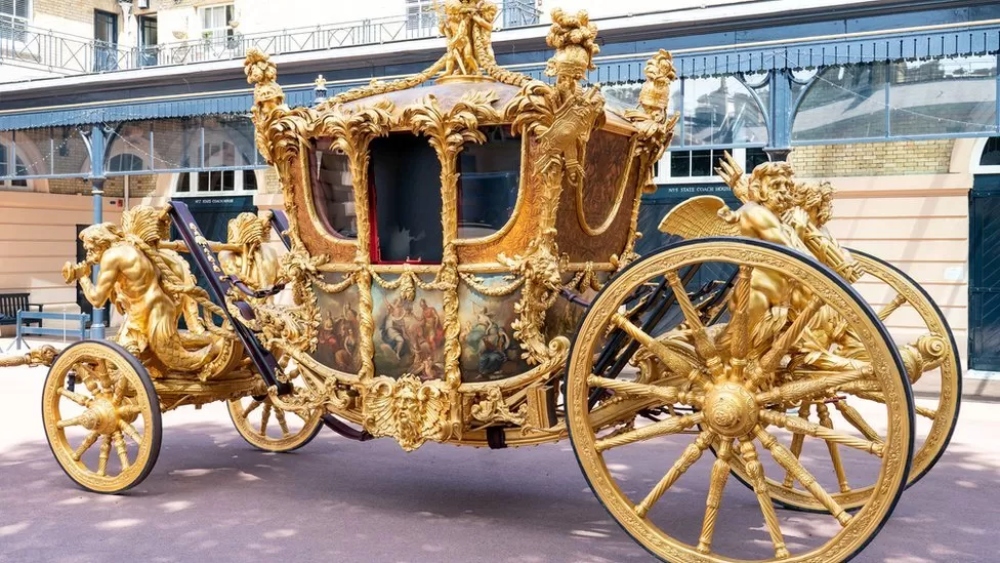 There are plans for a flypast when the senior royals are on the Palace balcony, but there will be concerns about the weather, with a forecast for cloud and showers.
The run-up to the Coronation has also seen a number of vocal protests from anti-monarchy groups – and the Republic campaign group has announced its intention to hold a protest on the route of the procession.
There will be a massive security operation, with the Metropolitan Police putting 11,500 officers on duty in what it says will be its biggest ever single-day deployment.
Anti-monarchy groups have defended their right to protest, but the police have warned that "tolerance for any disruption, whether through protest or otherwise, will be low".
The guest list has also been disputed, with criticism of the presence of Chinese vice-president Han Zheng, accused of presiding over a crackdown on civil liberties in Hong Kong.
But this will be a ceremony played out before a huge global audience, with TV crews from all over the world arriving in London.
They will see pageantry, religious symbolism and ancient traditions, with King Charles III crowned in a 700-year-old Coronation chair, in a ceremony that most people will never have seen before in their lives.
BBC NEWS
This electricity tariff hike is not legal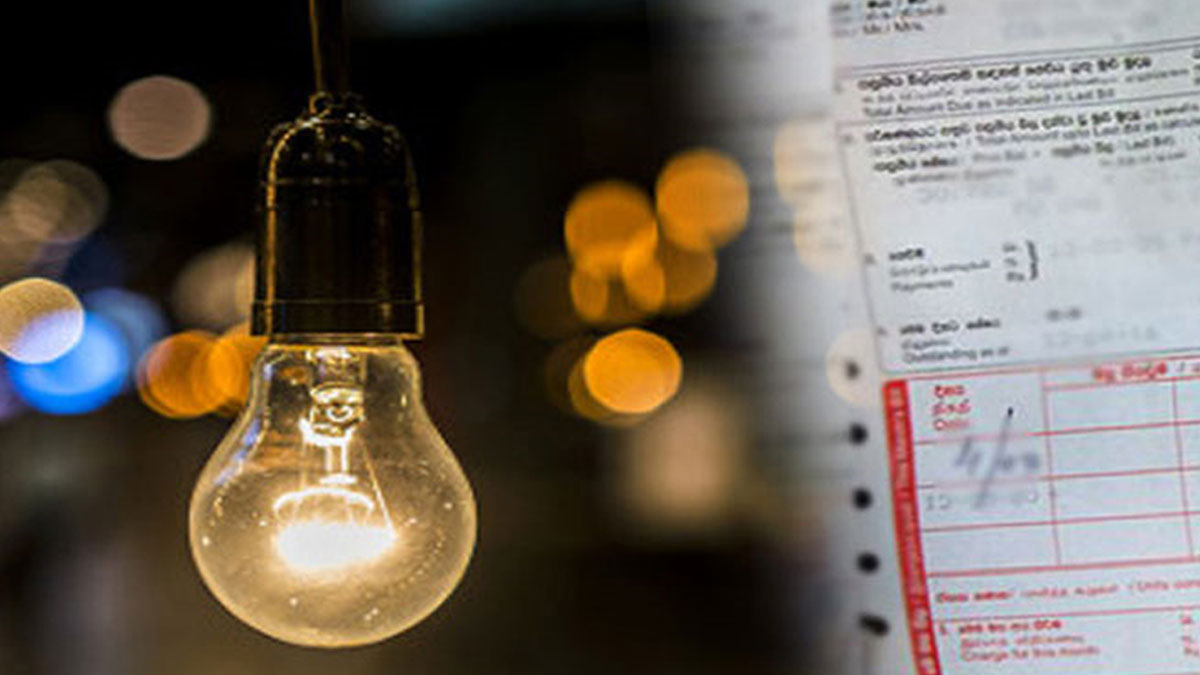 The Public Utilities Commission of Sri Lanka (PUCSL) has for the third time in 14 months approved an electricity tariff hike by 18%, effective from 20 October. Whatever calculations and reasons the CEB and the PUCSL provide in justifying this third tariff hike, are only in relation to cost which means CEB expenses, never given in detail. For the consumer, my rough calculations show a cumulative increase in tariff of around 300% since August 2022, with one increase topping the other. The first in 2022 August being 75%, the next in 2023 February being 65% on the tariff increased by 75% and now 18% over the previous increase. PUCSL would justify this 18% increase by saying they did not allow the 22% increase the CEB wanted.
My question is, "how legal are these increases that only consider unexplained CEB costs and not the consumer?" Does the Act that established the PUCSL with a mandate to decide tariff revisions requested by State owned public utility agencies, allow the PUCSL to decide on tariff revisions with the consumer wholly ignored? The PUCSL Act No. 35 of 2002 (https://www.pucsl.gov.lk/wp-content/uploads/2017/12/E-35-2002_E.pdf) in detailing "Objectives, Powers and Functions" of the Commission in Part IV lays down in Section 14(2) the Commission shall act in a manner as best calculated to (a) protect the interests of all consumers (c) promote efficiency in both the operations of and capital investment in public utilities (d) promote efficient allocation of resources and also (e) promote safety and service quality.
Let's look into the provision of "protecting consumer interests". Has the PUCSL protected, leave alone "promote the interest of all consumers" in deciding tariff increases during the past 14 months? What in fact are the fundamental interests of the consumer? First and foremost, it is affordability in the context of "living cost". Next is the impact increases would have on his/her and family living costs. Also most importantly, its impact on his/her livelihood; self-employment or otherwise.
None of those aspects that affect the consumer has ever been considered. Massive tariff increases have been allowed without any attention paid at least to the UNESCO Report on Sri Lanka – 2022 that highlights "More than 5.7 million people, including 2.3 million children, require humanitarian assistance. Sri Lanka is among the top ten countries with the highest number of malnourished children and the numbers are expected to rise further." Numbers are increasing with reported factory closures, throwing out thousands of employees from work.
According to the Census and Statistics Dept. "Labour Force Survey Quarterly Report – 2023 Q1" during the first quarter of this year 252,480 had lost employment compared to employment in the 2022 First Quarter. Top apparel manufacturers complain of excessive cost of production due to electricity tariff increases that make securing new orders difficult with other countries like Bangladesh and Vietnam offering cheaper rates.
The PUCSL cannot be ignorant of these socio economic issues the people are burdened with, to stick to CEB quoted expenditure estimates only. Since August 2022 three successive tariff increases approved on CEB requests to cover their costs, prove the PUCSL is violating its legally mandated social responsibility of "protecting the interests of all consumers". If they did have any concerns for millions of people struggling to make ends meet in the worst economic crisis this country is crawling through and if they abided by their mandate to protect the interests of all consumers, they should have first and seriously looked into possibilities of "reducing CEB costs" instead of further increasing tariff for the third time.
Squaring off cost and income is not about merely increasing tariff, but is also about improving efficiency of service delivery and reducing cost. In all three occasions within the past 14 months when electricity tariff was increased, there was no attention and interest paid to improving efficiency and reducing CEB costs that includes incalculable waste, mega corruption, and callous inefficiency on the part of the CEB management the PUCSL has to take total responsibility for.
How can the PUCSL ever speak of "promoting efficiency" with trillions of rupees of uncollected consumer bills of politicians and businessmen left completely ignored? How can the PUCSL account for maintaining thousands as excess staff even the Minister of Power and Energy accepts there is, allow massive monthly overtime payments despite maintaining excess staff and also ignore outsourcing CEB services to private companies for undeclared fees and still approve tariff increases? That again violates their mandate to (c) promote efficiency in both the operations of and capital investment in public utilities and (d) promote efficient allocation of resources under Section 14(2) of the Act.
All these conscious violations of their mandate as provided for in the Act are being covered with requests for "Stakeholder consultation on the proposed 03rd electricity tariff revision 2023″. Oral submissions accordingly were fixed for 18 October 2023. The advertisement said from 4 to 18 October, written submissions would be accepted too. No one knows how many have submitted written proposals and suggestions and what they are.
I am still not told what they did with my proposals sent in on 4 October, except for the acknowledgement received. What I am expected to understand from their non-commitment on my requests is, the PUCSL in no way is willing to provide details of the CEB expenditure that would expose mega corruption, waste, inefficiency and undue privileges enjoyed by the top management and their wheeler dealers that are billed to the consumer as costs to be covered by tariff increases.
Thus, the decision to increase tariff by 18% was taken by PUCSL the day after oral presentations were accepted on 18 October. That again was a farce of a "stakeholder consultation" with those who were registered for oral presentation provided 10 minutes with no comments, queries and discussions allowed nor the PUCSL high command showing any interest in them. This was organised to show they were adhering to Section 17(b) that says the PUCSL shall "consult, to the extent the Commission considers appropriate, any person or group who or which may be affected, or likely to be affected, by the decisions of the Commission."
In Sri Lanka no public consultation is practically possible without necessary documents provided in Sinhala and Tamil languages. With PUCSL, "relevant documents" for stakeholder consultations were made available "only" in English language, posted in their official website violating the Constitution that decides Sinhala and Tamil languages as the two official languages any State agency should communicate with. Thus, in no way was this a "public consultation". It was only collecting proposals and suggestions, to leave on record the public was consulted.
Once again, the PUCSL Act was violated in many ways. The Act says, proceedings of public hearing shall be open to the public. This single day "hearing" was not. The Act says, "The minutes, including a record of the evidence given and a statement of all facts taken into consideration" in making a decision should be made public. But the decision to increase tariff was announced the following day, with no "minutes, including a record of the evidence given (submissions in this case) and a statement of all facts" ever made public.
It is anyone's guess the decision to increase tariff from 20 October was pre-decided as directed by the Cabinet of Ministers. The letter PUCSL addressed to the Director General, CEB on 28 September, quotes the office of Cabinet of ministers as having "conveyed the decision of the Cabinet to the PUCSL, among other things, to; (i) urgently consider the submission by CEB based on the cost reflective tariff methodology and (ii) advance tariff revision scheduled for January 2024 to October 2023 to recover all costs." This in fact was what the PUCSL did.
Summing up all the above, the PUCSL has violated the Constitution by refraining to provide necessary official documents in the two official languages Sinhala and Tamil, violated its own Act by ignoring the mandate to "promote interests of all consumers", violated the provisions to make all minutes, statements and all other relevant information public and has also made a mockery of the announced stakeholder consultation, by refusing to engage even with the extremely limited stakeholder participants and open consultations for social dialogue and public engagement.
It is therefore my concerned assumption that this decision by the PUCSL to approve the tariff increase of 18% from 20 July as with all previous increases are illegal and the CEB therefore has no legal binding to implement any increase henceforth. By default, I say the consumers also have a moral and a legitimate right to demand PUCSL withdraw their decision on this tariff hike.
– Kusal Perera
(ft.lk)
The consequences brought about by the political and economic crisis occurring in Sri Lanka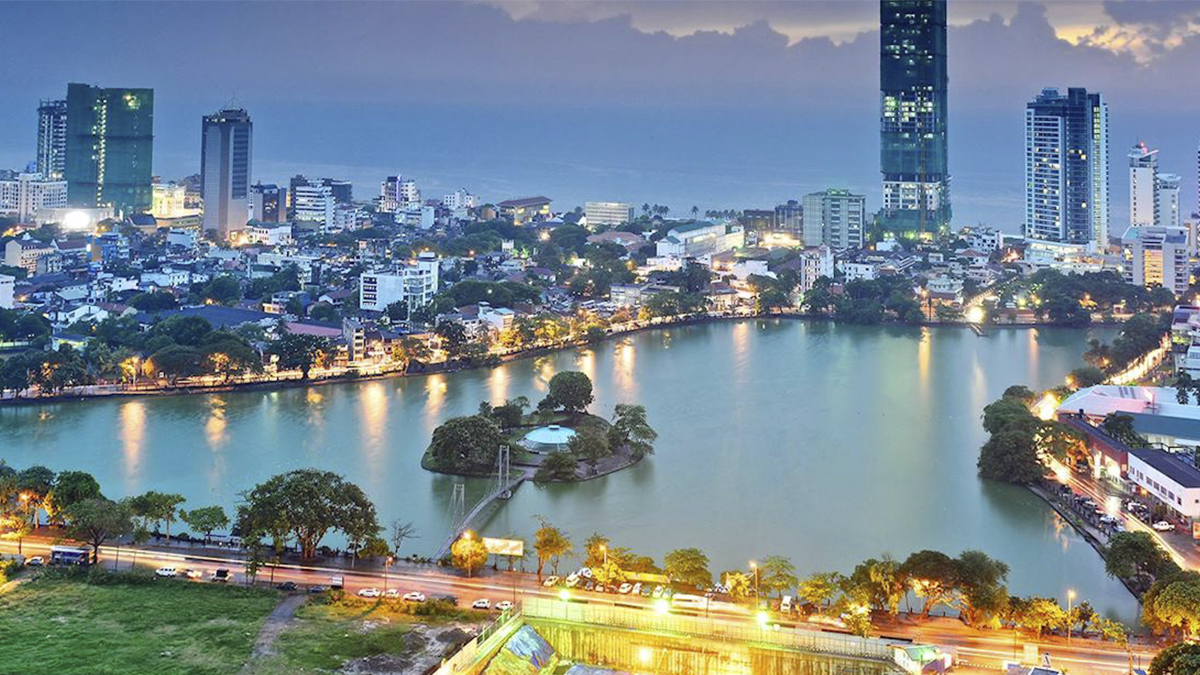 It is very important to carefully see how the course of action of events played out and their essential impact on the country's system. All this, while we observe the commemoration of Sri Lanka's Politics and its budgetary crisis. In appearing to hate its excellent ordinary environment and wide social legacy, Sri Lanka is overseeing a multifaceted emergency.
The crisis began in the year 2022, enveloping the nation in an all-encompassing obscurity that brought to light the weaknesses within Sri Lanka's political and economic spheres. The merging of challenges spanning politics, economy, and society coalesced into an ideal tempest, prompting worries about the nation's stability, prospects for regional cooperation, and the possibility of extensive consequences. This piece delves deep into the crucial occurrences during the crisis, its roots, its aftermath, and the steps undertaken to initiate recuperation.
Unfolding of the Crisis
One year earlier, the emergence of the crisis in Sri Lanka stemmed from an intricate interplay of political instability, regulatory uncertainty, and economic adversity. The power struggle among key stakeholders needs clarification, as it rendered the government incapable of making informed decisions. Simultaneously, economic indicators plummeted, leading to a surge in unemployment, inflation, and strained fiscal circumstances.
The economic crisis gripping Sri Lanka is deeply intertwined with the fusion of its political and economic elements. Political disagreements, corruption allegations, and a lack of cohesive governance have strained the foundation of the nation's democratic structure. Financial mismanagement, high inflation, escalating debt, and a weakened currency compounded the situation, intensifying public discontent and hardship.
At the heart of this crisis lie longstanding issues that have simmered beneath the surface for years. Ethnic and religious tensions, bureaucratic inefficiency, corruption, and ineffective governance mechanisms have all contributed to the maelstrom. The once unifying factors of the country have now become potential fault lines, widening divisions and impeding efforts at reconciliation.
Consequences and Impact Unveiled
The aftermath of the crisis rippled across a wide spectrum, yielding intricate and far- reaching effects. In the realm of politics, the erosion of public faith in Sri Lanka's democratic framework has bred discontent and skepticism among citizens, casting shadows of doubt upon their leaders' competence to navigate the nation toward stability. Economically, the nation's global standing suffered a blow, deterring foreign investment and straining its balance of payments.
The human toll exacted by the crisis is substantial: job security is disrupted, and individuals find themselves enveloped in social unrest and a fog of uncertainty. Many, particularly those in vulnerable situations, bear the aftershocks of the crisis.
Political upheaval: Sri Lankan politics has been characterized by power struggles, shifts in government, and a dearth of political cohesion. This instability has hindered effective decision-making and eroded public trust in the governance.
Financial turmoil: Escalating inflation, unemployment, and a weakened currency have impacted households and eroded investor confidence. Mounting government debt and discrepancies in public finances have constrained the government's ability to implement growth-oriented strategies.
Social turmoil: Owing to economic adversity and ethnic divisions, social tensions have contributed to widespread protests and demonstrations. Left unaddressed, this discontent threatens to escalate further.
Impact on the South Asian Region
The repercussions of the Sri Lankan crisis transcend its borders, exerting a broader influence on the South Asian region in manifold ways. Given Sri Lanka's strategic position within the Indian Ocean, its internal instability has the potential to disrupt regional equilibrium, impacting trade routes and maritime security, particularly concerning neighboring nations like India.
Moreover, the interdependence of economies across South Asia implies that Sri Lanka's economic challenges could reverberate among trade partners, potentially impeding economic progress across the region. The instability and financial hardships linked to the crisis might also trigger heightened migration, posing dilemmas for neighboring countries grappling with refugee inflows and integration issues.
Furthermore, the crisis might strain Sri Lanka's relationships with other South Asian nations, potentially hindering collective efforts on vital regional matters such as climate change, and trade. Concerns also arise over the potential exploitation of the crisis by external entities, potentially exacerbating existing regional rivalries and geopolitical tensions.
"The interrelated nature of these challenges emphasizes the requirement for joint endeavors, encompassing stability and economic approaches, to benefit both Sri Lanka and the wider region. This contemplation underscores how the crisis serves as a crucial juncture for Sri Lanka's revival and the progress of the entire South Asian arena" Kamil Kuthubdeen, Chairman of Global Business Trust LLC, Dubai said.
"In a bid to curb inflation and foster a degree of political and economic stability, President Ranil Wickremesinghe has implemented much needed fiscal reforms" Kamil Kuthubdeen added.
Initiatives encompassed the establishment of institutions, combating corruption, reinstating investor trust, and fostering social unity. The global community, too, contributed by providing aid and technical proficiency. In the following years, Sri Lanka embarked on a challenging journey of reconstruction and resurgence. Its objectives included fortifying democratic structures, fostering amity among ethnic communities, and pursuing sustainable economic advancement. Despite gradual strides and hurdles, the unwavering determination of the Sri Lankan populace remained evident.
Sri Lanka stands at a pivotal juncture in its narrative. The lessons assimilated from history should navigate the country toward a future characterized by stability, prosperity and harmony.
– Luxman Peiris
Disclaimer : The views and opinions expressed in this article are those of the authors and do not necessarily reflect the official policy or position of www.srilankamirror.com
NHDA's controversial actions cast a shadow on new investments in the country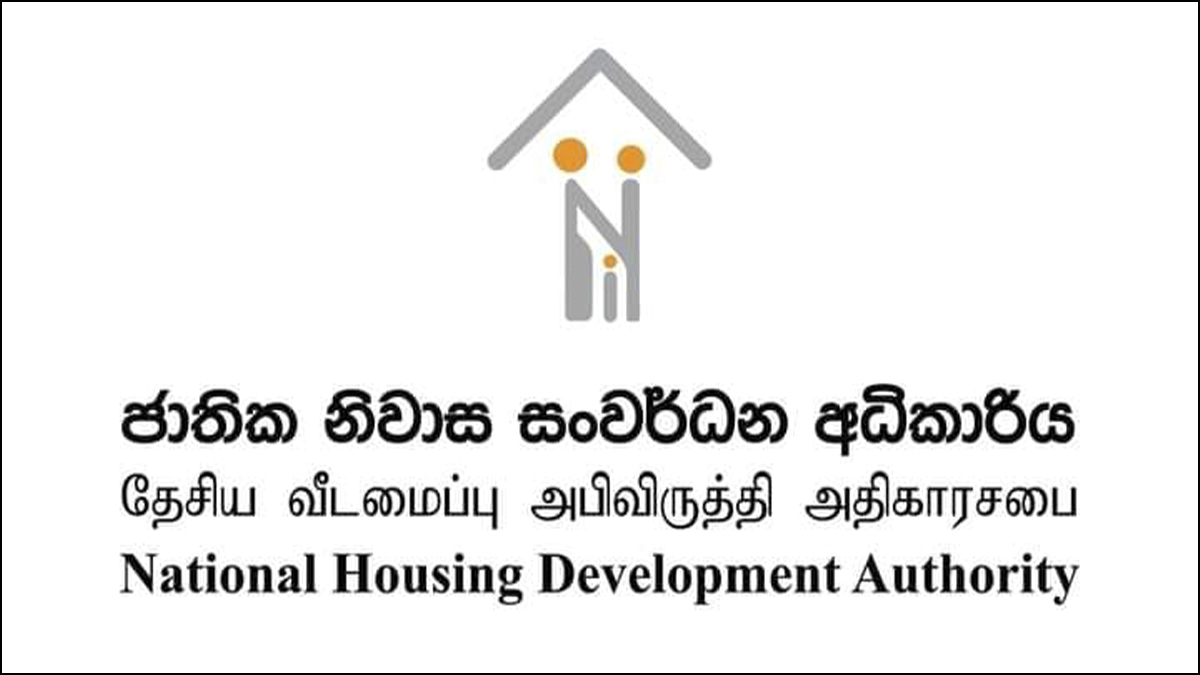 Introduction
The National Housing Development Authority (NHDA), established with the aim of accelerating housing development in the country, finds itself entangled in a web of controversies that has become a major deterrent for new investments into the nation. Despite its mission to expedite progress, the NHDA's actions have raised concerns and led to legal battles, hindering the growth of vital projects. This article delves into four specific cases where NHDA's high-handed approach has resulted in legal disputes and examines the potential impact of these actions on the country's investment climate.
Projects in Limbo
1. Darley Road Project: In a puzzling turn of events, the NHDA seized possession of land despite the developer holding the title deed and fulfilling financial obligations. The developer, having paid the full land price along with a profit share to NHDA, was still subjected to forceful eviction. The matter reached the Supreme Court, which ruled in favor of returning the land's possession to the developer until the case reaches a conclusion.
2. Eco Homes Project: The NHDA's actions cast shadows over the Eco Homes Project, where the developer had completed piling work and paid the necessary land costs to NHDA. Despite these efforts, NHDA assumed control of the land, leading to a legal battle that now resides in court. This incident underscores the complexities arising from NHDA's intervention in project ownership.
3. Bambalapitiya Flats Project: Another troubling instance comes from the Bambalapitiya Flats Project. NHDA's attempt to terminate a public-private partnership (PPP) agreement was met with opposition from various quarters, including the Attorney General's department and NHDA's own legal team, who advocated for a settlement with the developer. Disregarding these recommendations, NHDA's decision has now escalated to International Chamber of Commerce (ICC) arbitration, with the developer seeking substantial damages.
4. Edmonton Flats Project: The Edmonton Flats Project further exemplifies NHDA's turbulent track record. By prematurely terminating an ongoing project, NHDA compelled the developer to resort to arbitration. The recent shift in stance by NHDA to seek a compromise demonstrates the agency's inconsistent handling of critical development projects.
Stifling Investment Prospects
The NHDA's actions not only jeopardize ongoing projects but also present a significant challenge to attracting new investments into the country. The development landscape is marred by uncertainties and disputes that make potential investors wary of committing their resources. The prevalent atmosphere of harassment and roadblocks faced by existing developers raises concerns about the government's commitment to providing a conducive environment for investment.
The Need for Resolution
If the country seeks to attract and retain investors, it must address the concerns raised by existing developers. The unresolved issues surrounding NHDA's actions highlight the need for clear and consistent policy directives. Without transparent guidelines and prompt resolutions to disputes, the country's investment climate is likely to remain stagnant, with investors hesitant to engage in projects that could potentially be marred by bureaucratic hurdles and legal battles. A thorough examination is underway by our team.
Conclusion
The NHDA's role in promoting housing development in the country has come under scrutiny due to its controversial actions that have culminated in legal battles and a lack of investor confidence. The cases of Darley Road, Eco Homes, Bambalapitiya Flats, and Edmonton Flats projects underscore the urgency of establishing a conducive environment for investment. By rectifying these issues, the government can demonstrate its commitment to fostering growth, encouraging both existing and potential investors to contribute to the nation's progress. Clear policy directions and a transparent dispute resolution framework are imperative to pave the way for a thriving investment landscape in the country.
– Lakshman Fernando
Disclaimer : The views and opinions expressed in this article are those of the authors and do not necessarily reflect the official policy or position of www.srilankamirror.com