Juhi you have multiple blockbusters to your credit, but are there certain films that weren't box office hits but are your favourites?
Yes, I have certain films that were my favourite which didn't make it on the blockbuster list. They are not as well known as a 'Darr' or a 'Hum Hain Rahi Pyaar Ke', but I had a great time doing those films. I felt yeh meri film na abhi dekhna, this is going to smash the box office and then I was like hain?? One such film was, 'Gulaab Gang', then there was 'Arjun Pandit', in both these
films I played a bit negative. 'Gulaab Gang' was totally negative but I had great fun doing it. 'Daraar' was another film I thought I could have done better but it didn't do so well. Bhoothnath as well, it has been played on the television maybe about 500 times by now. But when it released, it was like okay-okay and then it went away. It was a wonderful film. It was so funny as well as touching, nice moments in the movie. These four five films I'd tell aree yaar inko bada hit hona chahiye tha. Aae aur chale gaye.Or even a 'One Two Ka Four' has worked on the small screen but when it was released in a theatre it was an average or an above-average film.
How did you react when films didn't work at the box office?
You don't want to hear this.
Tell me would you cry thinking oh I put so much into this film and it didn't work...
Yes, I would cry for two to three days. I would sit in my bed and mope over it and be very upset like why did this happen ? I used to think that maybe if I cry maybe God would listen to me and something will happen. I used to actually get very jittery on the first weekend knowing that the film is not working or is not picking up, then I would get upset for a few days and be very shaken ki ab kya hoga, what will happen to me.
But Juhi you put your 100 per cent in all your films, whether they worked or not was really not in your hands, right?
You are one of the few people who has observed that and have actually said this to me. Because I have felt the same way. For me no film was small, big, delayed, whatever. Wherever whatever work I was doing, I was just trying to be my best at that moment. I felt no matter what the film is, I could see other actors' attitudes changing depending on if it wasn't a big film they would treat it differently. I mean for me it was never like that. I was like whatever it is, it is, I am acting in it, mera kaam thik hona chhaiye. I do that every day. At that time I didn't know where my work would take me or I would be giving an interview after so many years. I had no idea at that time but that was my attitude at work.
From winning Miss India to stepping into films to becoming a producer and now an active environmentalist, how would you describe your journey ?
I have said this before, now I can look back and say I was somebody who was just all about me. My world just revolved around me. I was shy and I took my work very seriously but beyond that I was scared of being too successful. But it was all about me, me and me!. The sun is shining only for me. Main hi hu aur kuch maine kabhi dekha hi nahi tha. Because you went home and mom took care of everything or dad was there or you know and you just brushed your teeth, got into the car and went to work. I had a great time whether we were crying or laughing or whatever I was going through at that particular time. That is what my world was. From there life started to happen, I got married, I lost my parents, I lost my brother, so much happened and that started changing my perspective. I started searching for what is life all about and where do you find help because I saw some people in my family dealing with ill health. It was tragic and so that really drove me and made me search and then what you see today is what has happened to me yesterday. And that is really whether it was about wellness, organic food, environment and how much it helps you or your spiritual health, literally and holistically how you need to change everything about yourself to be able to deal with what happened because there is no other way. It happened to me and it is a journey that has been divinely planned for me and sometimes I have felt very strongly that God made me a star so I could realise all this and then I speak about it and people do listen. Some people somewhere listen.
Juhi if you had to go back in time and give that girl who won the Miss India crown or that girl on the set of 'Qayamat Se Qayamat Tak', facing the camera for the first time a piece of advice what would you tell her?
I'd say keep that ego in check. Because I think I made a lot of foolish decisions, when I was flying high, when films were doing well. I thought you know wow it is all about me, again. I made some foolish decisions at that time. Then yes, I say be good to your parents and this I heard from Shah
Rukh actually. There was a time when I was shooting for Darr and I had a little spat with my mom and I didn't realise people were around me and later he corrected me that you know be nice to your parents.
That word of advice stayed with you.
Yes, because later on that's what happened. I would never have imagined this. Then I said something, I could have done better.
When you said that you made some foolish decisions are they particularly about the films that you chose?
Yes, the films that I took on.
And some that you said no to?
Yes. Couple of them, one was Yashji's film.
You said no to Yashji's film?
They came to me time and again and they came back to me saying do it. I was like no. This was after 'Darr'. It was 'Dil Toh Paagal Hai'. Yes, that came to me and then 'Raja Hindustani' came to me.
Wow! You said no to 'DTPH' and 'Raja Hindustani'?
Dekha! That's what you are young and you are silly and nothing can equal an experience you grow only with experiences in life. I have grown.
Who was your sounding board then? Did you have a go to person who would maybe give you perspective or direction, someone from the industry or outside?
At some crucial point, it was Shah Rukh. Earlier it was Aamir when we were doing films together and all I would run to Aamir. Not because I needed great advice but because I didn't even know where I was going. Later on, when I started facing loss and you know pain and there was nobody around who knew that feeling. He was the only one in his journey of life who had seen it, so he knew what I was going through. At those moments yes, I remember he kind of said some things to me which calmed me down or at times when it was just very difficult for me when I lost my mum and stuff, when I would go to work with him, he would keep everybody laughing and that was all we needed to forget what had happened.
Describe your friendship with Shah Rukh...
We have been through ups and downs. We started out almost together. He came in a little later like 2-3 years down the line. But then, we worked as co-stars and production happened and we faced failure there. So, it is not easy when you have to face failure. It is great when things are going great and everybody is happy. We faced failure and we faced loss and then somehow, we have come through. It has been a roller-coaster ride. We have had our ups and downs. We have seen all kinds of phases in our lives. Eventually some people are just there you know. You see how strange life is; it is like certain people who stay on in your life and become your horizon. He has been one of them. Recently for the past couple of years I have not met him on his birthday but we all happened to be in Dubai together for the IPL this year, we went out for his birthday , Karan (Johar), Manish(Malhotra), Shah Rukh, Pooja his secretary, Gauri, and we just had a great evening that day. Some things do remain the same.
What is your take on the remake culture? A lot of films from the '90s and '80s are currently being remade in Bollywood
In my career I did some remakes of south films. I have a feeling there is something about the original which, it is not the script, it is just something else. It is that little magic, soul, heart, something is there which works or it worked at that time, I don't know. But when I did remakes of the south films, I don't know it would not just turn out the way we had visualised it.
What did you make of this constant comparison to Madhuri, back in the day you both were on magazine covers pitted against each other...
Yes, I remember back in the day there was a comparison and a feeling inside of me that oh my God, here it goes again, Madhuri's film and she used to have huge hits! I have to admit it, and I used to admit it to myself even then that her hits used to be like bigger blockbusters.. There was something I knew in my heart that when she dances I can't dance the way she does. I used to do things my own way, I was funny and I could do that very easily. But at that time, you know when you are young and you are being compared and somehow you are also comparing yourself to someone else, you are trying to do things that you don't realise might not be your strength. You do try to do things which you are not so great at thinking mujhe bhi improve karna hai. I could always see that as a dancer and her expressions when she is dancing and stuff, woh merese aage ho gayi.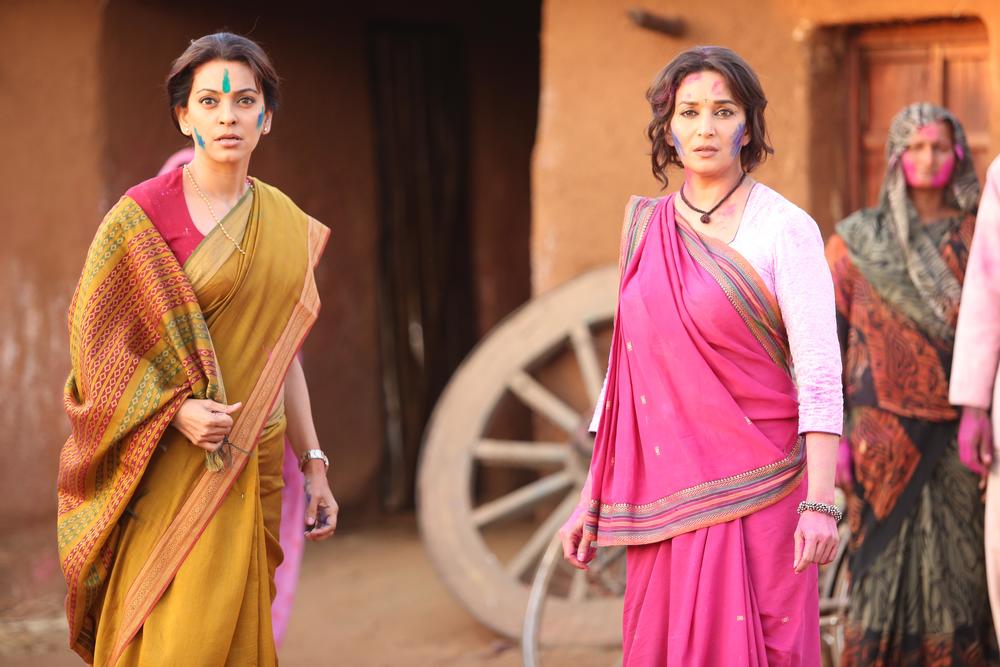 That is true no one can compete with her when it came to dancing...
No. There was Sridevi.
Of course.
I used to like Sridevi. I thought Sridevi can dance, do comedy, do tragedy and do everything on this planet and she can look like a doll doing everything. I would always kind of watch Srideviji and do what she does like and be blown away! This is great, this is the way you should do it. I was a fan. And I still feel if there was one artist that it will take anyone a lifetime to reach then that is Sridevi. Not only for acting. It will be a lifetime when an artist like her comes again.She was just something else.
Juhi your comic timing always felt effortless, it didn't feel rehearsed or put on, were you a fan of the genre, did you have any influences in terms of doing comedy on screen...
I just think that when I was just new on the job, like you said very correctly and I am very surprised that you can say these things that I feel like I have seen it in myself. When I did comedy, it just came easier. I enjoyed it and it felt natural. And then I was watching Sridevi on screen and I was like wow and she was fantastic at everything and I tried to do everything as well. As an actress you cannot say I want to do only this and you are still growing in the business you know people are giving you different things to do. So then yes, I watched her also, I watched some other people also, just I wouldn't say consciously or unconsciously but I watched them and I used to even enjoy watching Govinda because I thought nobody can do things the way he does. He thinks differently like an earthy person, he had so much earthiness and that brings out the humour. If you say I am good at comedy, no if you ask me to do comedy, I don't even know what it is. I can't do what Johnny Lever does or Govinda does. They could make something out of nothing. I still had to have it written by the director and then when it was funny, I could find the fun in it and then I could perform it. Now when we think about maybe Madhuri, for Madhuri it came so easily, she can just do this, she is effortless. We all have our little thing and once we know them, you know. That maturity to know that yes this is my strength and use only that, that comes much later.
You seem to be enjoying your stay on social media with over 5 million followers and counting on Twitter and you are quite interactive with your fans as well
I really feel that way that and with people and you are right about one thing, this is the only space that is left where I just say what I say and there is no one in between and I know many opportunities to be more commercial about it and I am like no, I don't want to. I will hold on to it as far as I can. If I did more I could do more but I feel whatever comes organically to me, I prefer doing it that way. I try to put up posts which if you are reading it there is something in it for you. It is not about I am eating this food, I am wearing only this dress, I am looking so pretty today but sometimes my PR people want just that, they are like enough of your gyaan, just give us what we want and the glamour. I am like no, if you read something spiritual or home remedy tips, it should for you. You should be like are yeh toh main bhi kar sakta hu and this is good for me. I want that for my people. So, I keep trying to do that. They keep trying to do the other and then somewhere we are rolling along, somehow.
And how do you deal with the trolls
Mostly I am like there is no way they are going to troll me mereko troll karke koi kya karega. There were two occasions where they came down so heavily on me that I couldn't believe what had happened. I couldn't believe it and it was like they were spewing venom and I had to turn my phone off for the next 2-3 days. I was like I am not even looking at it, I don't want to see this. It is
disturbing and I couldn't believe it was happening to me because I was so sure main toh kuch aisa karti nahi hu and this is what I did. It was a misunderstanding from whoever, I guess I didn't write clearly enough. But I was quite taken aback.
Your love for environment and issues like plastic use and radiation become subjects of your tweets and conversations, what would you like to say to the youngsters who want to do something for the environment and perhaps work with you
I am very happy because before the lockdown, I'd say even though the lockdown was hard on people economically, but environmentally it was the best thing that happened, I have never seen such clean air and so many birds in my garden. It was great. And I felt this is the way the earth was probably made for us but look what we have done to it. Before this lockdown we were spiralling out of control , we were going at such a breakneck speed, running behind economy and industry and technology and medicine, not realising that it is hurting the planet. People ask me what is so great about and why we are making a big deal about plastic. If you realise the damage that is happening everyday you won't be able to sleep. It is so bad. And the repercussions are so deep and so irreversible that once you know you them you wont ever use it again. . Today we are wearing plastic. We are already eating plastic. It is leaking into our food. 10 years down the line when these little kids grow up, what will they eat and drink, it is all filled with poison. So, when I heard of some youngsters out there who are thinking about this and wanting to do something, I am like thank God for this. But we need many more such people to make a difference. And my biggest doubt and again I am working on that is whatever opportunity I am given, my biggest grouch is our education is so flawed. When I used to learn earlier, I didn't know what they were talking about. Our education has taken us further and further away to the truth, it has taken away further and further away from the earth and our connection to the earth. Children today know milk comes in a carton. They don't know that cow eats fodder, they don't know fodder is poison and the cow is eating poison and milk has poison and then it is going to a factory and then it is coming to you and it is filled with a whole lot of nonsense. That whole connection has been lost, thanks to our education and all our children are being educated. They are all going to school and this divide between earth, you and the universe is just getting bigger and more. What you do in school is just create people who do jobs. Basically you are not letting them think and you are not letting them see and it is just so bad. So, yes in a certain way there is another thing I am doing to have a gurukul where we have about 2000 girls studying in our Kanya Gurukul in Godbunder and we have vedic studies along with conventional schooling. So, this has been there for 80 years. It had slid into a commercial zone, ki padha aur nikal gaye. This lockdown period we used to rethink, redesign, revaluate and we are going to get a bit of just putting back wisdom in what we eat and having more experience to learning because we have a 90 acre campus and we have farms over there. We are working to make at least good out of it. That is my strong passion right now that those girls will be brightest and they will be smartest. You know like you say you are connected, you are strong yet you tough, you are smart yet you are not mean. You can go out there in the world but yet you are connected to your roots.
What can your fans expect from you next? Anything on the OTT space?
Yes, actually it was supposed to happen this year but it has been delayed to January. It is a Tanuja Chandra project and I am quite excited to be a part of it. At the end, there are things that come your way but if it is not of a certain quality or sensibility or depth you cannot do things for the sake of doing them anymore because you have certain expectations even from yourself. It has to be something which tomorrow if my audience sees they should say she did something good!
(timesofindia.indiatimes.com)