Some reverently call her Gnana Akka, others Meniyo or just Amma but still others vilify her as an invoker of the wrath of the black goddess Kali and curse her for the terrible woes that have befallen Sri Lanka.
Gnanawathi Jayasooriya (66) of Isurupura, Anuradhapura, famous or notorious depending on what side of the coin one looks at, is adamant that she will confront anyone, just anyone, and challenge them to prove that she has resorted to any of the controversial allegations and scandals swirling around her.
In an exclusive interview with the Sunday Times this week, she denies she has tried to guide the recent destiny of Sri Lanka through its leaders, especially President Gotabaya Rajapaksa using sorcery or black magic. "Mama Budunwa wadinne, agama dharmayata ledii," she says as being someone who worships the Buddha and follows Buddhist teachings, and dismisses accusations that she has benefited from political or military patronage. "I don't indulge in deception and trickery (kapati weda)."
Whatever she has built up, she has done through her own sweat, toil and tears………and now it lies looted, ransacked and torched!
We meet at a pre-arranged location. It is her first interview with the media she says in all her 41 years of "helping men, women and children" at her puda bima (holy ground) in the sacred city in the North Central Province to which the mighty and the weak, the arrogant and the lowly, the healthy and the ill are drawn like a magnet.
Attired in a white blouse and a beige lungi-type cloth, Gnana (says to call her Gnana Anty) walks in with her daughter Nadishani, son-in-law Panthaka Fernando and a man and a woman (cousins) who are ardent followers who vouch for her powers. Not only Gnana but also her family has drawn much ire on social media, following hot on the heels of the government having a nasty fall from grace due to the mounting economic problems in the country.
With numerous claims that Gnana has wielded undue influence through her so-called divine trances, over the powers-that-be, including President Gotabaya Rajapaksa, Army Commander General Shavendra Silva and many politicians of different hues, on the night of May 9, her home was looted, ransacked and torched.
From a pela (hut) to her two-storey, five-roomed house close to the puda bima, to educating her children, she has done it on her grit and guts, she says. Isurupura where she meets with those seeking succour and also where her home is closeby, is about four kilometres from the Anuradhapura Hospital, off the Airport Road (Kandy Road).
Asked the all-important question about allegations made by people that President Gotabaya Rajapaksa is given instructions by her on ruling the country, Gnana says no political issues are discussed with the President; it is all personal matters. But then, isn't a lot of personal matters of an Executive President, also political matters? Pressed for an answer to clear the air about her role, Gnana then says that 'Gnana the individual' cannot remember the blessings and guidance given to the President or anyone else in the kutiya (her room) by 'Gnana the meniyo'.
"Meniyo wenai, mama wenai", she goes to explain; The one with psychic powers is meniyo and is different from the individual, me though they are one and the same person.
The President and his wife have been visiting the puda bima from around 12-13 years ago. That seems a time when the war against terrorism was faught and won. Former President Mahinda Rajapaksa has come twice. She denies that the incumbent President makes weekly visits, but comes whenever he can. He hasn't come for months, she says.
What of claims that the President's family members sweep the puda bima and that a seated President is bathed by her early morning? "Ehema ne" (nothing like that), she says. "I have never bathed the President – there is no bathing spot at my puda bima," but the former hospital attendant adds that she helps in giving medicines.
Gnana is full of praise for the First Lady and believes the country's First Couple come to see her because of a sense of being grateful ("kruthaguna selakeemak") and that there is close bonding.
She rejects allegations of being ferried by helicopter to perform her tasks for VIPs. More denials flow forth……she did not send mathurapu (cursed) water made of exotic flower petals especially flown down from abroad to be distributed among the protesters at Galle Face green to disperse them. "I'm not the type who does those things," she insists.
She had nothing to do in propelling government leaders towards constructing the Sanda Hiru Seya temple close to the Sri Maha Bodhi and Ruwanveliseya. She has not given away any magic potions.
Gnana says she has had frequent visits from top brass in the army, including serving and retired Generals and their wives, but denies any other connections with the army – "I can't stop them from visiting," she points out and denies army energy in any building works on her property.
Gnana and her family repeat that the puda bima is a common ground which has been/is visited by various people among whom are powerful politicians including several Presidents, several army commanders, businessmen, high-level government officials, professionals including doctors and lawyers and commoners. There is no communal differences while on some days around 25-30 monks have also been there.
Her conscience is her "biggest" strength, she says, welcoming any investigation into whether she has benefited from political connections to Very, Very Important Persons.
Who is Gnana and how did she get her so-called divine powers?
From Isurupura itself, her village, Gnana loves to cultivate the land as her father was a paddy farmer.
Schooling at Deepani Maha Vidyalaya (now President's College) she passed her Ordinary Level (OL) examination but married, against parental wishes, her sweetheart K.A. Jayasooriya whose family had moved from Nugegoda and set up home in Anuradhapura. That was in the late 1970s.
"We met when we were schooling, me at Deepani and he at Niwaththaka Chethiya MV," she says.
Gnana did her Advanced Level (AL) while married but passed only one subject and began working as an attendant and later got through an examination which pushed her to the post of telephone operator at the Anuradhapura Hospital. Jayasooriya undertook small contract work to eke out a living and later was the watcher at the Education Department. Soon the couple had a son, Anuruddha Nalin Kumara, and a daughter, Nadishani. Gnana is the grandmother of three now.
We talk of the many tales surrounding the death of her husband. "Yes, he was killed on April 14 (New Year), 1996," she says. It was a brawl with political undertones when he was playing cricket with several others. Jayasooriya was a UNP supporter and SLFP supporters killed him. Another version we hear is that her husband went for a river-bath alone when around 10 others came and there was an altercation. He had then been clubbed to death and Gnana had been a witness who later identified his body.
Once widowed, in addition to her telephone operator's job at the hospital, Gnana says she toiled to bring up and educate her children including doing backbreaking labours which included helping in sand mining work. Coming by train to Pamunuwa, she lugged cloth bales back to Anuradhapura to sell for a small profit, but the earnings mainly came from brokering land deals.
Earlier frequent were the visits to the Sri Maha Bodhi and in 1981 when husband and wife had worshipped Buddha, her mind went this way and that. She did not think much of it – but it occurred regularly and others realised what was happening; she was inheriting super-natural powers. The first person who sought help was a Muslim.
Gnana first goes into a trance and there is no memory of what happens. There are two personas – the physical and the other. She does not remember and cannot recall what happens during the latter. She is like a medium through which divine messages are conveyed.
In the early days, 41 years ago, not many flocked to the puda bima but the numbers grew through word-of-mouth and a majority seek medicine. Now there are more than 800 people, sometimes jumping 1,000, seeking succour and healing from her.
Gnana says she does not call the puda bima a shrine because no sorcery or witchcraft, bali-thovil, yaga-mana, kodi-vina are performed there, only medicinal services are done. It is like a temple and has a Bodhi.
Every Saturday and Sunday, people clad in white converge in their numbers. They clean the garden, wipe down the furniture, light lamps, give alms and sit around quietly awaiting a call from the meniyo. In her kutiya, when Gnana is visited by Pattini (popular among Sri Lankans as the beneficent Mother Goddess who protects expectant women), she describes the persons she will meet and her daughter informs them to go to her presence individually. The chosen ones would be around 200.
It is about once a month, on a Tuesday, that Gnana is visited by Kali (the black goddess of time, doomsday and death).
Kali is a different version of Pattini, says Gnana, adding that she doesn't know what happens. Pattini while giving medicine says to meet Kali meniyo. It is Kali who gives a more straightforward answer, tells her family.
We ask about the blessed string tied around wrists and the rathu nool kalliya – the group with the red string. The white string or noola is for Pattini and the red for Kali, which has become quite popular. It is just a blessing – some wear it, some remove it.
What of alleged profiteering from the suffering of others because Kali is an 'attack Goddess' who aims to bring harm to detractors? The question is answered in this way by Gnana; "Kali never says to do ill or harm to others."
Gnana does not charge any money but people do offer a bulath-athak (sheaf of betel) and place some offering, even as little as twenty rupees. This is for the medicines and oft the followers have heard from others that Gnana has given them money for their bus-fare back home.Gnana adds: "Ehema hamba karala ne. Weradi paththata herila ne." (I have not earned money that way, through wrongdoing.)
And they came for her
On the evening of May 9, Gnana and her daughter were at the Abhayagiriya when the calls came, warning them that social media was frenetically attacking them and not to go home.
"We didn't go home," says Gnana. But Anuruddha, her son (who lives in England but is in Sri Lanka currently), and Panthaka, her son-in-law, were at home along with around 20 friends who had come to protect them.
Gnana did call General Shavendra Silva and said: "Please Sir, try and help." She knew him as he frequently visits the puda bima.
Ten policemen came and then the Brigade Commander of the area with around 250 armed soldiers and parked the army vehicles in the garden. They told the son, son-in-law and friends either to stay inside the gate or outside. The family members, unidentifiable in their masks and helmets, stayed outside and watched the scene unfold before their eyes from around 8.30 that night into the early hours of next morning. They kept calling Gnana throughout the incident.
The attackers, having set fire to the homes of other politicians, came on about 100-150 motorcycles and two small vans. Seeing the army, about half of them scattered but others hung around, shouting obscenities targeting Gnana and also the other family members by name. Then, when another group of about 100 joined them, some started breaking a corner of the wall.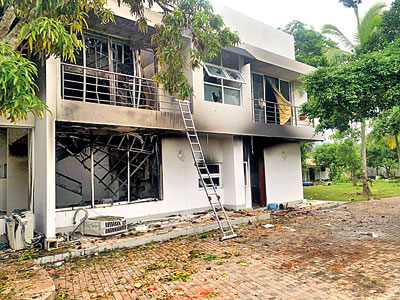 Pix by Romesh MadushankaGnana says her family described how they got into her home. "Four accessed an adjoining community hall and a grinding mill, keeping a ladder like a bridge, from the mill's toilet to my house wall which had only about a 1½-metre span and jumped into the garden, then entering the house. They were soon joined by about 25 who crept through the wall. The looting started thereafter and another mass pushed the army barrier and broke through. Stuff ranging from gold to rice and spices to gas cylinders was taken away in three-wheelers."
The smashing began later – but not a finger was laid on the upstair and downstair shrine rooms.
The arson came after – the first room to be torched was Gnana's room and then Panchaka and Nadishani's room. They had also broken the water meter to prevent the dousing of the flames, with the carnage going on till about 2.30 a.m. on May 10.
Flower pots and even a caged parrot had been taken. The large contingent of soldiers merely stood by. Gnana has yet to return to her home after it was torched.
Given her famed psychic powers, did she have no premonition about the ill-fortune that was about to shroud them?
"Meniyo wenai, mama wenai. Mata sakayak thibbe ne," says Gnana, trying to distinguish the two as the individual and the person with mental telepathy, two different persona in one body.
She goes on to explain the distinction between the two persona: The individual in her had no suspicion, but the meniyo Gnana in her had told a follower to pass on the message to Gnana, the individual, that she should not stay in her home.
Another message from the meniyo to the one and the same individual Gnana was not to be sad because she had to pay for a past sin in a previous birth.
The next target of the mob was the seven-room 'Lake Monark Hotel' about 2 kms away in Nelumkulama, owned by Anuruddha and Panchaka.
We discuss the story behind it and are told it is not a boutique hotel but a guest-house. The building and the 90-perch land were purchased seven years ago and the building was just colour-washed. Then they purchased another empty 40-perch land adjoining it.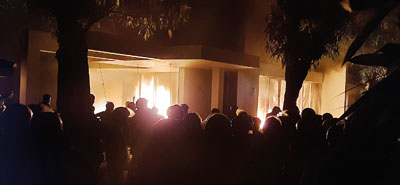 A large contingent of soldiers who arrived at the scene merely stood by as a mob attacked Gnana's home
The family strain to convince us that there is no encroachment on the reservation of the tank, Nuwara wewa. They sought and got permission from the Irrigation Department like many others across the country to build a swimming pool on the reservation. The hotel venture has no connection to Gnana, we are told. They had all the documents but now they are ashes. The photos doing the rounds on social media are false – it is not their guest-house. Photos of soldiers on ladders attending to construction work are not theirs but of different hotels.
Who were the attackers and why such anger?
The family says they know most of the attackers….they were well known people in Anuradhapura district.
On a sombre note, Gnana says that everything has been destroyed from their home…..identity cards, birth certificates, passports, laptops. She has only the clothes she was wearing that day.
However, she is courageous because ordinary folk have told her not to get ruffled and so she will not break down. These people have assured their help, mainly through their hands, for her to rebuild from the ashes and continue her work.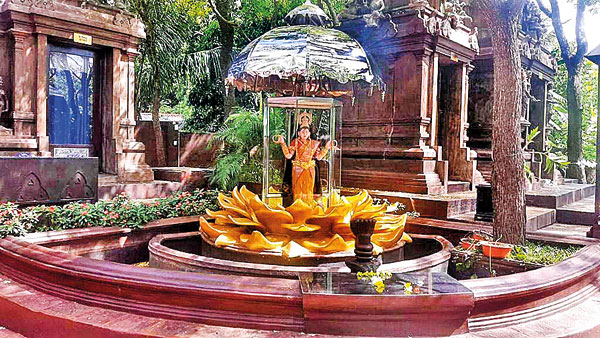 The puda bima
(sundaytimes.lk)