Several prominent local media institutions had made this incident their headline stories, while on FB many had criticised the filming claiming that it was a homosexual couple's wedding ceremony.
They had used sensitive language which resulted in many critical comments from many who had been angered by these videos.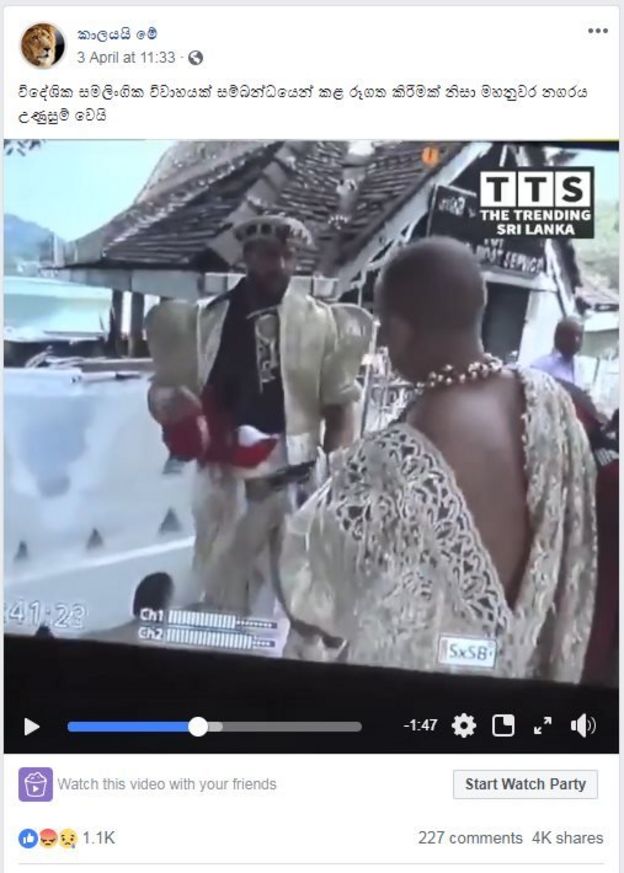 The video published on FB
Meanwhile, placing an FB comment, Kapila M. Gamage on behalf of the production firm involved in the incident said that it was foolish to take decisions without properly knowing the truth about the whole incident. He had said that if the facts were read carefully, one could have understood what had actually transpired.
He had noted that contrary to what the local media had portrayed, it was not a homosexual wedding between the two males dressed in traditional attire.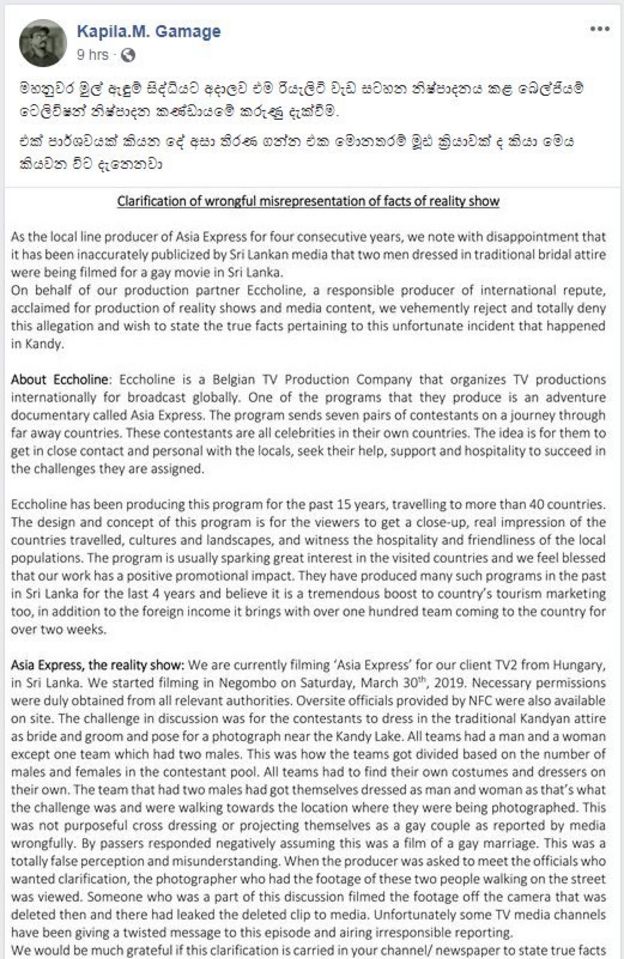 The explanations on FB
Expressing his views on FB, prominent cinematographer Asoka Handagama had said, "I know the whole story. Minister Sajith Premadasa listening to just one side of the story is a very unwise move. This programme has brought much publicity to Sri Lanka as a tourist destination. If the country was to spend for such publicity, it would have cost them billions. Fools. Now they have decided to move out of Sri Lanka and the rest will be filmed in India. They have been engaged in filming over the past several years. The most prominent fact is that they will never return to this country. Not just them, many will not want to come."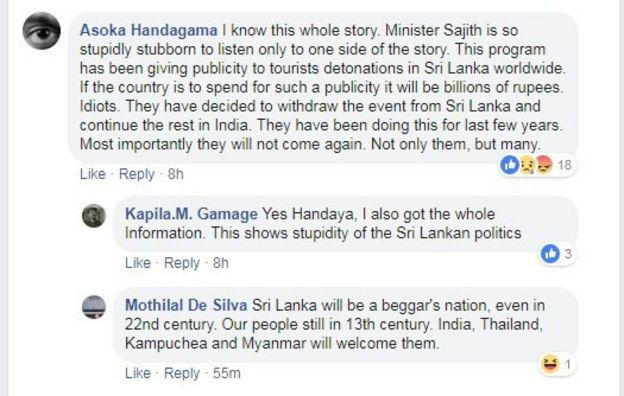 Comments posted by Asoka Handagama
What was this programme?
According to Asoka Handagama the filming had been done by a Belgian company called Echoline for the Asia Express magazine reality show.
When asked by BBC Sinhala Service, Handagama had said that this programme travels to various countries and showcases their cultural sites, people, traditions and hospitality etc. Prior to Kandy, they had filmed in Negombo.
He stated that Minister Sajith Premadasa who is in charge of the Film Corporation had instructed the filming to be stopped.
Criticism regarding the filming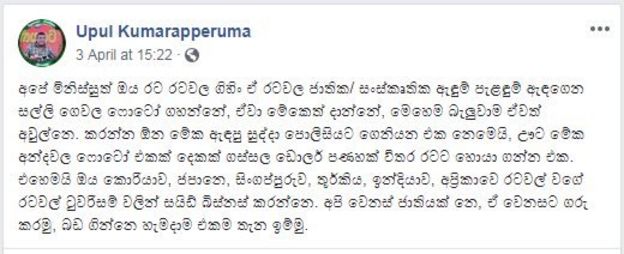 Attorney Upul Kumarapperuma's views
What exactly happened in Kandy?
Based on the instructions of the production company, the challenge for the reality show participants was to go to the vicinity of the Kandy Lake and dress up like a bride and groom and take photos.
Except for one team, all the other teams consisted of a male and female except for one team. Hence, they had to dress up with one as the bride and that's what they had gone there for, it was explained.
It further stated that this was not a same sex marriage as portrayed by the local media which had publicised the incident as a homosexual marriage ceremony.
"Wrong picture about Sri Lanka"
However, Alawathugoda Saman Devalaya Basnayake Nilame Jayampathy Heenkenda said that due to such filming, it paints a different picture of the country.
"Can they wear our traditional attire and pose for photographs to promote tourism? By such actions it would show the world that in Sri Lanka such traditional clothing can be adorned and same sex marriages could be held. As Nilame's holding high positions, are we expected to keep quiet and turn a blind eye to such actions? This is where the problem lies and that was the reason I tried to prevent it," he said.
The Nilame described these filming as defamatory to our culture and traditions.
"They are trying to hit at us and initially the NGOs got together and publicised that we were harassing the elephants. Then they said we were discriminating people based on the caste system and violating their human rights, but we did not falter."
The Nilame said that he had been on his way to a restaurant with a friend and had not taken much notice of the two foreigners dressed in traditional Kandyan attire. Then later people started ridiculing us saying that this is what has happened to our traditional dress and it was then that I went and objected to it," Heenkenda said.
Advice by the Nilame
He said as some insult the Kandyan traditional dress, he went there to advise them not to do it.
"When some dress in the traditional attire for weddings, the groom is seen taking photos lying down. However, it is a tradition that when dressed in the traditional Kandyan attire, one can only pose in three poses. That is to be seated, walking and standing in a comfortable pose with their hands on either side of their body. It is not permitted to be bending, standing on one leg etc when dressed in this traditional Kandyan ceremonial attire."
"Cultural Police and Sectarianism"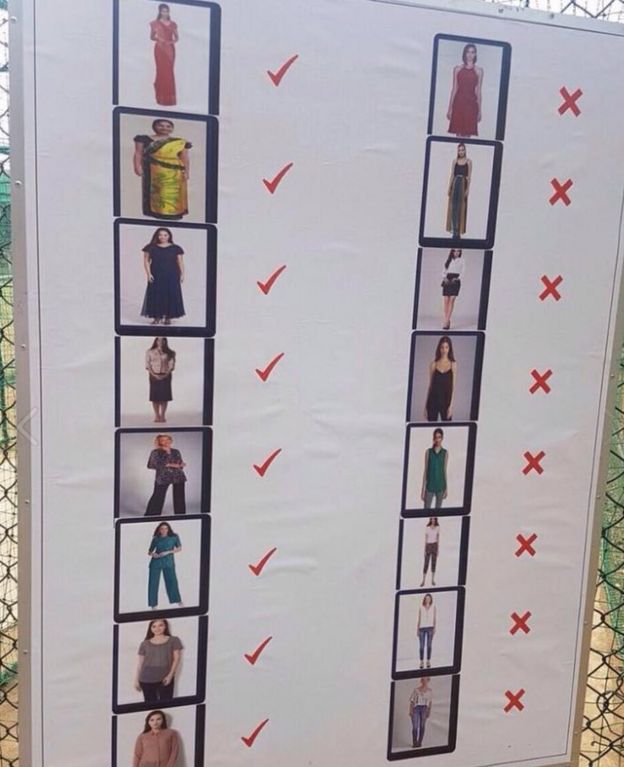 Poster at the Colombo Saint Joseph's College entrance gate on how women should be dressed
In recent times it has been observed that religious places and state institutions have been unofficially imposing rules on the attire of women.
President Maithripala Sirisena had also criticised the incident where a female had thrown her bra during an Enrique Iglesias concert in Sri Lanka.
The President had said that not the women who drink and misbehave, but those who organise such concerts should be punished.
Similarly, the president's comments regarding Prime Minister Ranil Wickremesinghe was also criticised by the gay community and certain factions of the civil society.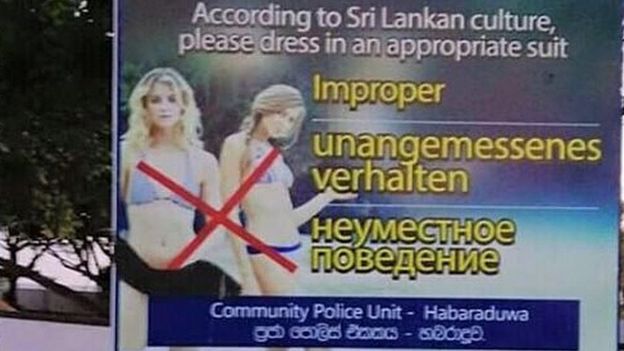 The notice board displayed by the Habaraduwa community police regarding the recommended beach attire It is believed that there is an increasing prevalence of non-
Source - BBC Sandeshaya