Japan welcomes SL adopting National Action Plan on Women, Peace & Security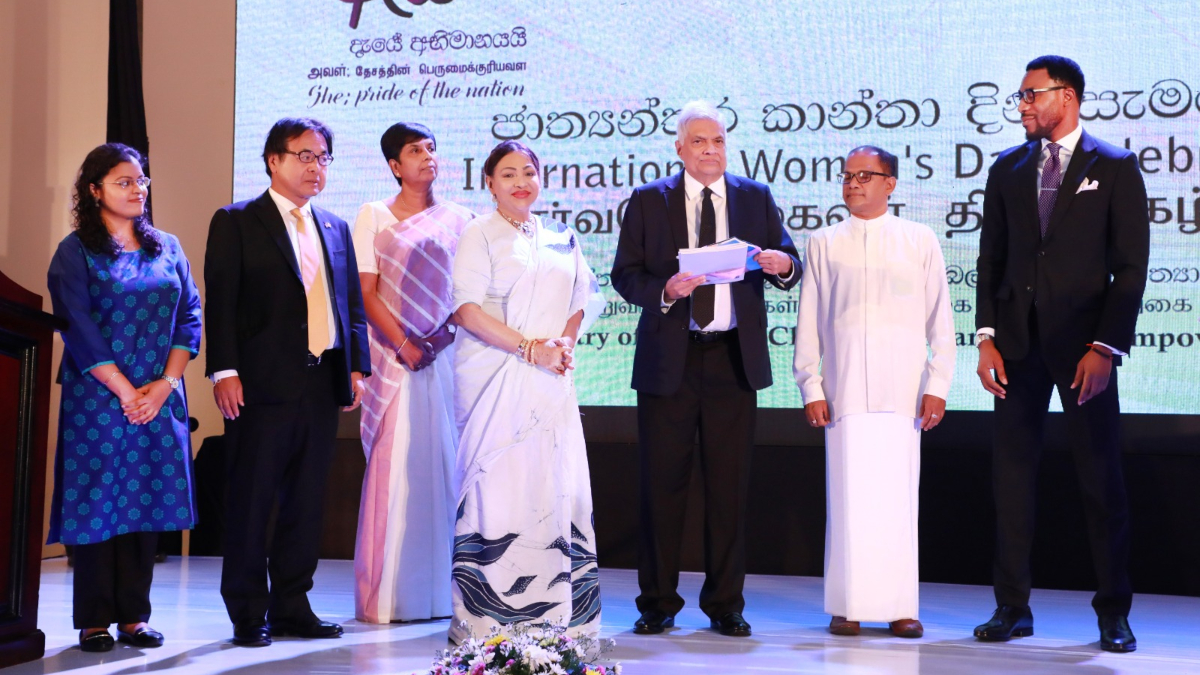 Sri Lanka has adopted its first National Action Plan on Women, Peace and Security, for the period 2023 – 2027 with the support of the Government of Japan and UN Women.
The Plan adds to the country's legal and policy frameworks to protect and empower women in line with international commitments set out in the UN Security Council's Resolution 1325 (2000). It also aims to strengthen coordination between stakeholders of the women, peace and security agenda, which is vital to sustainable peace and development in Sri Lanka.
The plan was approved by Sri Lanka's Cabinet of Ministers on 27 February 2023 and ceremoniously launched on 8th March 2023, on the occasion of International Women's Day.
The newly adopted National Action Plan was developed through a consultative process with input from provincial and district level public sector officials, civil society, community-based organizations, women leaders and others with direct and diverse experiences of conflict and crises. It was developed with technical support from UN Women as part of a joint partnership between the Government of Japan and the Government of Sri Lanka. In 2018, the Government of Japan signed a partnership agreement with Sri Lanka under the G7 WPS framework.
Speaking on this, President Ranil Wickremesinghe stated that while the "status of women in the Asian region is not satisfactory, Sri Lankan women are ahead compared to other countries in the region, and efforts will be made to further expand their rights". He emphasized that the 'National Policy on Gender Equality and Women's Empowerment' and the 'National Action Plan on Women, Peace and Security' will aid in achieving this goal, and the progress made so far was revealed on International Women's Day. "Sri Lanka will host a meeting of leading women activists from SAARC countries this year to advocate for the inclusion of women's rights within the organization's framework. Sri Lanka is committed to working towards achieving gender equality and women's empowerment in all areas and will take a leadership role in championing the rights of women in the Asian region".
Highlighting the importance of the National Action Plan, State Minister of Women and Child Affairs – Geetha Samanmalee Kumarasinghe said: "With the adoption of this action plan, Sri Lanka is equipped for the first time with a policy framework to implement the women, peace and security agenda, which calls for greater participation and representation of women in governance and peacebuilding processes."
The National Action Plan further aims to provide targeted support for women who have been, and continue to be, directly harmed by conflict, violence and climate insecurity.

In addition, it aims to strengthen the security of marginalized women and girls, and the economic empowerment of women through access to equal opportunities and resources.
Commenting on Sri Lanka's progress, Ambassador of Japan to Sri Lanka – Mr. Mizukoshi Hideaki, stated: "The Government of Japan welcomes the timely adoption of this National Action Plan, which will help Sri Lanka's commitments to achieving the 2030 Agenda for Sustainable Development. Through our longstanding partnership with UN Women and the Ministry of Women and Child Affairs, Japan is committed to supporting the furtherance of the women, peace and security agenda in Sri Lanka."
Prashani Dias, Head of Office a.i. at UN Women Sri Lanka, said: "To help the implementation of this important policy framework, UN Women, with support from the Government of Japan, has provided training on women, peace and security to public-sector officials. Through these programmes, workplans have been jointly developed at the district level to address issues that affect the well-being of women and girls during times of crisis."
Apart from these efforts, UN Women has strengthened women's economic empowerment through entrepreneurship training, recognizing that women's access to employment plays a key role in ensuring their security, and provided women leaders including youth, with skills to promote social cohesion in their communities.
The adoption of the National Action Plan on Women, Peace and Security marks significant progress on furthering gender-responsive conflict and crisis response, while also strengthening the role of women in peacebuilding and conflict-preventative leadership.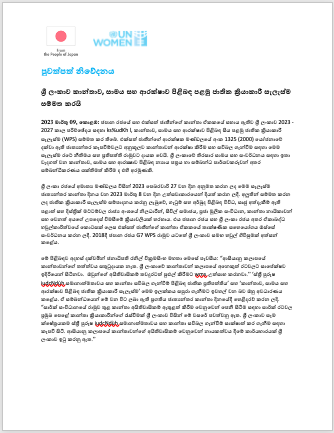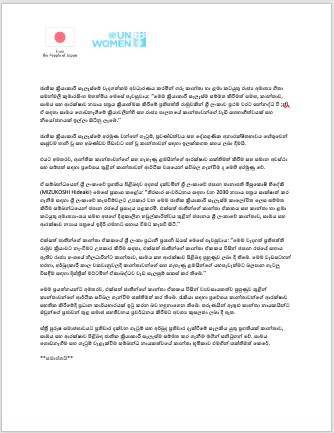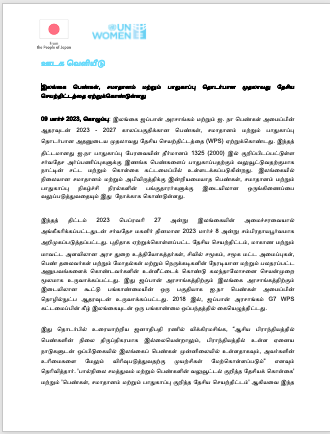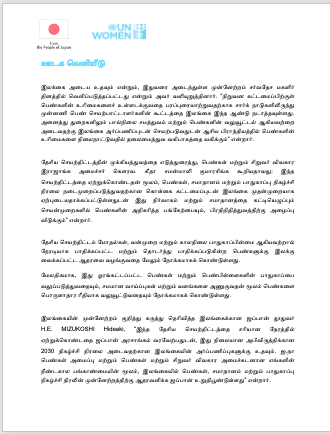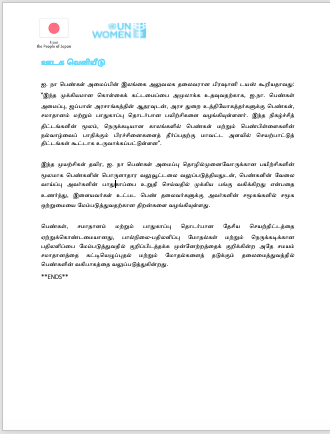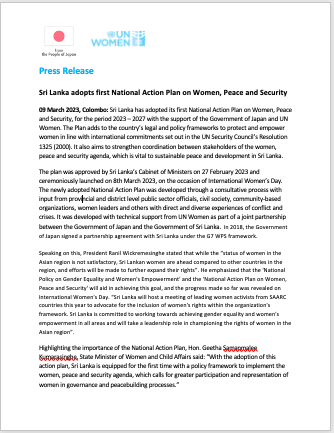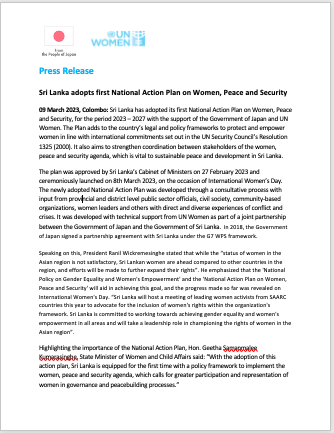 Dhananjaya denies claims on refusal to bat at No. 7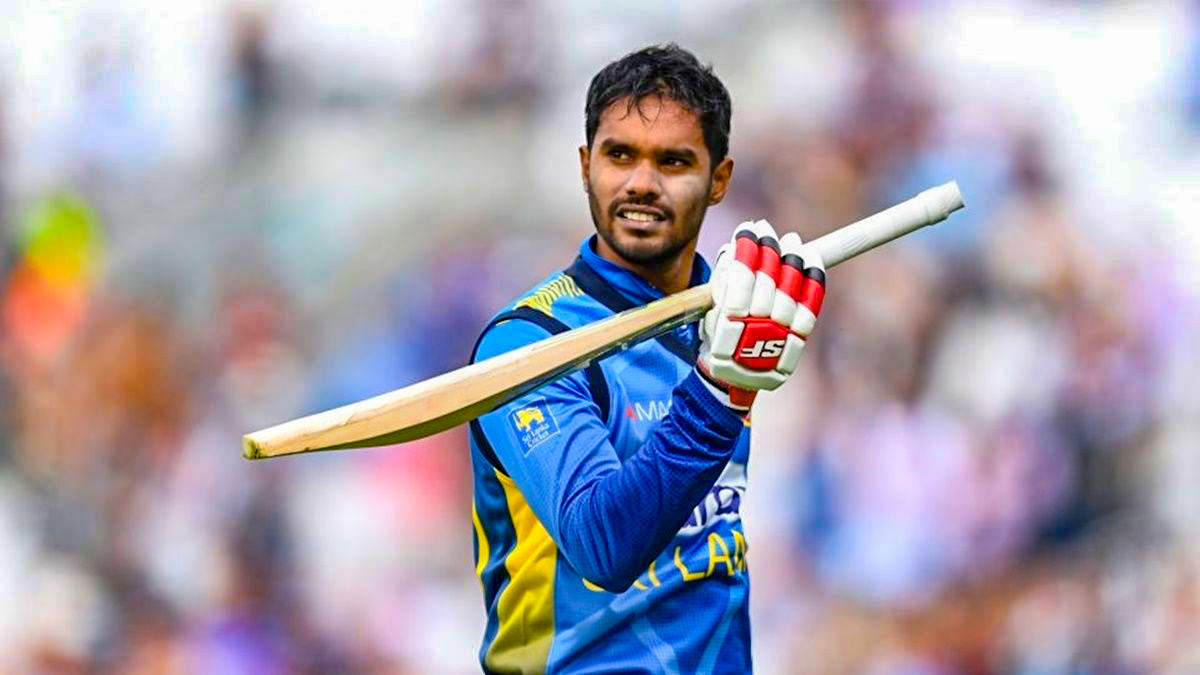 Sri Lankan cricketer Dhananjaya de Silva has refuted claims that he refused to bat at No. 07 position in tomorrow's ODI match against New Zealand.
Tweeting, he said: "The story circulating in social media saying that I have refused to bat at No. 07 during tomorrow's game is false, and I wish to state that I am a player who always stands with the team".
Ensure safety of Saliya Peiris – BASL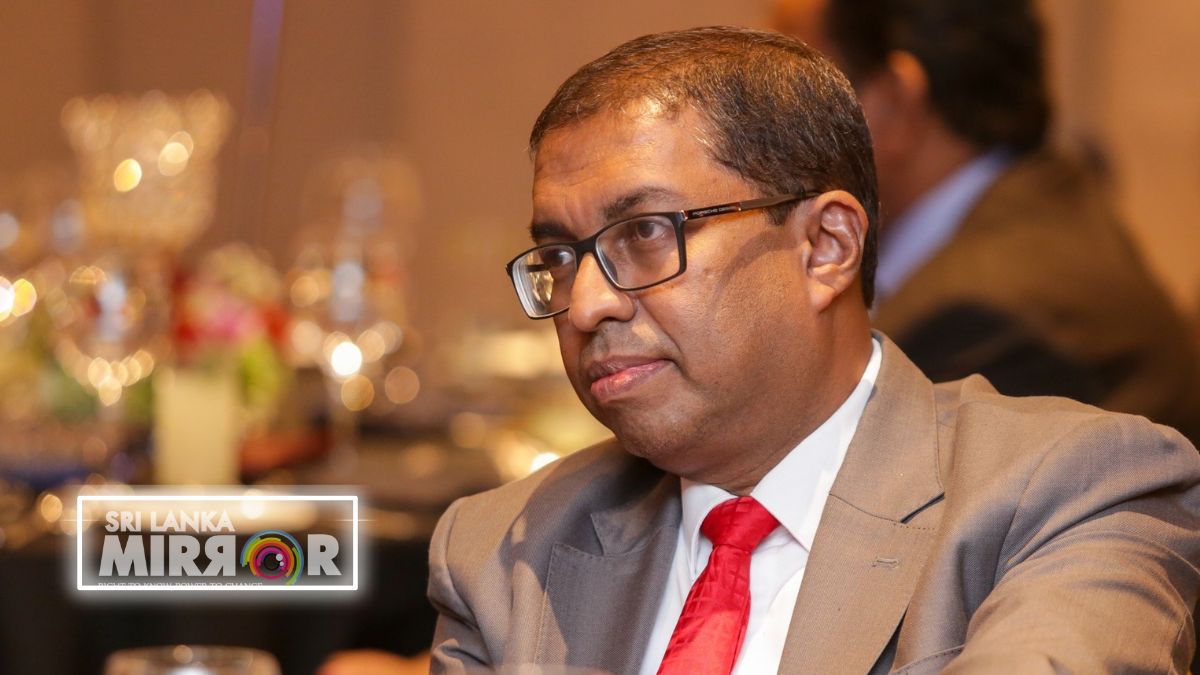 In a letter to the Inspector General of Police, the Bar Association of Sri Lanka (BASL) has requested the police take necessary action to ensure the safety of the BASL President – Saliya Pieris.
The letter to the IGP relates to the protest that took place opposite the chamber of Saliya Pieris PC.
view the said protest seriously hinders his right to represent a client, a professional right which has been safeguarded by law," the BASL said.
"Therefore, we strongly demand that you take action to ensure that Mr. Peiris's professional duties as an Attorney-at-law, are not hindered and to ensure his safety," the BASL added.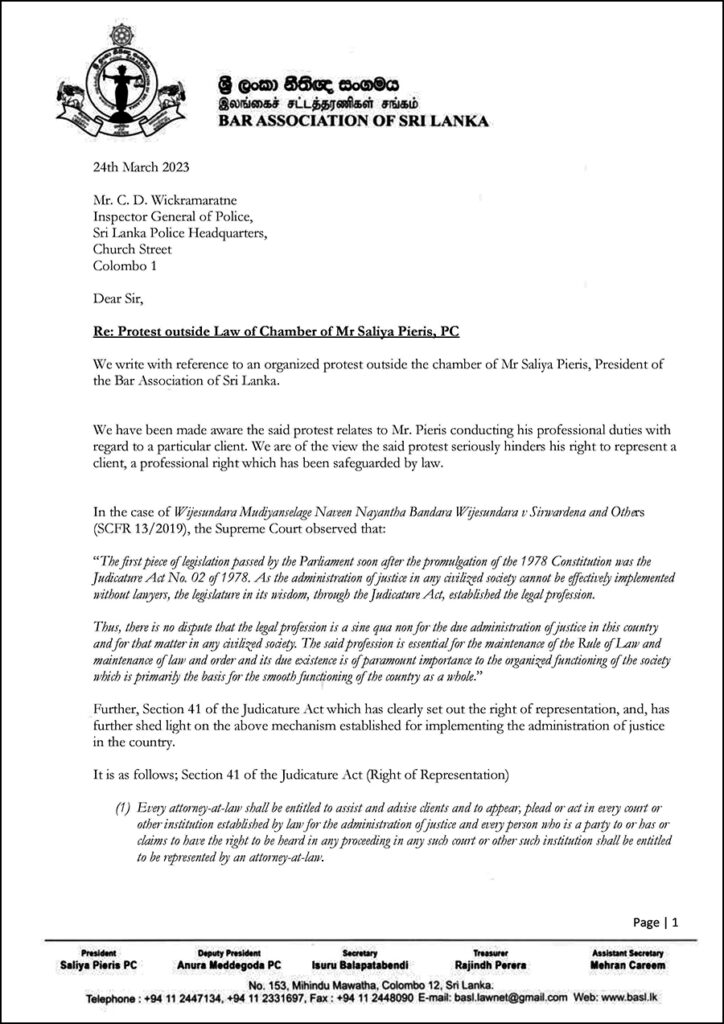 Sri Lanka Gem and Jewellery exhibition held in Shanghai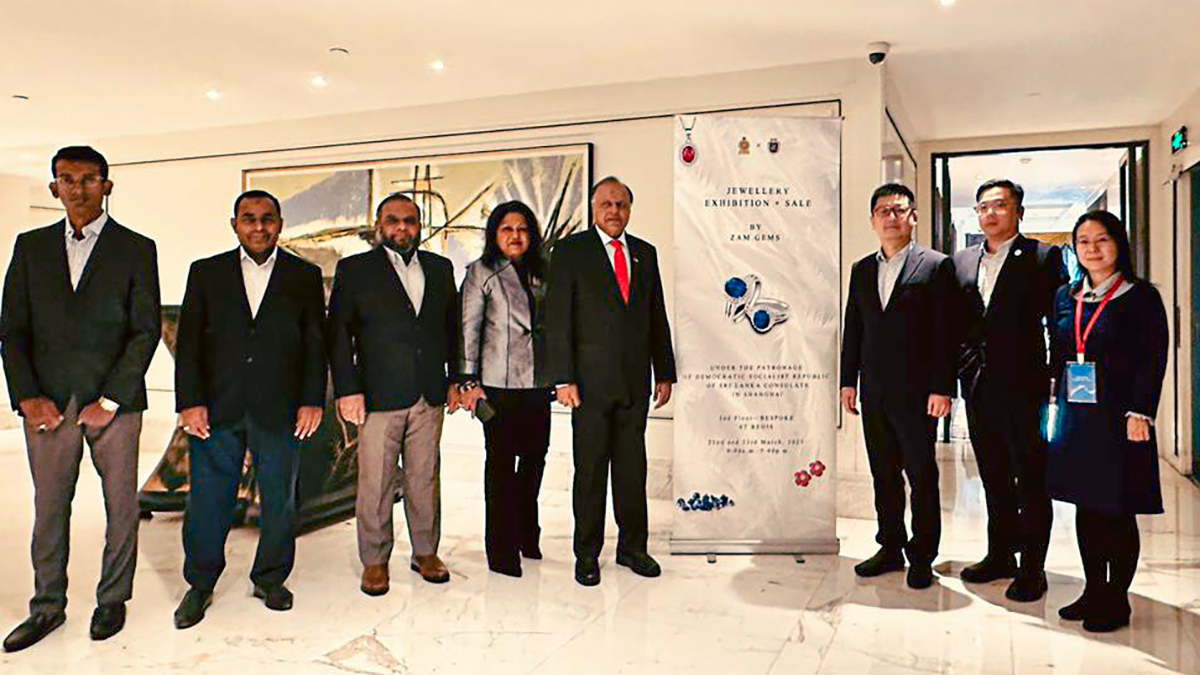 A Sri Lankan Gem and Jewellery Exhibition was held at The St. Regis Hotel in Shanghai between 22 to 23 March 2023 with the participation of Zam Gems Sri Lanka under the patronage of Sri Lanka Consulate General in Shanghai.
At the exhibition, Sri Lankan gems which included blue sapphires, pink sapphires (rubies), Alexandrite and Cat's-eye Chrysoberyl were displayed. In addition, a variety of jewellery including necklaces, rings, earrings, bracelets which were crafted using above mentioned Sri Lankan gems and stones were also exhibited.
The Chairman of Shanghai Jade and Gem Exchange Simon Chan participated in the event with his team of officials and reputed Chinese buyers. In addition, many other buyers across China, Gem and Jewellery traders, gem collectors, members of Shanghai Diplomatic Corp, expatriates as well as other interested parties and visitors were present at the event.
Further, the Consulate used this opportunity to promote Sri Lanka tourism by displaying and distributing Sri Lanka tourism brochures among prospective gem buyers, members of Diplomatic Corp and visitors while responding to tourism related queries.
This event, which was the 01st Gem and Jewellery exhibition held in Shanghai in the aftermath of the opening up of Chinese borders (ending months long Covid-19 restrictions), proved to be a huge success.