"Sri Lanka to export milk powder to China next year "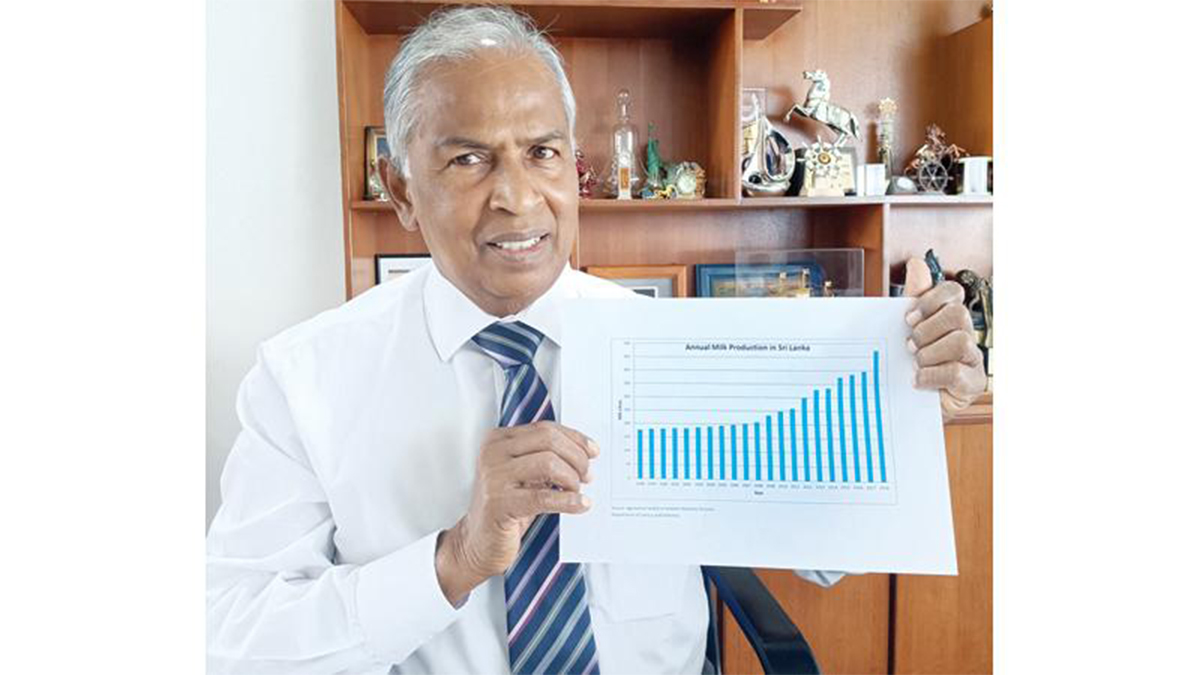 Sri Lanka will achieve self-sufficiency in milk powder next year and create history by launching exports to China, said Chairman Pelwatte Dairy Industries (Pvt) Ltd, Ariyaseela Wickramanayake.
He told Sunday Observer Business that Sri Lanka's milk powder imports have reduced drastically while local production has increased.
The quantity of milk powder imported in 2019 was 99 million kg, compared to 96 million kg in 2020. The quantity of milk powder imports in 2018 was 98 million kg, marking a drop of five million kg between 2018 and 2019, and a further two million kg drop between 2019 and 2020. The average milk powder import bill is around USD 400 million.
Last year only 12 million kilos were imported which saved around USD 350 million for the country. "This amount has further decreased up to now," he said.
Wickramanayake, also said that successive governments have to be praised for encouraging more dairy farmers to get involved in the industry by increasing the price of a litre of fresh milk. "This happened four times soon after elections and the prices went up from Rs. 30 in 2005 where the country had around 200 million litres of fresh milk to Rs. 50 per litre and production increased to 250 million litres in 2010.
After the 2015 election the price per litre of liquid milk increased to Rs. 75 and local production increased to 350 million litres and today the total local fresh milk production is around 600 million litres and it is increasing. The farmer gets around Rs. 225 per litre of fresh milk. "Soon Sri Lanka will have a surplus and this is where we will look at exports."
He said that recently the milk produced by local farmers was in excess of demand and some protested by throwing them on the streets.
"This is the time Pelwatte Dairy Industries stepped in and upped our production capacity and started collecting 150,000 litres of milk per day which was a colossal achievement and a great victory for the daily sector in Sri Lanka." He said that they are investing around Rs. 1.5 billion and building a factory in Kurunegala and this would be ready by August. This factory will concentrate only on exports.
"When the factory is completed we will increase our local fresh milk intake to 300, 000 litres and then by early next year we will start powdered milk exports to China reversing the trends where Sri Lanka spent huge amounts of money for milk powder imports," he said.
The company also created another major landmark when a consignment of Pelwatte Ceylon Butter was exported to the Maldives on Friday. "Next we will be exporting Pelwatte Ceylon butter to Japan."
Cabinet green light to ratify Comprehensive Nuclear-Test-Ban Treaty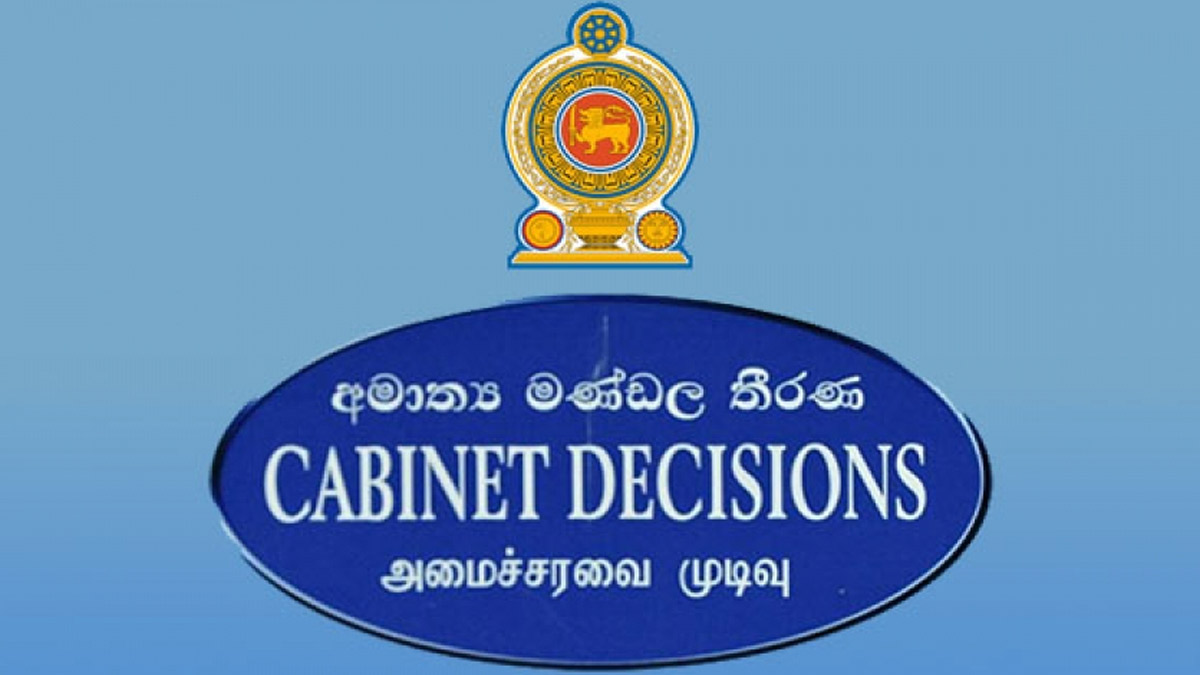 Cabinet approval has been granted to ratify the Comprehensive Nuclear-Test-Ban Treaty and to take the necessary steps for legislation to enforce the provisions of the agreement.
The Comprehensive Nuclear Test Ban Treaty (CTBT) was adopted by the United Nations General Assembly on Sep. 10, 1996. By the treaty, member states agreed to ban "any nuclear weapons test or other nuclear explosion" anywhere in the world. So far, 186 countries have signed the agreement and 177 countries have ratified the agreement.
Sri Lanka signed the Comprehensive Nuclear Test Ban Treaty on October 24, 1996. Sri Lanka is currently cooperating with the Comprehensive Nuclear-Test-Ban Treaty Organization in the areas of training, capacity development, data and information sharing. Sri Lanka's ratification of the treaty would recognize Sri Lanka's diplomatic role as an active proponent of international peace and security in a world free of nuclear weapons.
According to the government, ratifying the agreement will also enable the country to obtain useful data for civil and scientific purposes that will benefit many developing countries including Sri Lanka, such as tsunami warnings, climate change and geographical studies.
Overseas travel ban slapped on Gajendrakumar Ponnambalam
The Kilinochchi Magistrate's Court has issued an overseas travel ban on Ahila Ilankai Thamil Congress (AITC) MP – Gajendrakumar Ponnambalam over the recent incident of verbally abusing police officers during a function, police spokesman – SSP Nihal Thalduwa says.
Yesterday, the magistrate ordered to remand the AITC's main female organizer in the North – East region, over the incident.
Verdict on petition challenging Diana Gamage's MP seat, postponed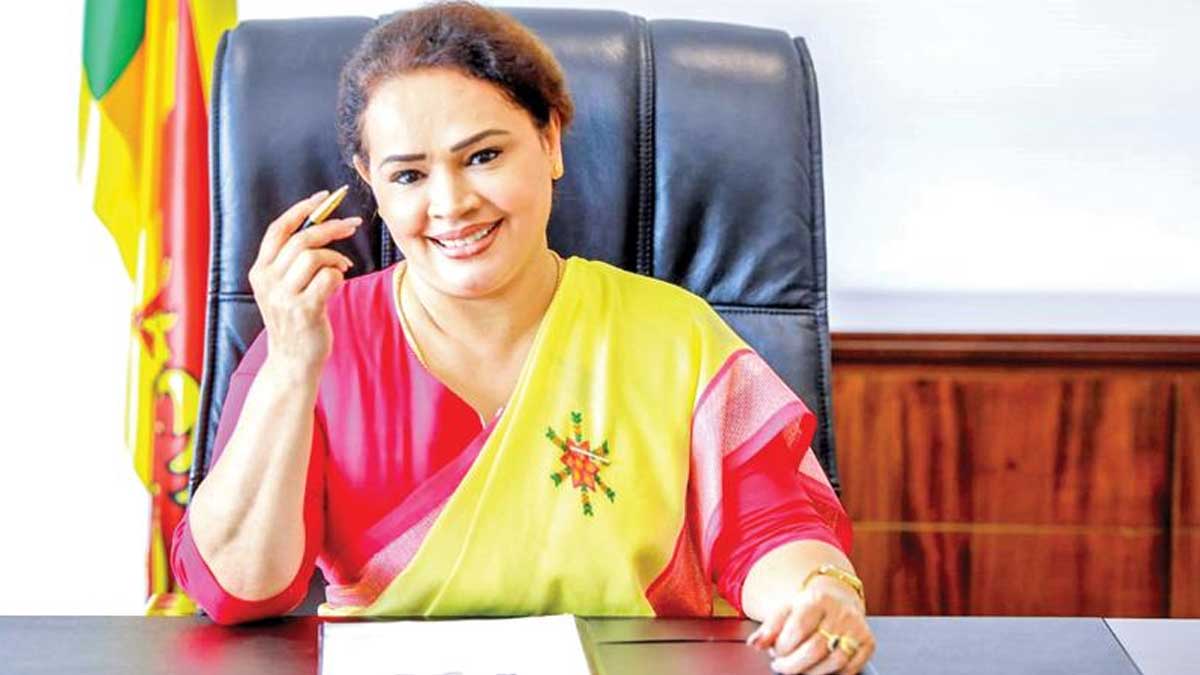 The Court of Appeal has deferred the pronouncement of the verdict on the petition filed seeking an order to annul the Parliamentary seat of State Minister Diana Gamage.
Accordingly, the verdict is expected to be pronounced on the 25th of July.
The petition was called this morning before President of the Court of Appeal Justice Nissanka Bandula Karunaratne and Justice A Marikkar.
Court heard arguments pertaining to the petition previously and was expected to announce the verdict today.
The writ petition was filed before the Court of Appeal calling for State Minister Diana Gamage to be stripped of her Parliamentary seat by activist Oshala Herath on the 15th of November 2022.
State Minister Gamage, the Immigration and Emigration Controller, the Minister of Public Security, the General Secretary of the Samagi Jana Balawegaya, the National Election Commission and its members, and the General Secretary of Parliament were cited as respondents in the petition.