Protests have been seen mainly in Yangon, the country's largest city. Many donning red - the colour of Suu Kyi's party, and displaying the three fingered salute, have been seen on the streets.
In a bid to curb the protests, the military government had also imposed an internet lockdown but had failed to contain the protests entirely.
Today, police in Myanmar's capital Nay Pyi Taw have used water cannon on workers conducting a nationwide strike
The following are several moments in protests held throughout the country in the last few days.
(Pics : Reuters / VOA Burmese Service)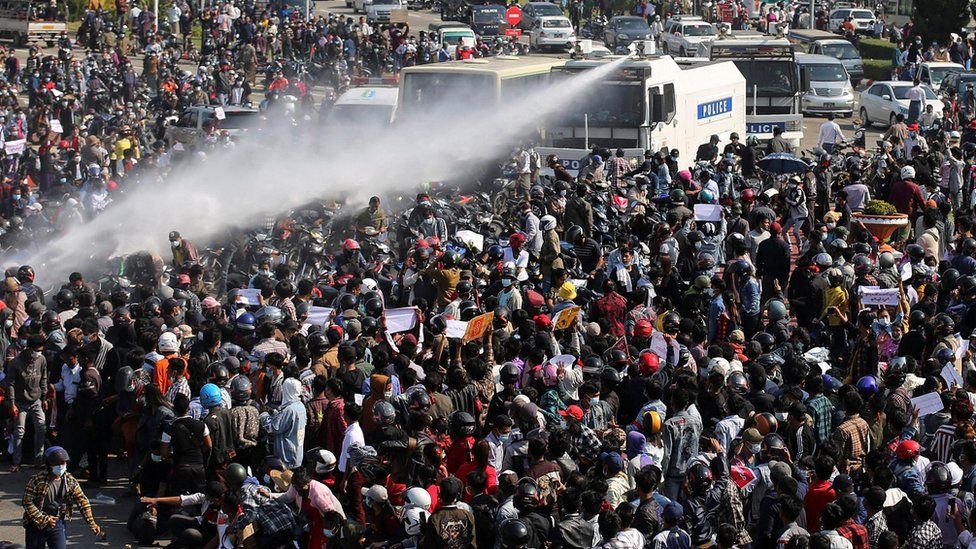 Police used water cannon on protesters in Nay Pyi Taw (Credit: Reuters)
People gather to protest against the military coup in Yangon, Myanmar, Feb. 7, 2021. (Credit: VOA Burmese Service)
Thousands of people protest against the military coup and call for the release of civilian leader Aung San Suu Kyi in Yangon, Myanmar, Feb. 7, 2021. (Credit: VOA Burmese Service)
Riot police are seen blocking a road in Yangon, Myanmar, Feb. 7, 2021. (Credit: VOA Burmese Service)
Demonstrators show the three-fingered salute during a rally to protest against the military coup in Yangon, Myanmar, Feb. 7, 2021. (Credit: VOA Burmese Service)
Motorcyclists hold a peaceful protest against the military coup in Mandalay, Myanmar, Feb. 6, 2021. (Credit: VOA Burmese Service)
Protesters offer food and drinks to riot police during a rally against the military coup in Yangon, Myanmar, Feb. 7, 2021. (Credit: VOA Burmese Service)
Protesters march on a street in Yangon, Myanmar, Feb. 7, 2021. (Credit: VOA Burmese Service)
People holding images of detained civilian leader Aung San Suu Kyi and President Win Myint call for their release during a rally against the military coup in Yangon, Myanmar, Feb. 7, 2021. (Credit: VOA Burmese Service)