Aaron Finch retires from T20s, ends Australia career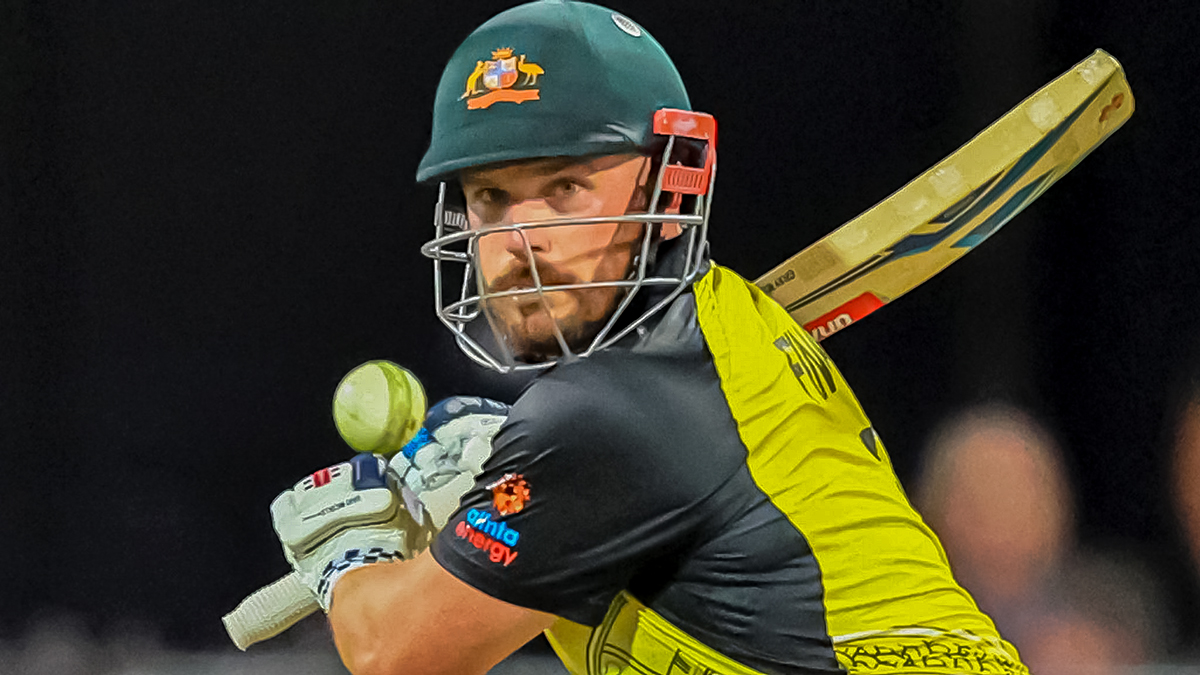 Aaron Finch has announced his retirement from T20Is, bringing an end to his Australia career, meaning there will be a new captain when the team next take the field later this year.
The move had been expected following Finch's decision to quit ODIs late last year and a significant gap until Australia's next T20Is following the home World Cup where they failed to make the semi-finals.
After that tournament, where Finch missed the final game against Afghanistan due to injury, he said he would take to assess his future during the BBL. He enjoyed a successful tournament for Melbourne Renegades, where he made 428 runs at 38.90, but has decided he won't push through to August when Australia next play T20Is in South Africa.
Finch captained the team to their first T20 World Cup title when they defeated New Zealand in Dubai during 2021.
"Realising that I won't be playing on until the next T20 World Cup in 2024, now is the right moment step down and give the team time to plan and build towards that event," Finch said.
"I'd like to thank my family, especially my wife Amy, my team-mates, Cricket Victoria, Cricket Australia and the Australian Cricketers' Association for their support to allow me to play the game I love at the highest level. I also want to say a huge thank you to all the fans who have supported me throughout my international career.
"Team success is what you play the game for and the maiden T20 World Cup win in 2021 and lifting the ODI World Cup on home soil in 2015 will be the two memories I cherish the most.
"To be able to represent Australia for 12 years and play with and against some of the greatest players of all time has been an incredible honour."
Finch leaves as Australia's leading men's run-scorer in the format with 3120 at 34.28 and a strike-rate of 142.53. His high score of 172, made against Zimbabwe in 2018, is the highest T20I innings of all-time – a record he also held with his 156 against England in 2013.
(espncricinfo.com)
Sports Minister writes to ICC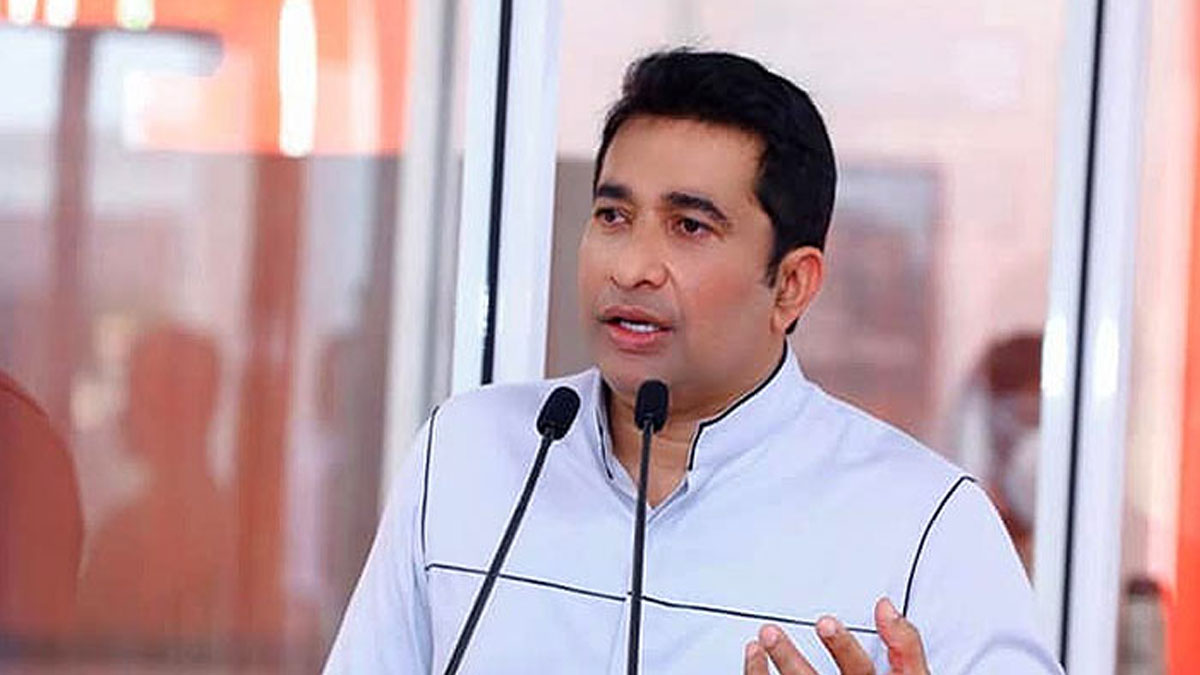 Minister of Sports and Youth Affairs Roshan Ranasinghe has written to the Chairman of the International Cricket Council (ICC), Greg Barclay, pertaining to recent media reports claiming that a committee has been appointed to investigate Sri Lanka Cricket (SLC).
Issuing a release in this regard, the Ministry noted that Ranasinghe had written to Barclay, requesting a discussion on media reports claiming that the ICC has appointed a three-member committee to investigate into the alleged political interference within SLC.
The statement further noted that in his letter, the Minister assured that he shared the same ideals as the ICC on the fact that the SLC should remain independent, adding that other registered national sports bodies too, should be devoid of political interference.
Moreover, Minster Ranasinghe stated that it is essential that all sports teams and organizations within the country act in accordance with a certain standard, in light of the fact that they are also subjected to the conditions and regulations of international organizations.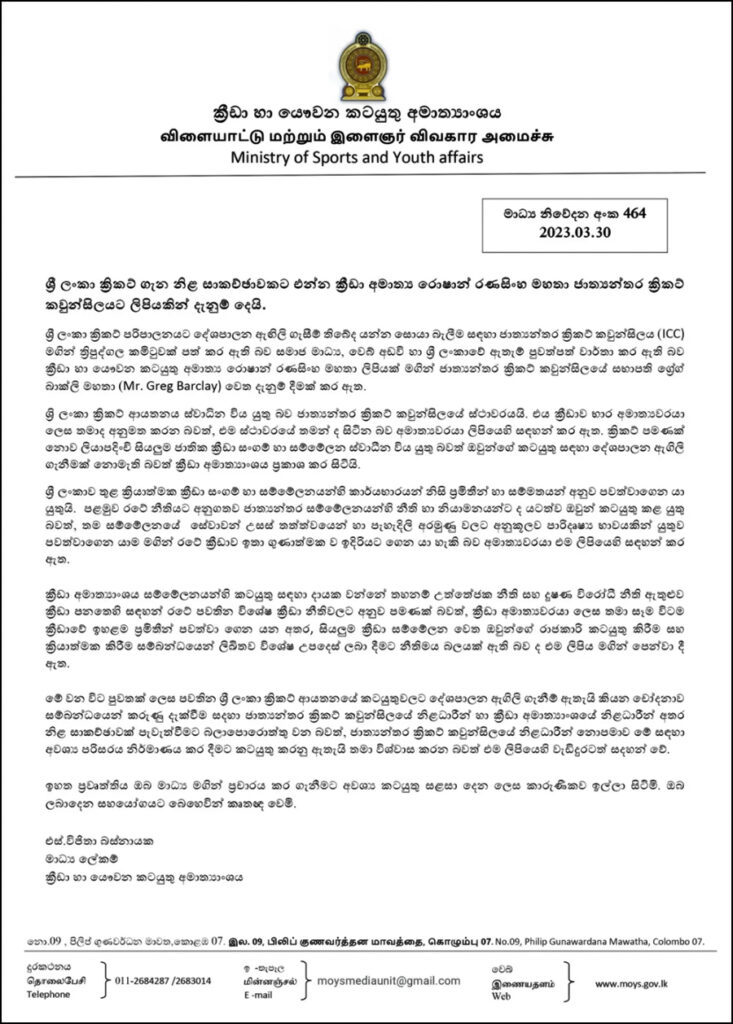 Indonesia's hosting rights for U-20 World Cup, stripped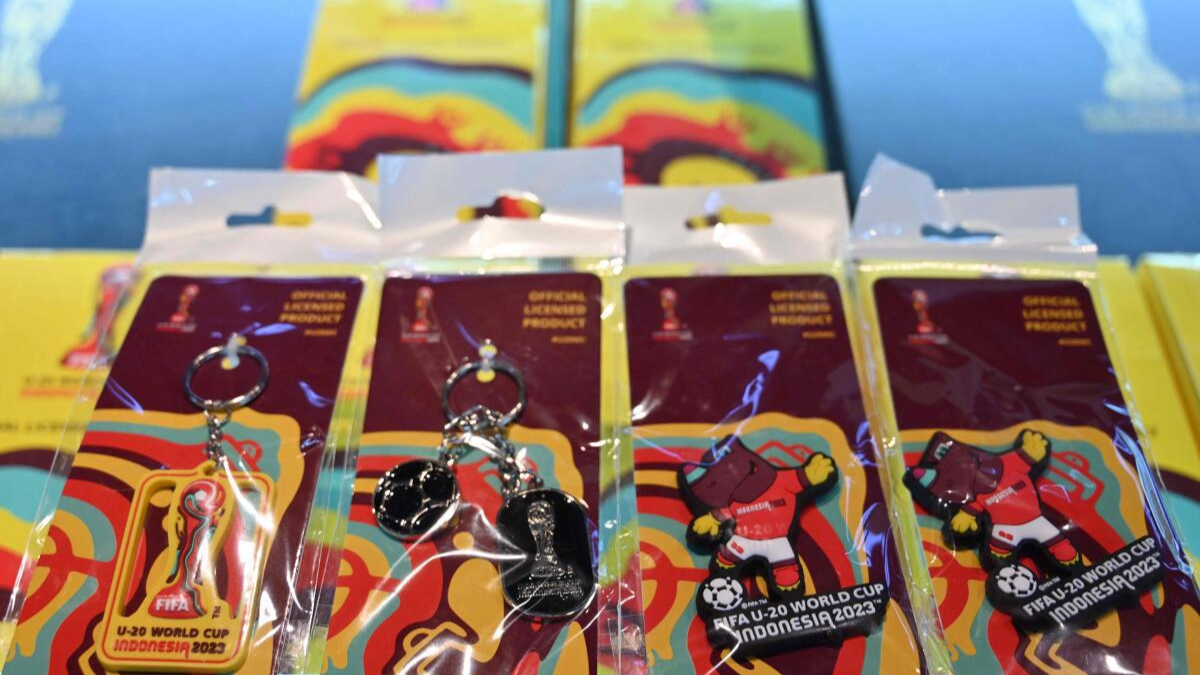 Fifa has stripped Indonesia of hosting rights for the Under-20 World Cup.
The decision follows the cancellation of the official draw for the tournament, which was due to be held in Bali last Friday.
The Football Association of Indonesia (PSSI) said Fifa was forced to cancel the draw after Bali's governor Wayan Koster refused to host the Israeli team.
The U20 World Cup is set to take place from 20 May to 11 June.
Indonesia does not have any formal diplomatic ties with Israel and recently protesters have held marches demanding Israel be stopped from competing in the tournament, in support of Palestine.
Indonesia were awarded hosting rights in 2019, before Israel qualified for the tournament. England's U20 team is also set to compete.
"Fifa has decided, due to the current circumstances, to remove Indonesia as the host of the Fifa U20 World Cup 2023," a Fifa statement said.
"A new host will be announced as soon as possible, with the dates of the tournament currently remaining unchanged. Potential sanctions against the PSSI may also be decided at a later stage."
Half an hour before Fifa's announcement, PSSI executive committee member Arya Sinulingga said he was "very pessimistic" about Indonesia keeping the hosting rights.
"If we make political requirements in sports, it'll always be like this. We will be exiled from the football ecosystem.
"It's very tough for all of us. We're headed into a calamity in sports. We have to separate football or sports and politics."
(BBC News)
Arjuna removed from National Sports Council!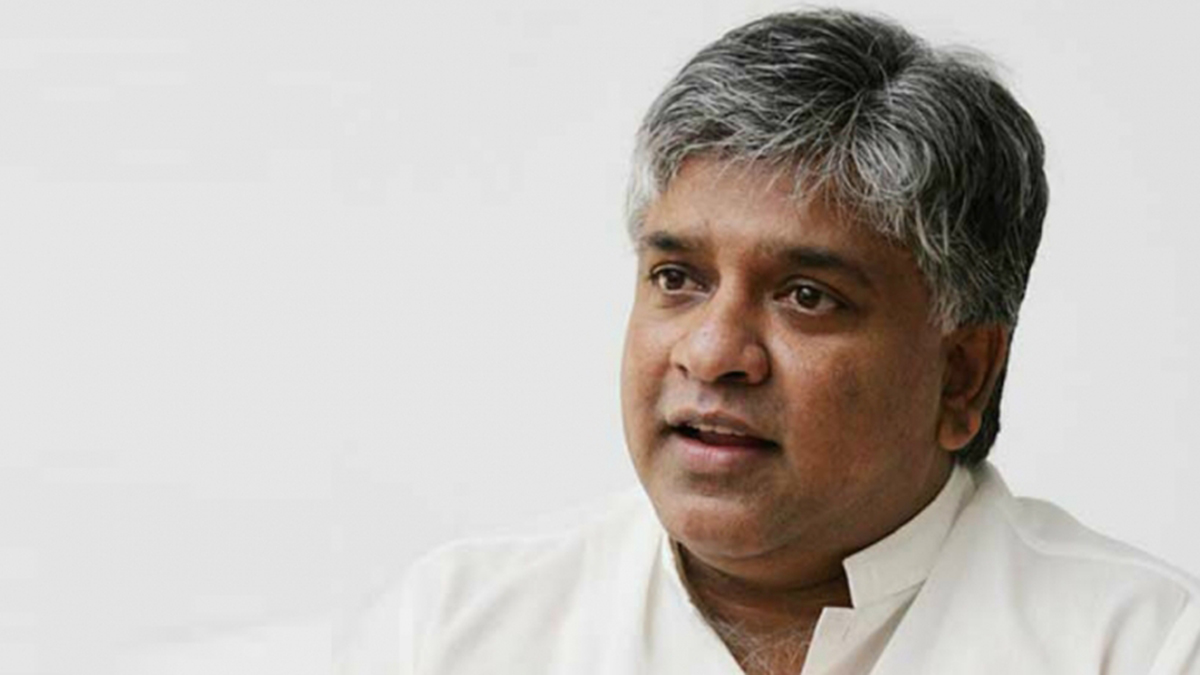 Sudath Chandrasekara, Senior Advisor to the Sports Minister, has informed Arjuna Ranatunga in writing yesterday (29) to resign immediately from the post of Chairman of the National Sports Council.

Meanwhile, it was reported that no member of the National Sports Council has participated in a Council meeting which was scheduled at 2.00 pm yesterday through Zoom technology.
It was said that Mr. Chandrasekara's letter addressed to Mr. Ranatunga stated that they will no longer accept him as the chairman of the National Sports Council.