Icy blast hits 200 mn. Americans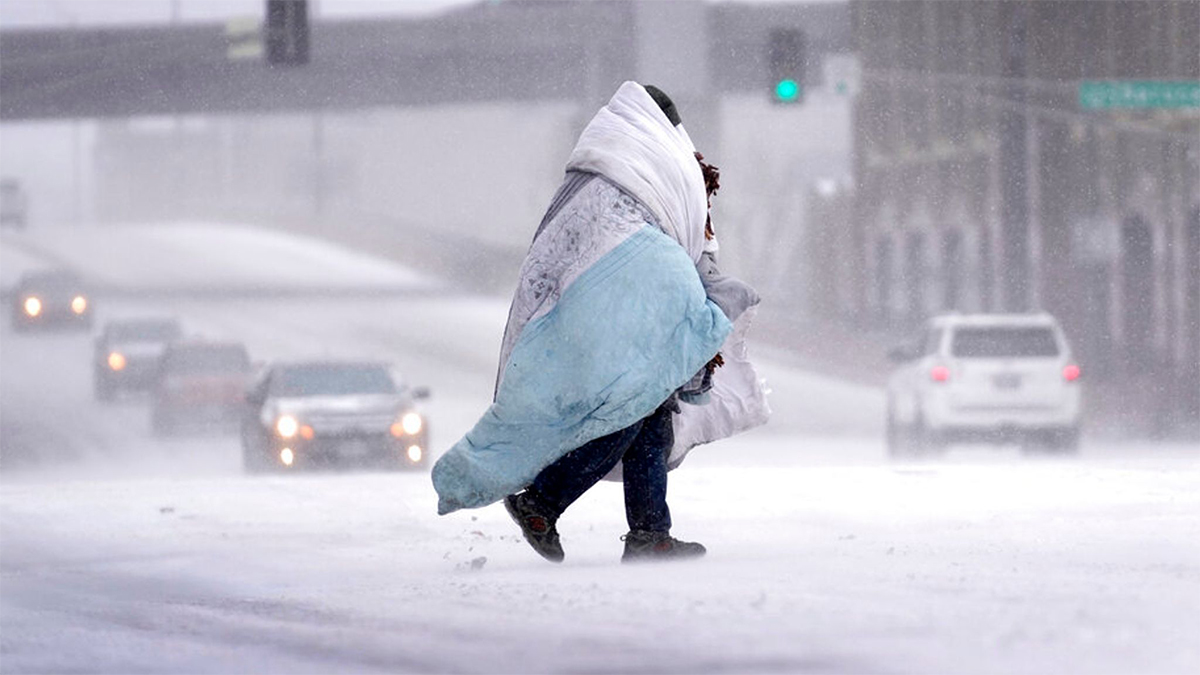 Some 200 million Americans are feeling the icy grip of a massive winter storm that has been linked to at least 12 deaths ahead of the holiday weekend.
More than 1.5 million people lost power and thousands of flights were cancelled on Friday.
The vast storm extends more than 2,000 miles (3,200km) from Texas to Quebec.
A bomb cyclone, when atmospheric pressure plummets, has brought blizzard conditions to the Great Lakes on the US-Canada border.
In Canada, Ontario and Quebec were bearing the brunt of the Arctic blast, with power cut to hundreds of thousands.
Much of the rest of the country, from British Columbia to Newfoundland, was under extreme cold and winter storm warnings.
The US National Weather Service (NWS) said its Friday map "depicts one of the greatest extents of winter weather warnings and advisories ever".
Temperatures in Elk Park, Montana, dropped to -50F (-45C), while the town of Hell, Michigan, has frozen over.
It was 1F (-17C) in the snow-covered community on Friday night. Emily, a bartender at Smitty's Hell Saloon, told the BBC: "It's pretty cold here, but we're having a hell of a time."
In South Dakota, snowed-in Native Americans burned clothes for warmth after running out of fuel, said tribal officials.
Heavy snowfall was forecast in areas of Pennsylvania and Michigan. Buffalo, New York, was expecting at least 35in (89cm). More than eight million people remained under blizzard warnings, said the NWS.
Coastal flooding has been seen in New England, New York and New Jersey.
(BBC News)
Pope Francis to have abdominal surgery
Pope Francis will have surgery on his abdomen on Wednesday afternoon at Rome's Gemelli hospital.
He is expected to stay in hospital for "several days" to recover from the hernia operation, the Vatican said.
The hernia is "causing recurrent, painful and worsening" symptoms, added Vatican spokesman Matteo Bruni.
The 86-year-old has faced a series of health issues in recent years, and uses a cane and a wheelchair due to a persistent knee ailment.
In a statement, the Vatican said the pontiff's medical team had decided in recent days that surgery was needed.
"In the early afternoon he will undergo a laparotomy and abdominal wall surgery… under general anaesthesia," said Mr Bruni.
He added: "The stay at the health facility will last several days to allow the normal post-operative course and full functional recovery."
Earlier on Wednesday, Pope Francis carried out his weekly audience as normal and didn't mention his planned operation.
The day before, the Pope was at the same Rome hospital for a scheduled check-up, months after he was taken to hospital with bronchitis.
He spent three days in hospital in March to treat a lung infection, in the same month that he marked the 10th anniversary of his pontificate.
In 2021, Pope Francis spent 10 days in hospital after having a part of his colon removed, in a bid to address a painful bowel condition. He recently revealed that the complaint had returned.
Last month, Phe pulled out of his Friday audiences due to a fever.
But while his predecessor Benedict XVI quit in 2013, the Pope has dismissed the possibility of leaving office too.
"You don't run the Church with a knee but with a head," he is said to have told an aide last year.
The Pope is considered to have been in general good health during his decade leading the Catholic Church
He continues to maintain a busy schedule, and is due to visit Portugal and Mongolia from August.
(BBC News)
Russia destroys 11 tanks in Ukraine
Eight German Leopard tanks and three French AMX tanks have been destroyed by Russian attacks in Ukraine, foreign media reported.
Russian Defence Ministry Spokesman Igor Konashenkov said that Russia retaliated against a large-scale attack by Ukrainian forces in the Donetsk and Zaporizhzhia Provinces of Ukraine.
On the previous day, it was reported that 250 Ukrainian soldiers were killed by Russian attacks.
Ukrainian Deputy Defence Minister Hanna Maliar said that Ukrainian attacks have been launched in the eastern part of Bakhmut.
It has not been confirmed whether the large-scale counterattack, which is to be launched by Ukraine, has been launched yet.
19 killed in southwest China landslide
A landslide at a mine in Leshan, southwest China's Sichuan Province, killed 19 people early on Sunday morning, foreign media reported.
Rocks and mud from the landslide buried living quarters and production facilities belonging to local mining company Jinkaiyuan Mining Co.Ltd.
More than 180 rescue workers, who were sent to the site immediately following the landslide, have completed search and rescue operations.