India hospitals on alert as Covid-19 cases rise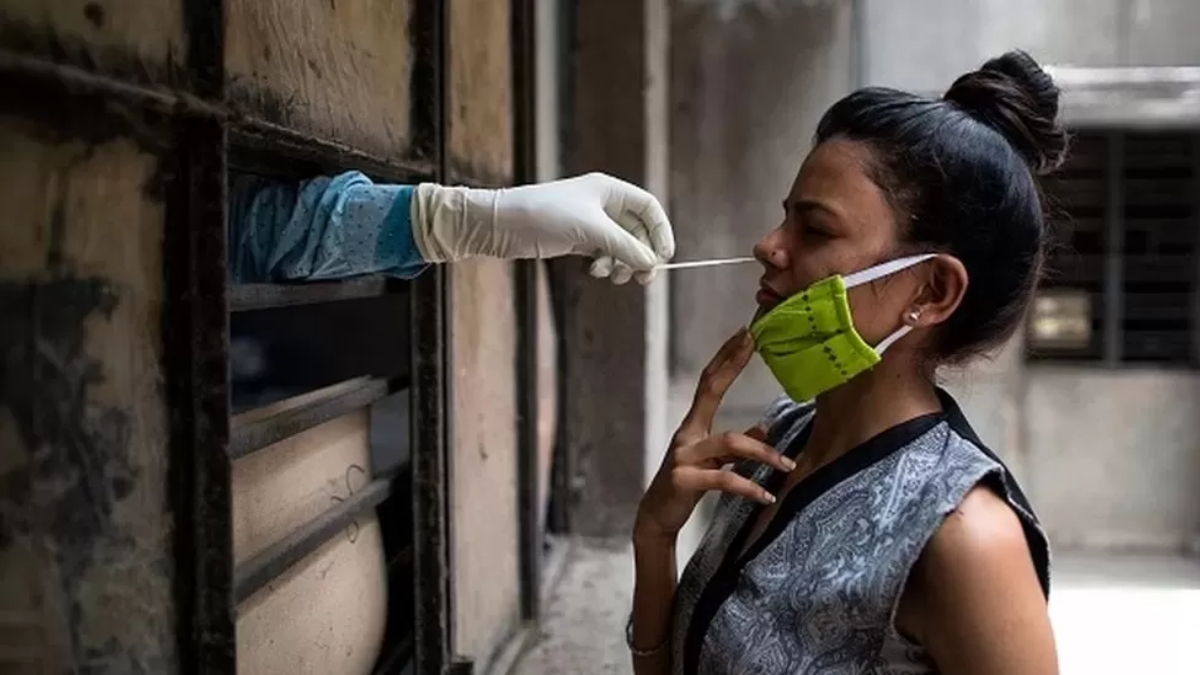 India's health ministry is conducting mock drills to check preparedness of hospitals to deal with rising Covid-19 cases.
The drills are being held on Monday and Tuesday across the country.
India's active case count is relatively low but experts are urging caution to stop further spread of the disease.
The country saw a deadly second wave in 2021 and the government came under criticism as many hospitals ran out of oxygen and critical care beds.
India recorded close to 6,000 new cases on Sunday, government data shows. The active case count was 35,000.
The surge is largely driven by XBB.1.16, which is an omicron subvariant. The WHO has said it was watching the subvariant and the spread in India.
Experts say it's not known to be lethal.
"It's been in circulation for a few months. We haven't seen a change in severity in individuals or in populations, but that's why we have these systems in place," Maria Van Kerkhove, WHO's COVID-19 technical lead, recently said.
Many cities in India have seen a sharp rise in cases in recent weeks, but the surge has not led to an increase in hospital admissions.
Both public and private hospitals are participating in the mock drills, which are being supervised by India's health minister Mansukh Mandaviya, and other state health ministers.
In an online meeting held on 7 April, Mr Mandaviya had also asked health officials to identify emergency hotspots by tracking cases related to respiratory illnesses and he also advised them to increase testing and vaccination for Covid-19.
He also stressed the need for increasing awareness about Covid-appropriate behaviour like wearing masks in public places.
Meanwhile, some states have made it mandatory to wear masks in public and are urging citizens to follow Covid-19 safety protocols.
India was on alert in December as well due to a surge in Covid-19 cases in neighbouring China, and had stepped up surveillance.
(BBC News)
Russia destroys 11 tanks in Ukraine
Eight German Leopard tanks and three French AMX tanks have been destroyed by Russian attacks in Ukraine, foreign media reported.
Russian Defence Ministry Spokesman Igor Konashenkov said that Russia retaliated against a large-scale attack by Ukrainian forces in the Donetsk and Zaporizhzhia Provinces of Ukraine.
On the previous day, it was reported that 250 Ukrainian soldiers were killed by Russian attacks.
Ukrainian Deputy Defence Minister Hanna Maliar said that Ukrainian attacks have been launched in the eastern part of Bakhmut.
It has not been confirmed whether the large-scale counterattack, which is to be launched by Ukraine, has been launched yet.
19 killed in southwest China landslide
A landslide at a mine in Leshan, southwest China's Sichuan Province, killed 19 people early on Sunday morning, foreign media reported.
Rocks and mud from the landslide buried living quarters and production facilities belonging to local mining company Jinkaiyuan Mining Co.Ltd.
More than 180 rescue workers, who were sent to the site immediately following the landslide, have completed search and rescue operations.
Joe Biden 'fine' after fall on stage in Colorado
President Joe Biden is "fine" after tripping and falling over at an event in Colorado, White House officials say.
He stumbled on a sandbag while handing out diplomas at a graduation ceremony for the US Air Force Academy.
Mr Biden, who is the nation's oldest serving president at 80, was helped back onto his feet and appeared to be unhurt after Thursday's fall.
"I got sandbagged!" the president joked to reporters as he arrived back at the White House that evening.
He had been standing for about an hour and a half to shake hands with each of the 921 graduating cadets.
Footage shows Mr Biden appearing to point at one of two sandbags used to prop up his teleprompter as he was helped up by an Air Force official and two members of his Secret Service detail.
He was seen walking back to his seat unassisted and later jogging back to his motorcade when the ceremony ended.
"There was a sandbag on stage while he was shaking hands," White House communications director Ben LaBolt wrote on Twitter. "He's fine."
White House press secretary Karine Jean-Pierre said Mr Biden had boarded the plane flashing "a big smile", although one reporter noted that he did not take questions before the flight.