President proposes to establish an International Climate Change Uni. in SL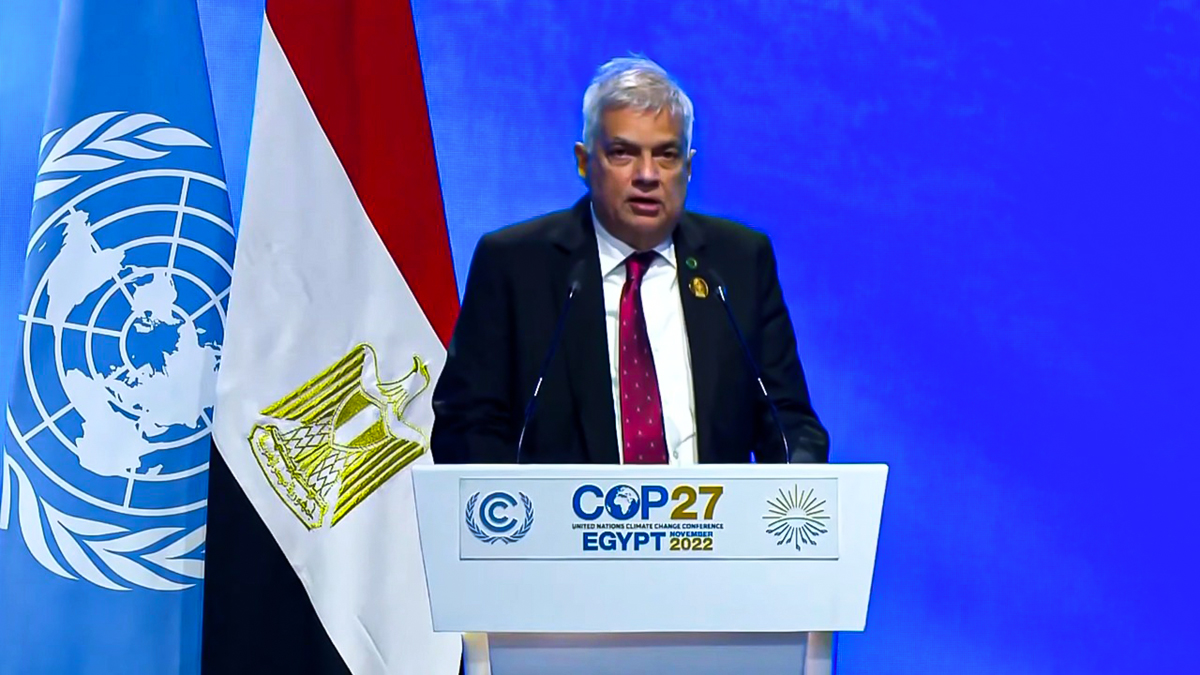 Developing countries are the worst affected by rising emissions from the industrialized world, and must be compensated – President Ranil Wickremesinghe emphasizes at COP 27
President Ranil Wickremesinghe has said that unbridled industrialization of the developed countries is the root cause of climate change, leaving the poor to suffer the consequences. He said that the problems facing poor countries are augmented due to the absence of adequate funding.
He has said this while addressing the COP 27 Climate Change Conference in Sharm El-Sheikh, Egypt earlier today (08).
As a result, these countries are facing double jeopardy – struggling to develop economically while fighting to protect the living standards of their populations.
Therefore, President Wickremesinghe said that the developed countries must deliver on their pledge in Glasgow – by doubling their funding to compensate the developing countries for loss and damage.
Accordingly, he said that as proposed by the Climate Vulnerable Forum, commissioning a Special Report on this aspect to strengthen international awareness for future responses would be appropriate.
President Wickremesinghe thus proposed that before COP 28 in Dubai, like-minded nations should meet at Ministerial Level to discuss the way forward on all aspects of climate finance.
He also noted that this should be followed with a meeting of the Heads of Government of these countries on the margins of COP 28 to display a collective frame of mind to stave off the calamity.
Following is the full speech delivered by President Ranil Wickremesinghe at the Cop 27 Climate Change Summit;
"The salubrious environs of the green city of Sharm El-Sheikh will undoubtedly inspire our discussions at COP 27 to a successful conclusion. I sincerely thank the Government of Egypt for your warm welcome and hospitality," he added.
Noting that the lack of capacity is the biggest obstacle to the implementation of Climate Action plans, President Wickremesinghe has said capacity building is vital in this regard.
"To overcome this obstacle, we propose to establish an International Climate Change University in Sri Lanka, with an ancillary institution in Maldives, which would be the first of its type," he said.
He further said :
"This seat of learning can be a trans-disciplinary global centre for green and blue studies – for scientists, environmentalists, researchers, policymakers, development practitioners, and of course, students the world over, to interchange knowledge transcending national and disciplinary boundaries. The envisaged Climate Change University will offer both short-term courses and postgraduate academic awards to build capabilities for mitigating and adapting to climate change. The University will also expedite the skills of the new generations to deliver the political, economic, social, cultural and digital transformations required to prevent a 1.5-degree world. It will be the vehicle to enlighten domestic climate change challenges and prospects. The collaboration of multilateral institutions and organizations such as the Commonwealth, World Bank and the ADB amongst others, will be sought for the establishment of this institution of higher learning – making it a multi-stakeholder partnership transcending – national boundaries.
I hope Sri Lanka's proposal will receive extensive support and endorsement from the international community."
New Army Chief of Staff appointed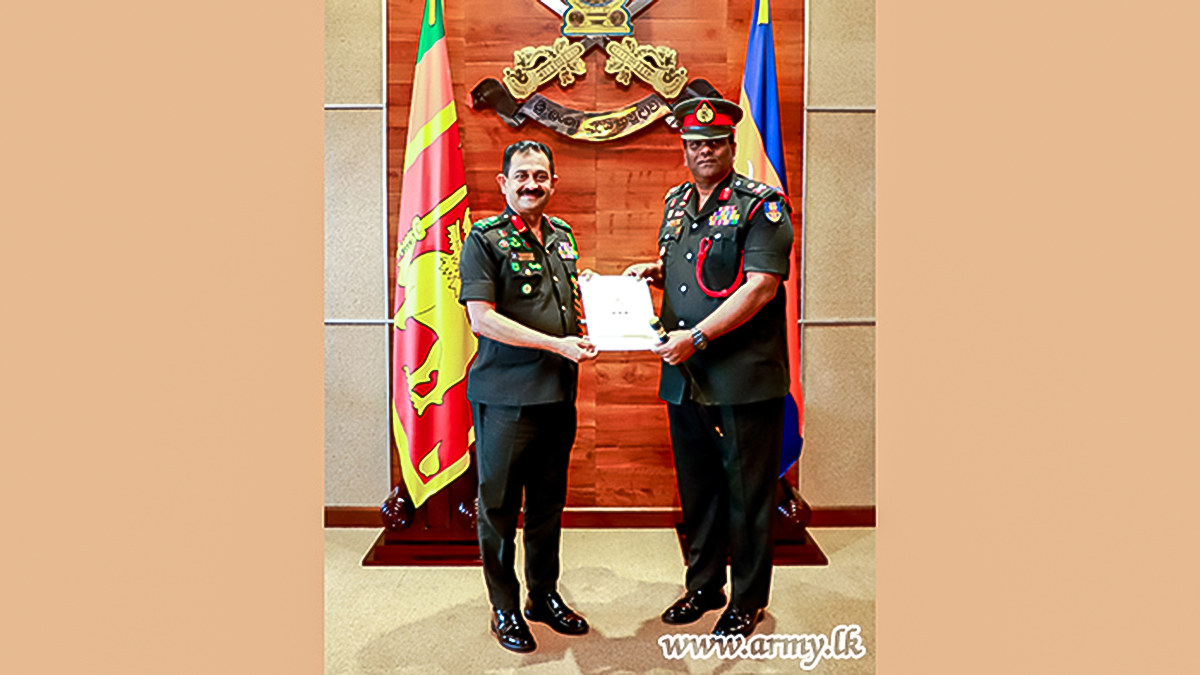 Major General C.D Weerasuriya RWP RSP ndu, the present Deputy Chief of Staff of the Sri Lanka Army has been appointed as the new Chief of Staff of the Army.
Major General C.D Weerasuriya RWP RSP ndu this afternoon (29) received the letter of appointment as 61st Chief of Staff of the Army from Lieutenant General Vikum Liyanage, Commander of the Army at the Commander's office.
He, who has served as the Commandant, Sri Lanka Army Volunteer Force before he took office as the Deputy Chief of Staff of the Sri Lanka Army on 16 June 2022, has also held many key appointments in the Army. He is also the Colonel of the Regiment, Sri Lanka Light Infantry and Mechanized Infantry Regiment.
Major General C.D Weerasuriya RWP RSP ndu was born in 15 July 1968 in Colombo and had his education at Mahanama College, Kollupitiya where he excelled in sports and various scopes. He joined the Army as an Officer Cadet in 27 October 1986 to the Intake 26 and was commissioned as a Second Lieutenant into one of the most respected Infantry Regiments in the Sri Lanka Army, the 1st Battalion of the Sri Lanka Light Infantry on 23 July 1987. He has counted over 36 years of reckonable service in the military career.
Besides the regimental appointments in every sphere, Major General C.D Weerasuriya RWP RSP ndu has held numerous important appointments in Command and Staff capacities. He commanded one of the reputed Infantry Battalions, 4th Battalion of Sri Lanka Light Infantry Regiment during the era of very high intensity counter insurgency operations.
Having completed the tenure as the Battalion Commander, he held Staff appointments in various formations as General Staff Officer 1 (Coordinating) at 23 Division, Colonel General Staff at 58 Division, Chief of Staff at Regimental Headquarters of the Sri Lanka Light Infantry, Centre Commandant of Regimental Headquarters of the Sri Lanka Light Infantry, Brigadier General Staff at the Security Force Headquarters – Kilinochchi and Director at Directorate of Recruiting – Army Headquarters.
Major General C.D Weerasuriya RWP RSP ndu has served in many command appointments including Commander 512, 523 and 663 Infantry Brigades, Commander Air Mobile Brigade and Commander 22 Division in Trincomalee, and Commander Security Force (East), Commandant, Sri Lanka Army Volunteer Force. Prior to taking over duties as the Chief of Staff of the Sri Lanka Army, he served as the Deputy Chief of Staff of the Sri Lanka Army.
The senior officer has been decorated with the 'Rana Wickrama Paddakkama' and 'Rana Sura Paddakkama' in recognition of the gallantry, invaluable and selfless dedication, excelled in the face of enemy in the battlefield.
In addition to the local courses he followed, Major General C.D Weerasuriya RWP RSP ndu has attended Young Officers' Course in Pakistan, Mortar Course in India, Junior Command Course in Bangladesh, United Nations Staff Officers' Course in Bangladesh and Senior Command Course in India. He has obtained the Master's Degree in Public Management at the University of Sri Jayawardenepura and has attended seminars on 'Conflict Resolution by Military Means' held in California, USA and 'Security of the Countries of South Asia and North Eastern Asia' held in Mongolia. Major General Channa Weerasuriya has obtained the graduation on the National Security and War Course at the National Defence University of Pakistan.
He is married to Mrs. Danusha Weerasuriya and blessed with a daughter.
(army,lk)
Many monks entering universities exit as laymen – President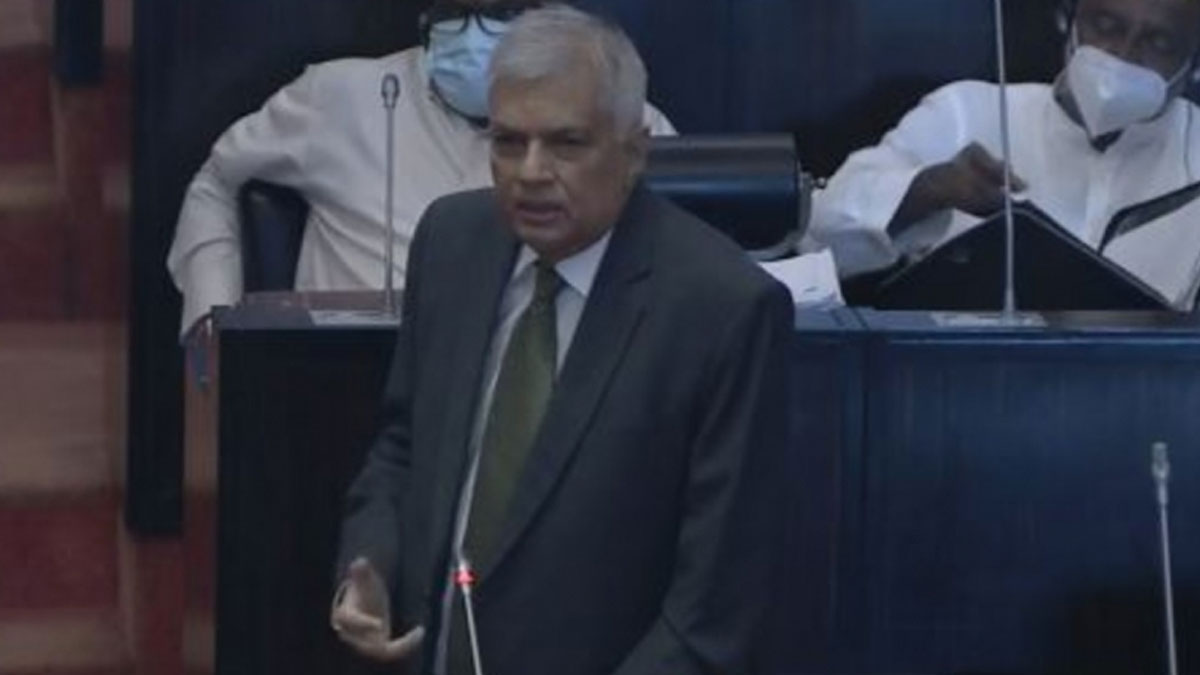 President Ranil Wickremesinghe told parliament on Tuesday (29) that a large number of people enter universities as monks, end up as laymen.
The President made these comments during the budget debate in parliament today (29).
"Today, a large number of people enter universities as monks but end up as laymen. Initially, we must decide that if we enter the university as monks, we will be awarded the degree as monks, and it will not be transferable. If they need to de robe they should discuss it with their Mahanayake Theros. The behaviour of the monks in universities should also be linked to these discourses. If the existing method continues, our order will be lost," he said.
No COVID-19 deaths yesterday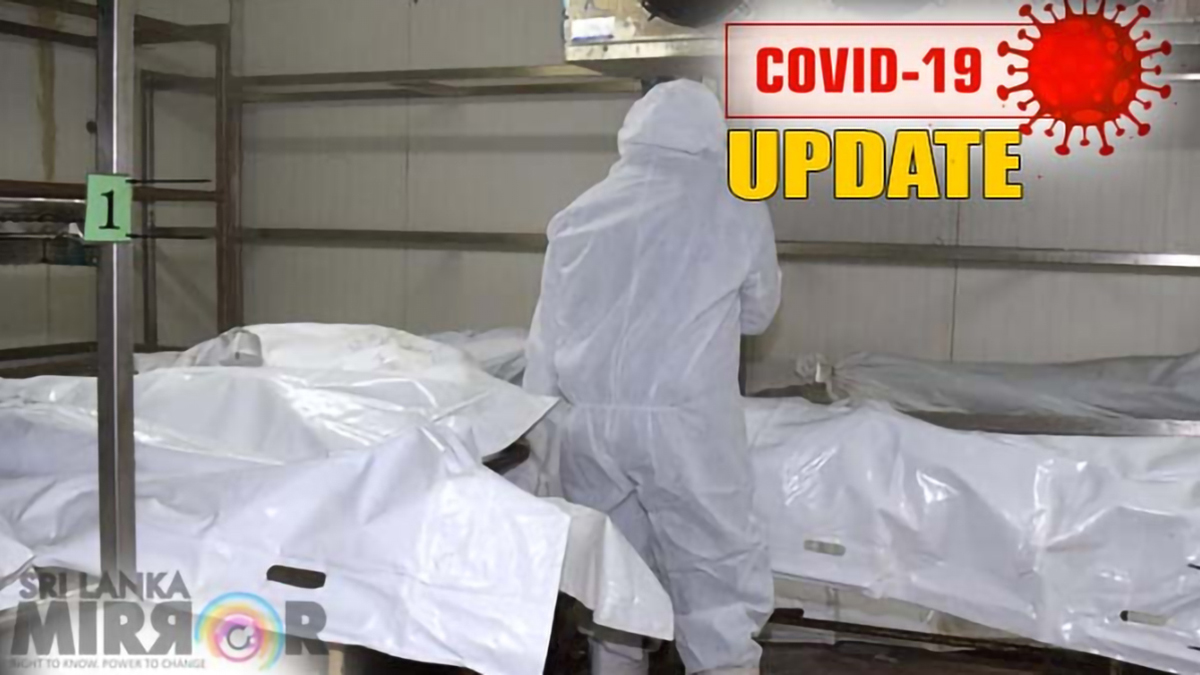 No COVID-19 deaths have been confirmed yesterday (28) by the Director-General of Health Services.
Accordingly, the current COVID-19 death toll remains at 16,802.