SL welcomes 100,000 Russian arrivals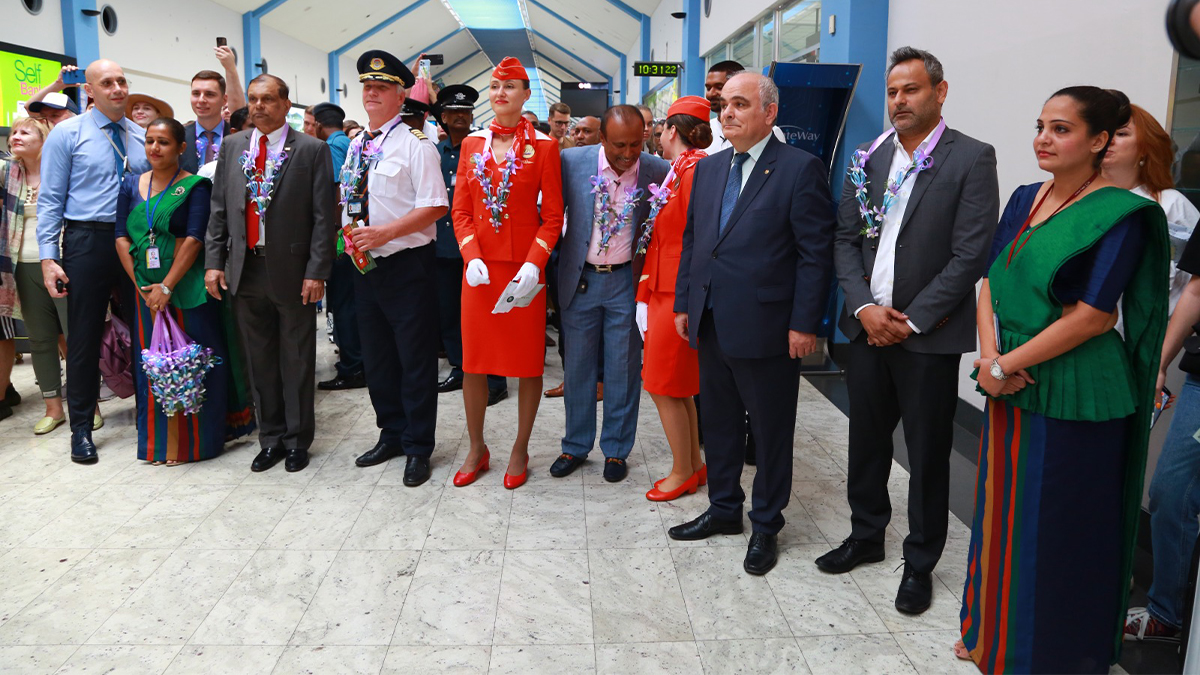 Sri Lanka Tourism Promotion Bureau, in collaboration with Airport and Aviation Services organized a special ceremony to celebrate 100,000 tourist arrivals from the Russian Federation through direct flights.
This was held at the BIA today (July 17) by welcoming the passengers and crew that arrived by Aeroflot flight from Moscow.
A total of 100,298 Russian tourists were brought in to Sri Lanka jointly by Aeroflot, Azur Air and Redwings since 10th October 2022.
As of July, Russia has become the second highest source market for Sri Lanka. The visitors and invitees were given a warm welcome by Tourism Information Centre officials of SLTPB and were escorted to the Lotus lounge with a cultural performance by a traditional dance troupe, which was highly enjoyed by the Russian tourists.
The distinguished guests at this occasion included H.E Levan. Dzhagaryan, Russian Ambassador to Sri Lanka, Mr. G.A Chandrasiri, Chairman, Airport and Aviation Services Mr. Thisum Jayasuriya , Chairman , Sri Lanka Convention Bureau , Mr. Udayanga Weeratunga , Former Sri Lankan Ambassador to Russia, along with Mr. Thilak Weerasinghe , (LSR) , Mr. Rushan Fruard , (Exotic Holidays International), Mr. Kamal Deshapriya (Ceylon My dream) who contributed as Industry stakeholders for this direct flight operations. Captain Ermolaev Vladmir Vlaimirovich and crew of Aeroflot, together with Tourism and Aviation officials and Media attended this event.
Mr. G.A Chandrasiri , Chairman , Airport and Aviation Services made the welcoming speech and mentioned that with the increase of tourist arrivals from Russia to Sri Lanka, it shows that the hospitality , culture , and the traditional ways of Sri Lankan people are accepted by Russians. He thanked all the Tourism and aviation officials, Industry stakeholders who supported in this endeavor, to make this effort a success.
Mr. Thisum Jayasuriya , Chairman , SLCB also spoke on the occasion, by highlighting that Sri Lanka can now see a considerable change in the influx of tourist arrivals which is received on a daily basis.
Captain Ermolaev Vladmir Vlaimirovich also expressed his thanks and gratitude to the hospitality shown by the Sri Lankans and how impressive Sri Lanka is as a travel destination.
This initiative is seen as a positive outcome of the continuous efforts done by Sri Lanka Tourism to promote the Russian market, strengthening its Bilateral and Economical ties between the two nations, making Russia one of the most successful economic contributors in enhancing its Tourism. The positive message spread by the Russian passengers will further encourage more Russian tourists to visit Sri Lanka, for their next vacation.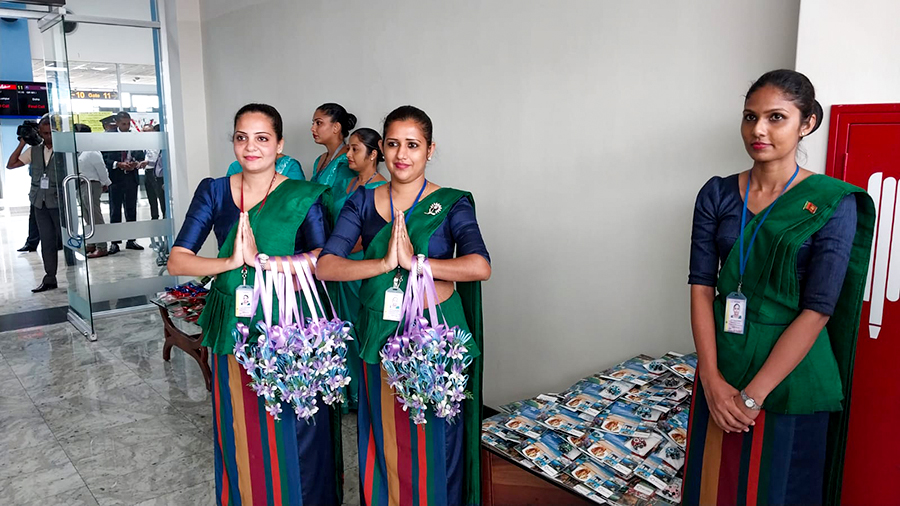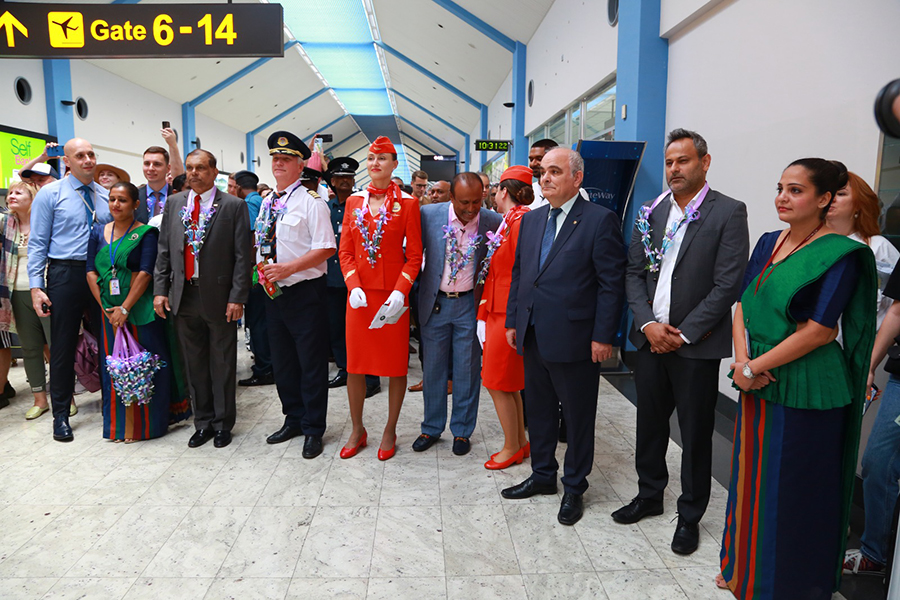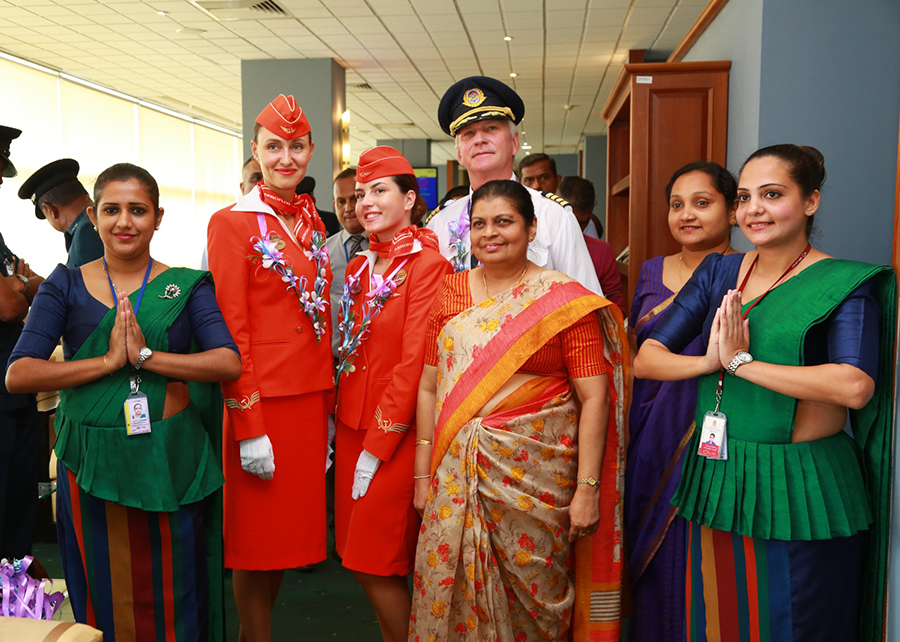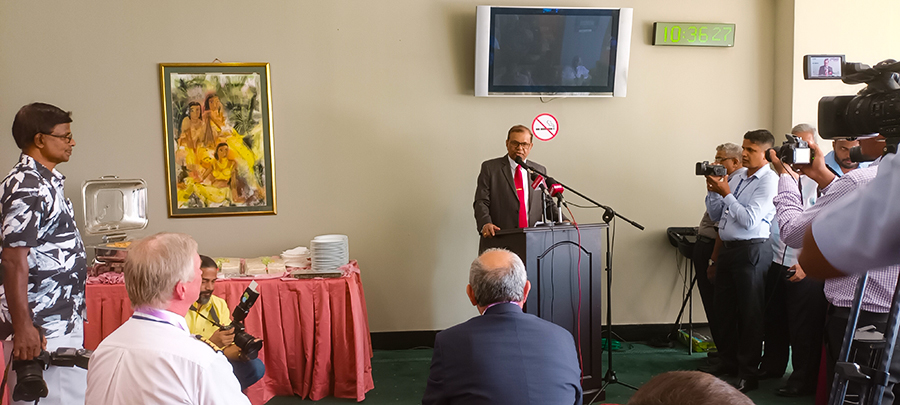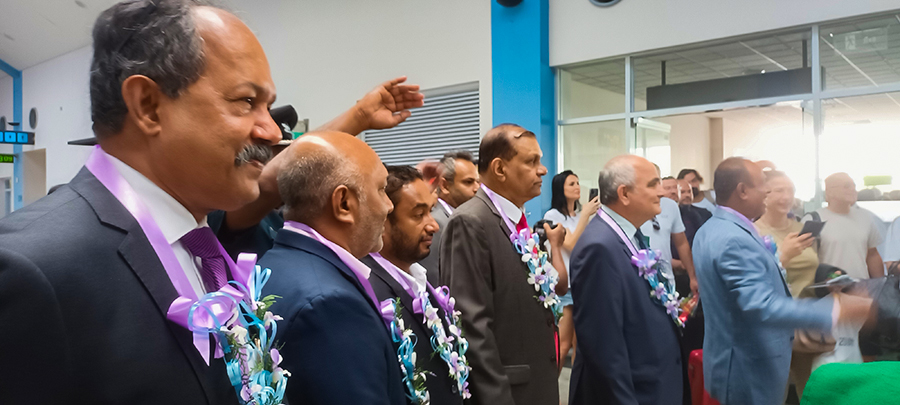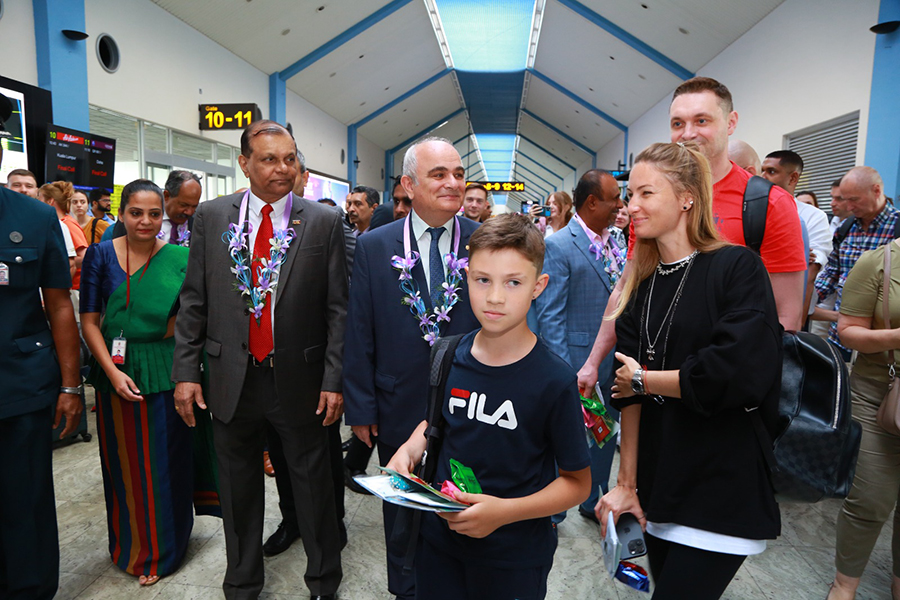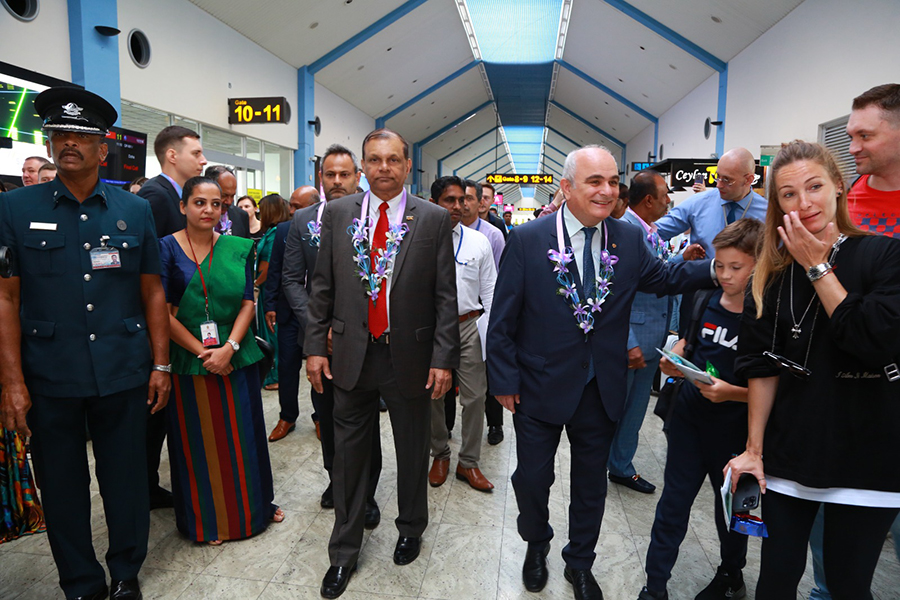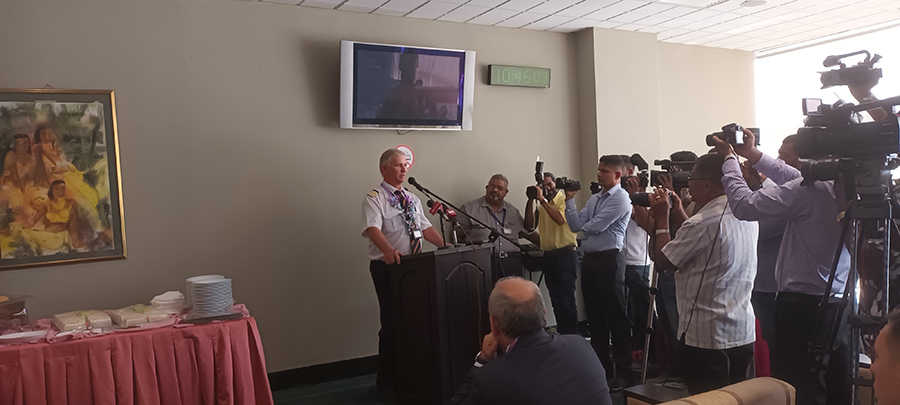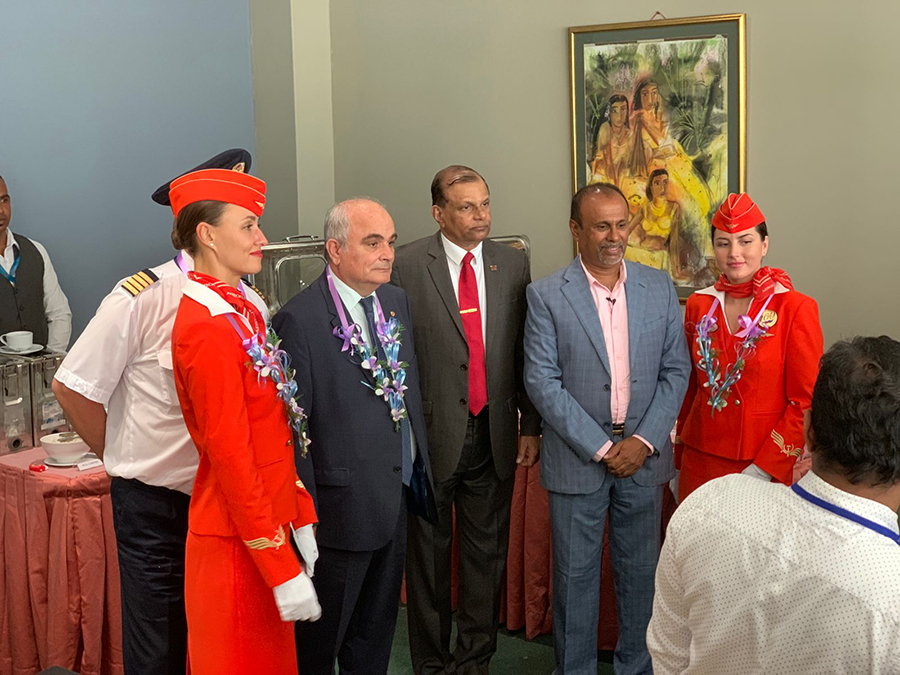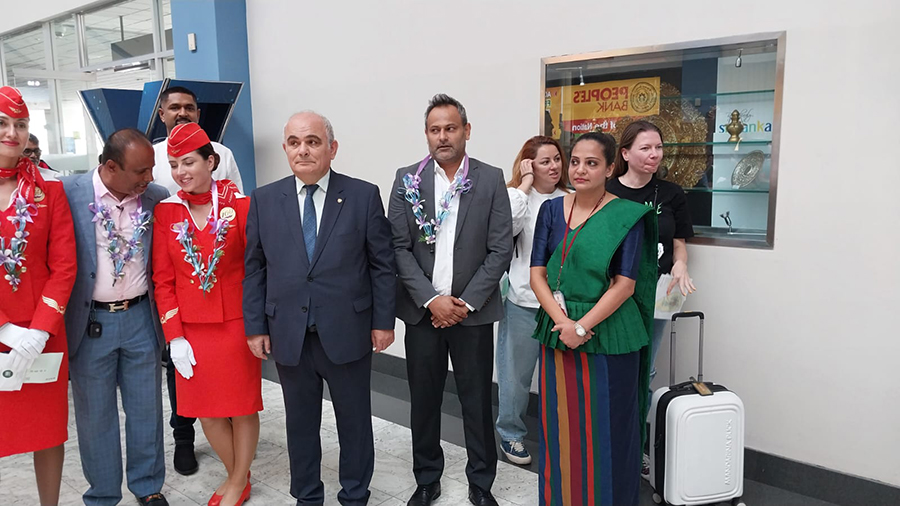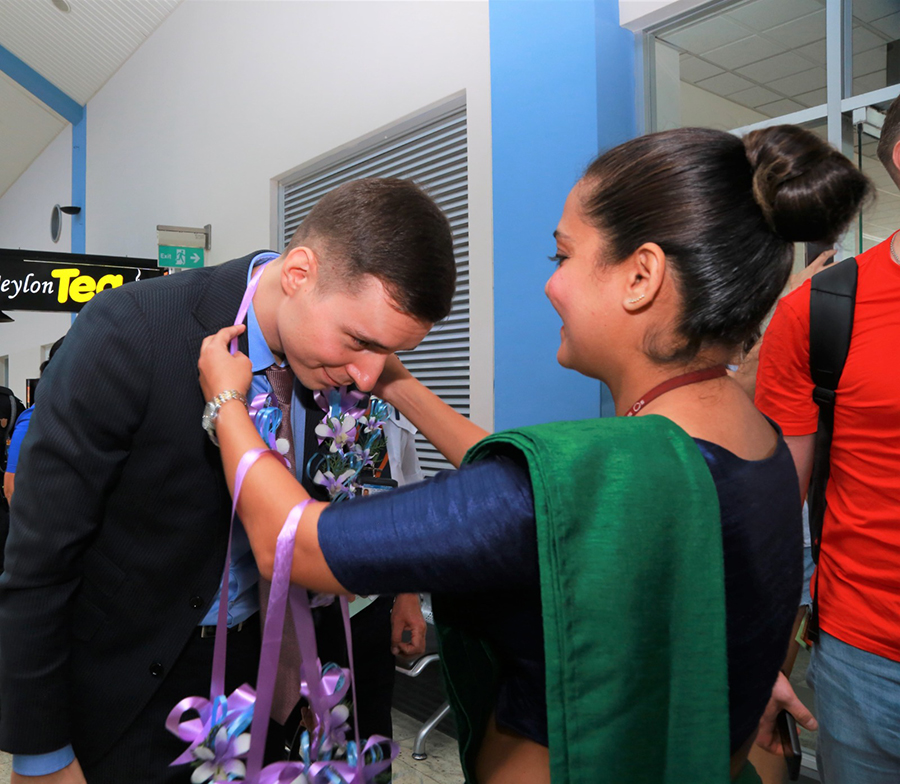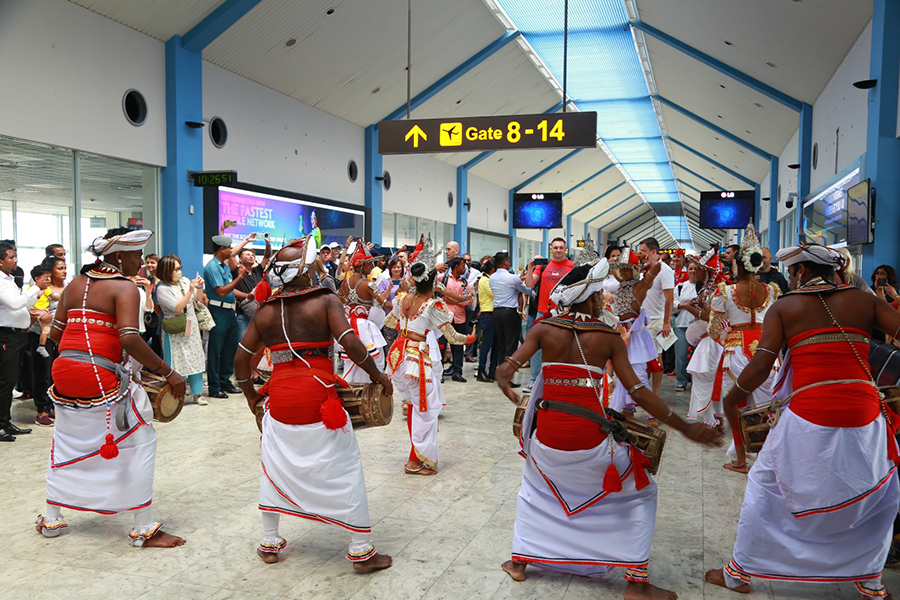 China donates school equipment & uniforms to 12,000 schoolchildren (Pics)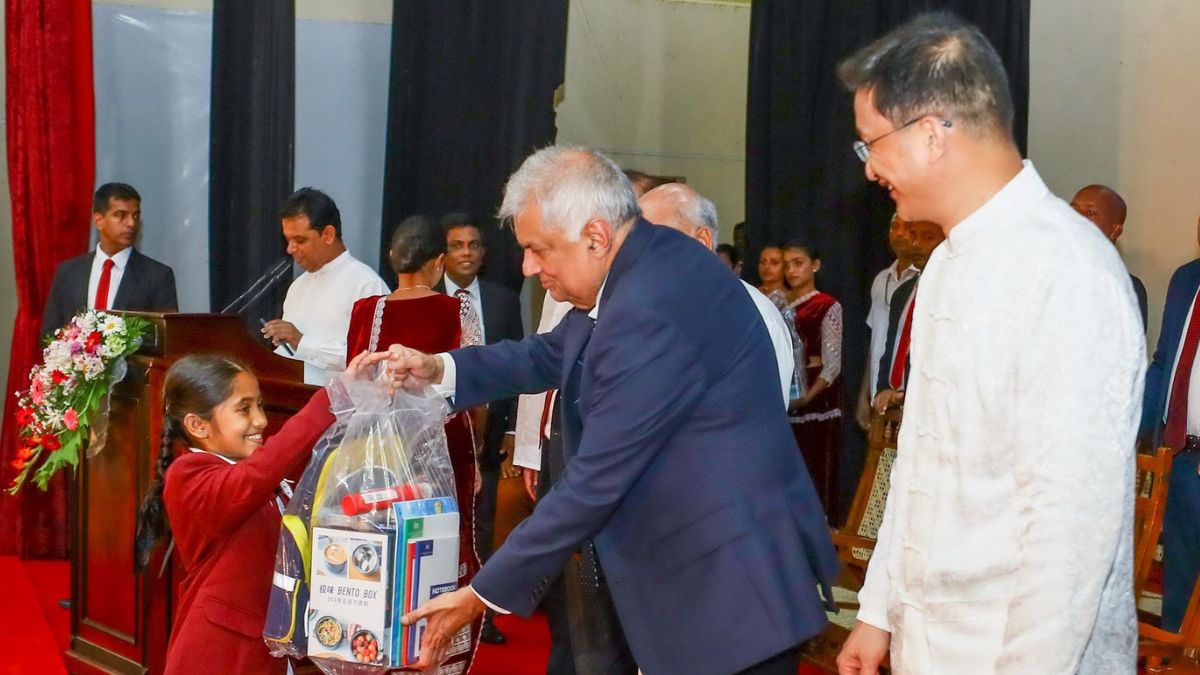 A donation of 12,000 school bags full of stationery and other study/daily items as well as 43,000 meters of school uniform fabric was gifted by the Ministry of Foreign Affairs of China to local needy students.
President Ranil Wickremesinghe, PM Dinesh Gunawardena and Chinese ambassador – Mr. Qi Zhenhong attended a distribution ceremony this morning at the Hanwella Rajasinghe Central College, to hand over the donation.
Museum on history of Seethawaka
Addressing the event, President Wickremesinghe revealed that he has instructed the Department of Archaeology to explore the archaeological treasures of Seethawaka Kingdom. This effort aims to shed light on the historical significance of the region and pave the way for the construction of a museum dedicated to Seethawaka's history.
The President had also expressed his dissatisfaction with the current education system and his determination to transform Sri Lanka into a vocational training centre while providing children with an education system that empowers them for the future.
Education, a vital investment
Meanwhile Prime Minister Dinesh Gunawardena underscored the significance of education as a vital investment in the country's future. He emphasized the government's unwavering commitment to the educational sector and acknowledged the importance of providing essential school equipment, generously provided by the Chinese government, to students.
The Prime Minister also paid tribute to the historical role of Rajasingha Central College Hanwella as the first Central College in the Kelani Valley, which has educated numerous students who have gone on to contribute significantly to the nation's development. He emphasized the collective efforts of various governments that have made substantial contributions to the growth and advancement of Rajasingha Central College, Hanwella.
Chinese support to eradicate "poverty trap" & "trap of non-development"
Speaking at the event, the Chinese ambassador in Colombo – Mr. Qi Zhenhong said that China will firmly support "Sri Lanka in its efforts to achieve sustainable development, get rid of the "poverty trap" and "trap of non-development" and safeguard its independence, sovereignty, territorial integrity and national dignity."
"At the present, our Sri Lankan brothers and sisters are faced with temporary difficulties of development. We firmly believe that under the strong leadership of President Ranil Wickremesinghe and Prime Minister Dinesh Gunawardena, the heroic people of Sri Lanka will surely overcome these difficulties and open up an even brighter future," the ambassador added.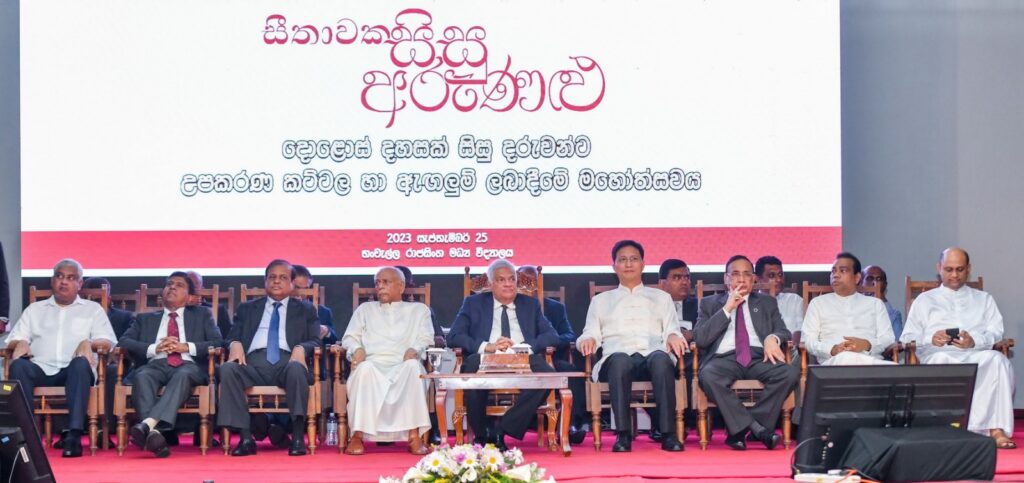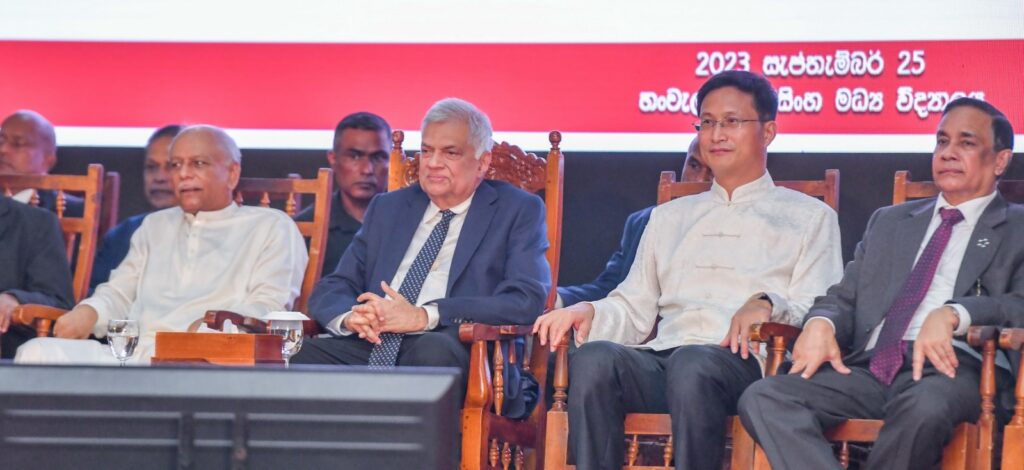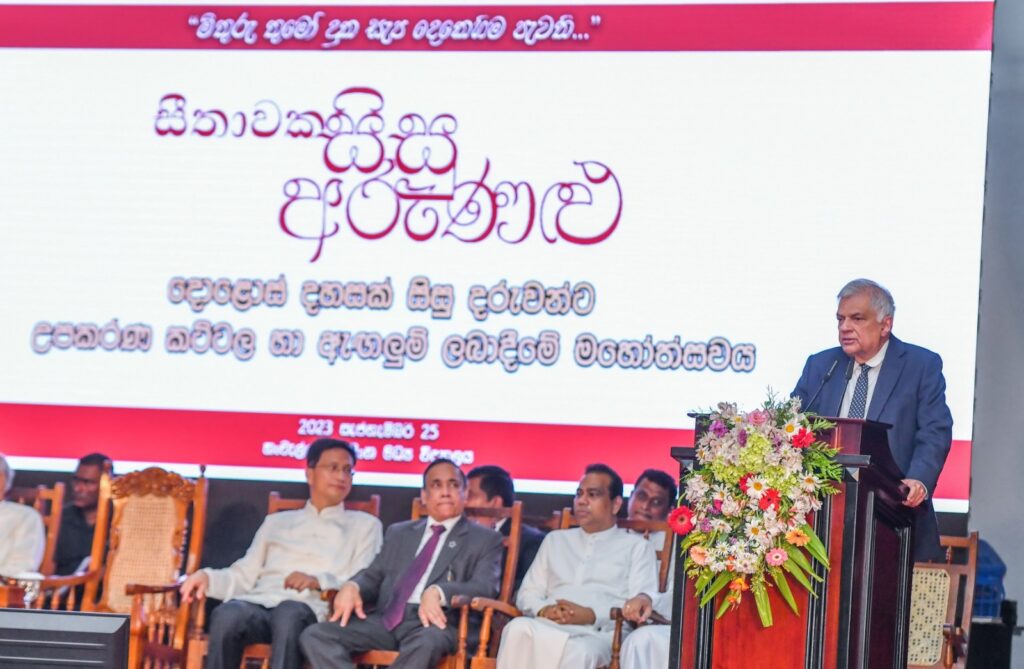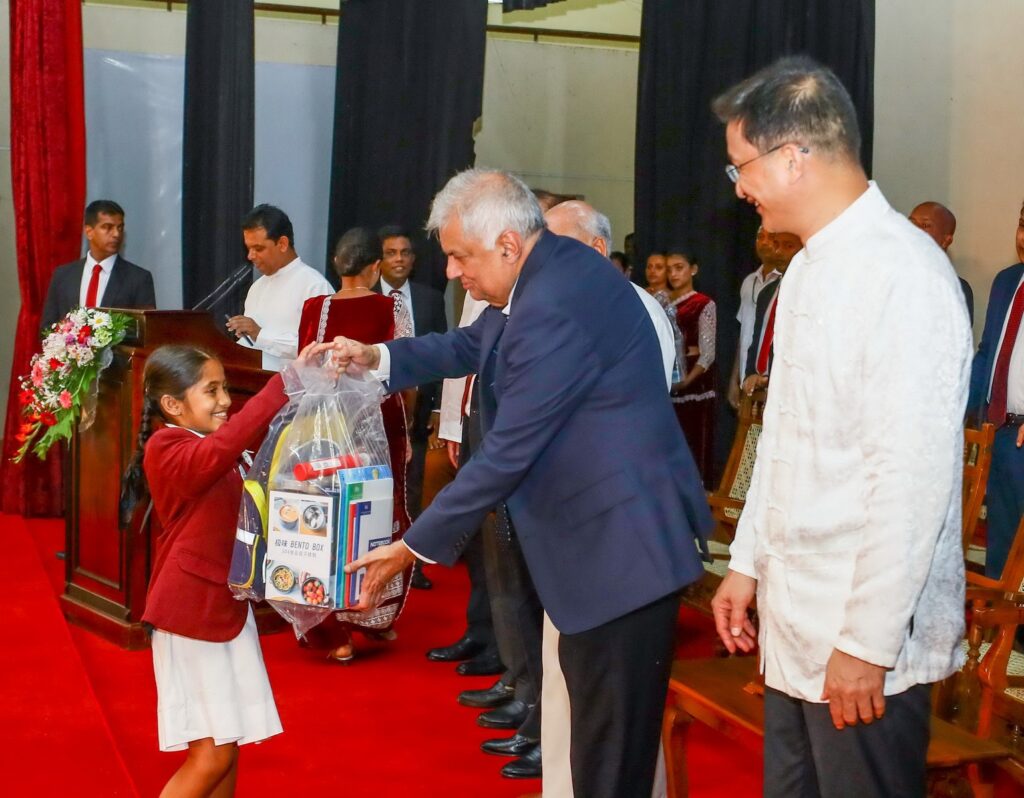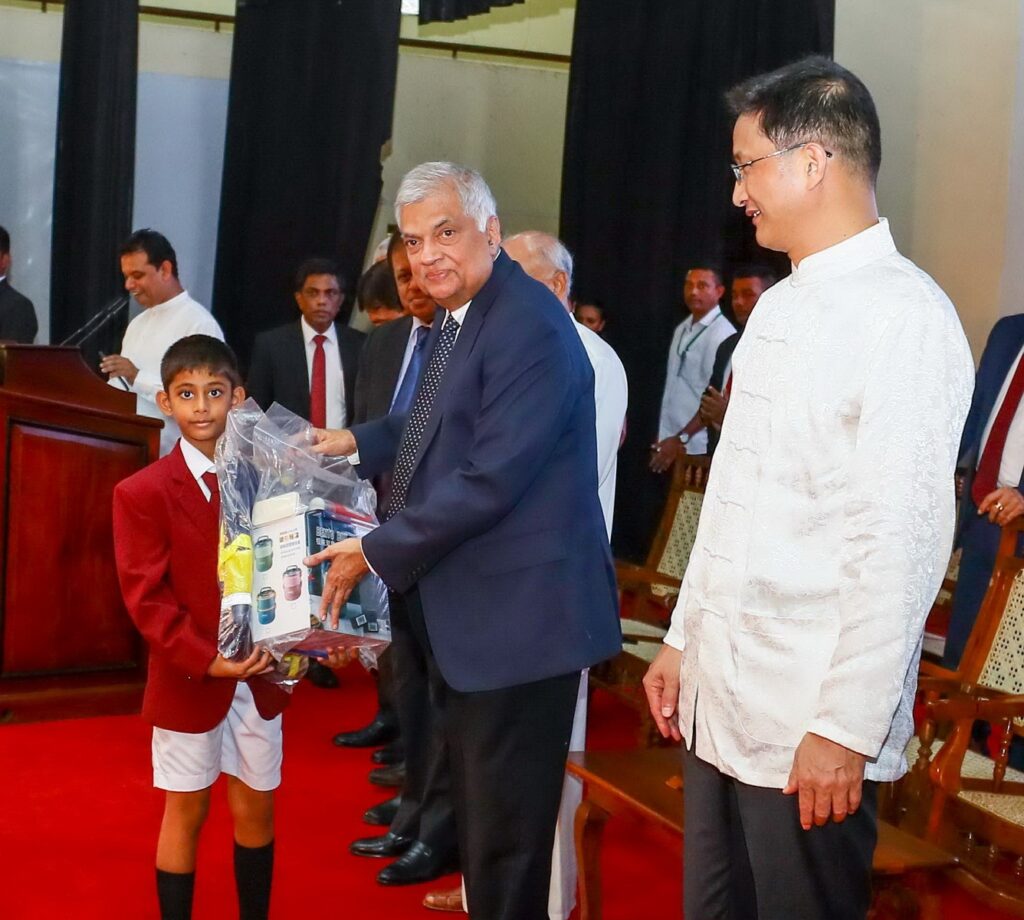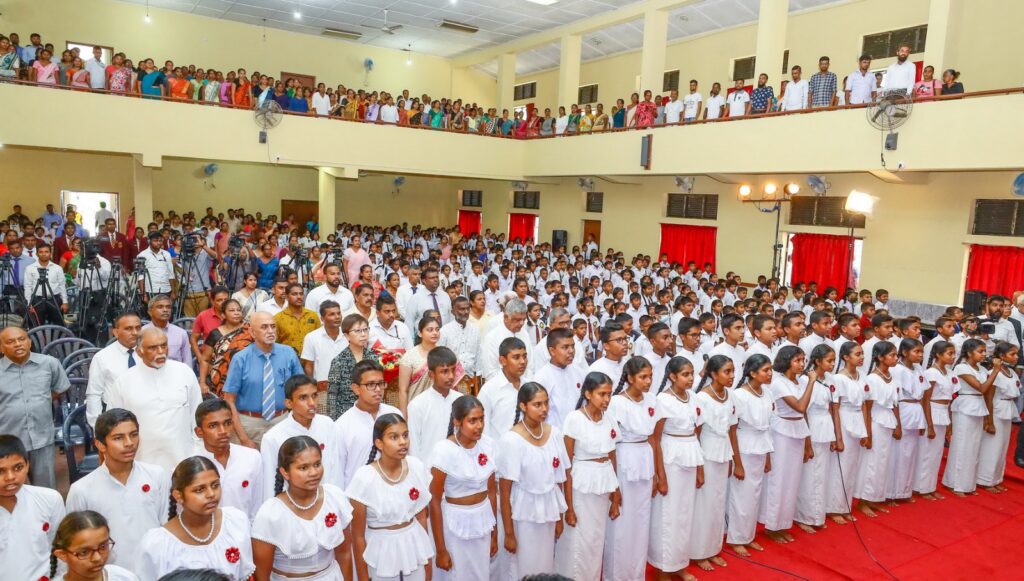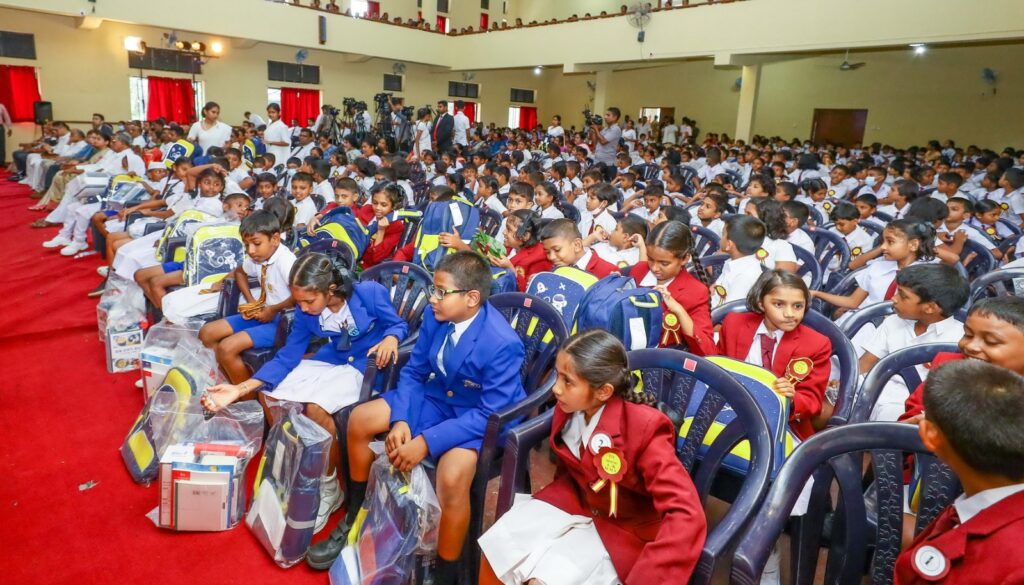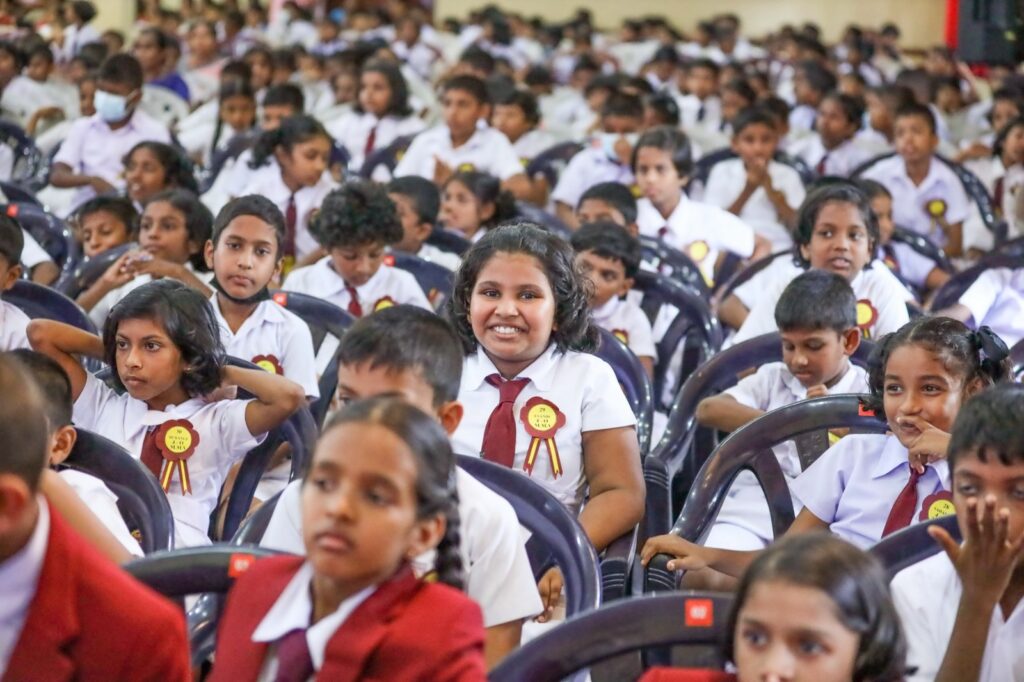 Cuba – SL Presidents meet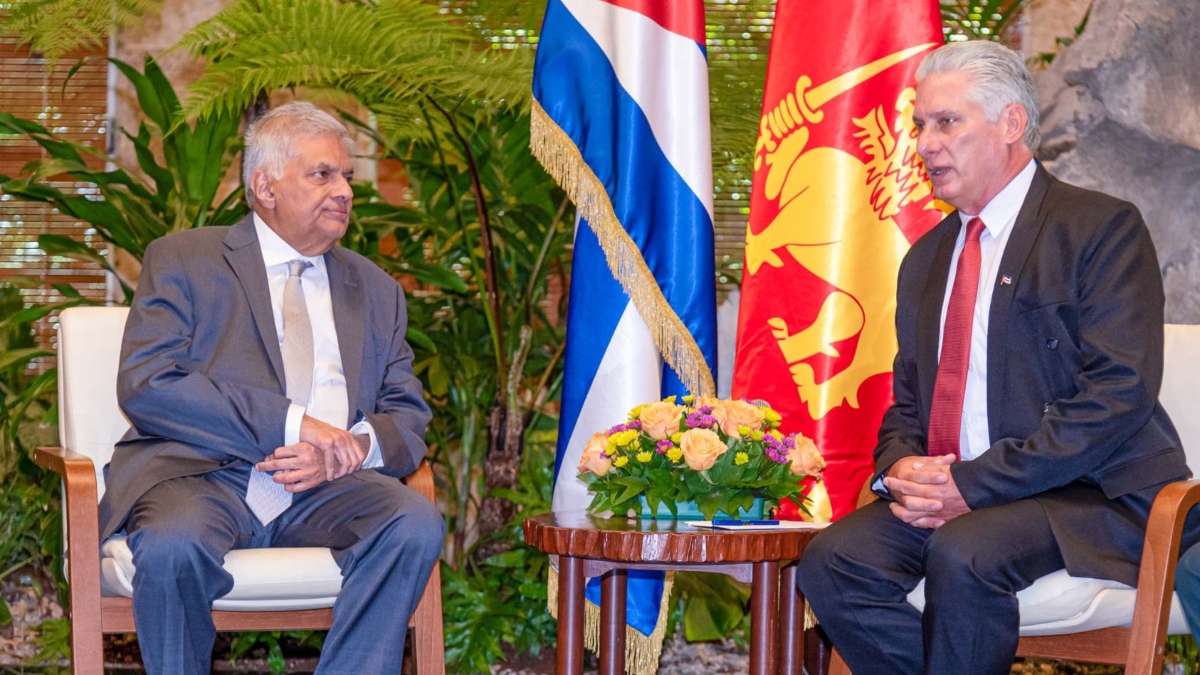 President Ranil Wickremesinghe, embarked on an official visit to Cuba ahead of his participation in the G77 plus China Summit in Havana on September 15-16, hosted by Cuba as the current Chair of the G77 plus China.
During his visit, President Wickremesinghe engaged in bilateral discussions with Cuban President Miguel Díaz-Canel Bermudez, reinforcing the bonds of friendship and dialogue between the two nations.
President Wickremesinghe's arrival in Cuba was marked by a warm welcome, as he received a Guard of Honour at the Palace of Revolution. President Díaz-Canel Bermudez expressed Cuba's appreciation for the visit, emphasizing its significance during these challenging times globally. He praised Sri Lanka's commitment to friendship with Cuba and to the vital role played by the G77 and China in representing the global South.
In their discussions, President Wickremesinghe recalled the history of bilateral cooperation between Sri Lanka and Cuba, particularly in multilateral forums. Both nations have supported each other on issues like lifting sanctions against Cuba and human rights matters. They identified areas of future cooperation, including public health, agriculture and sports.
President Díaz-Canel accepted President Wickremesinghe's invitation to visit Sri Lanka in 2024, underscoring Cuba's continued support for Sri Lanka. He also highlighted Cuba's role in addressing North-South gaps in Science, Technology and Innovation, expressing willingness to share expertise, particularly in vaccine development.
The two leaders emphasized the importance of bolstering the relationship between their countries, focusing on collaboration in medicine, healthcare, sports training and coconut cultivation. President Wickremesinghe expressed Sri Lanka's commitment to supporting Cuba in international forums, while President Díaz-Canel assured support for Sri Lanka regarding human rights resolutions.
This meeting represents a significant step forward in strengthening diplomatic ties between Sri Lanka and Cuba, with far-reaching implications for both nations and the broader global community. President Wickremesinghe was accompanied by key officials, including Secretary Foreign Affairs Ms. Aruni Wijewardane, the Ambassador of Sri Lanka to Cuba Mr. Lakshitha Ratnayake, the Director General of the United Nations and Multilateral Affairs Division of the Ministry of Foreign Affairs, Ms. Rekha Gunasekera and Private Secretary to the President Ms. Sandra Perera.
(President's Media Division)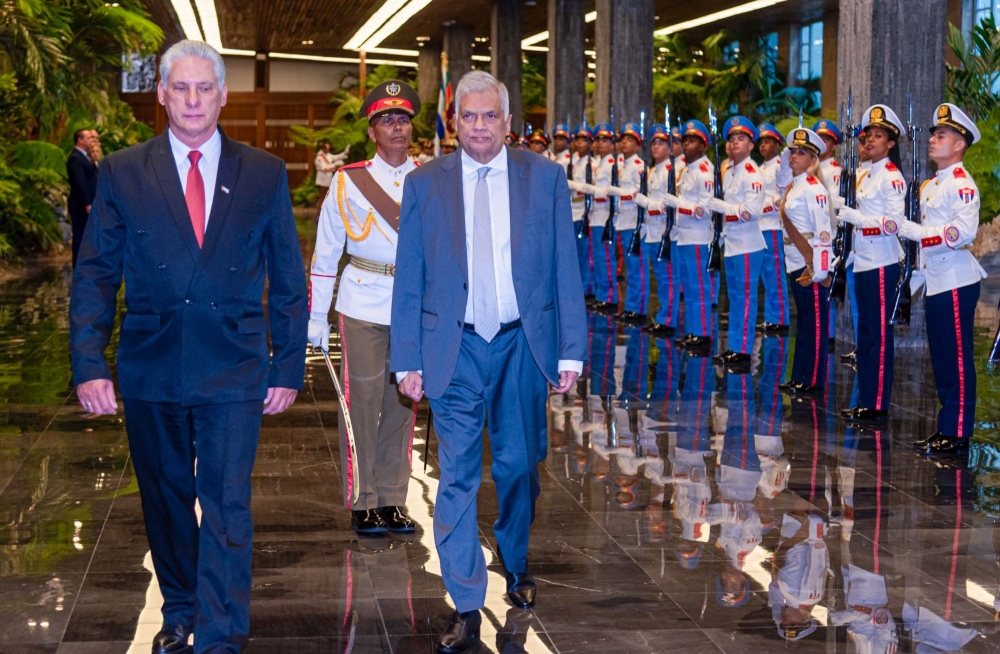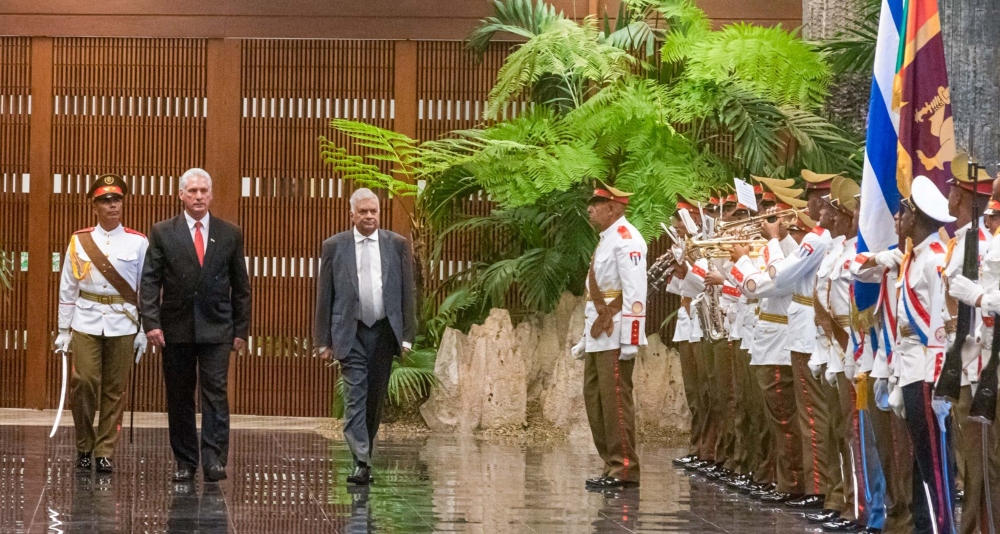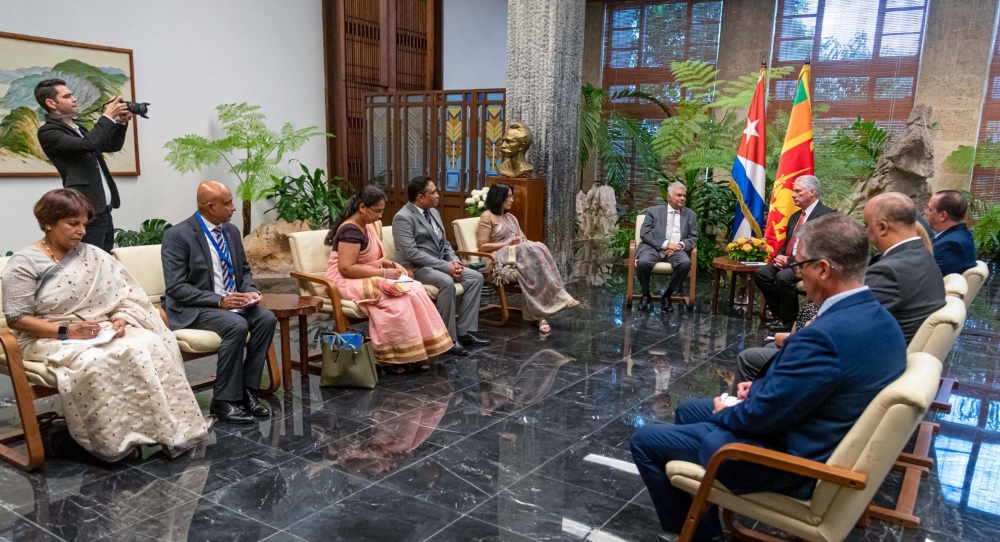 Top performers at A/L exam, lauded  (Pics)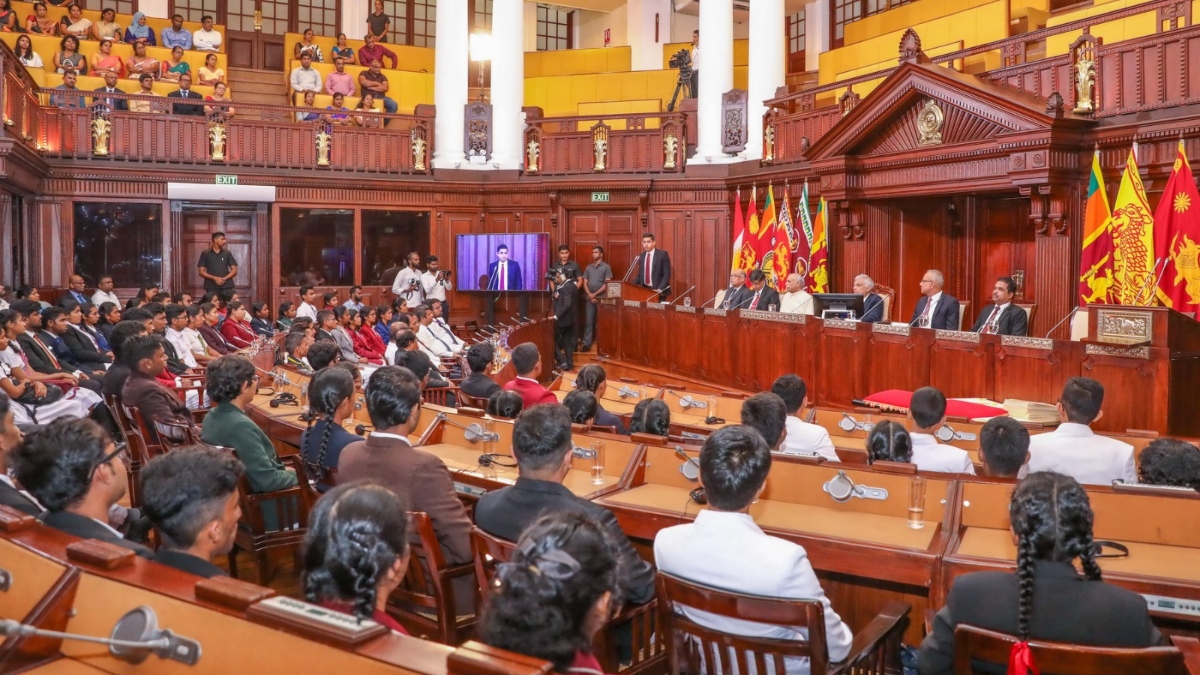 Students who excelled in each stream at the GCE (A/L) examination in 2021 & 2022 Academic years were presented certificates & cash rewards by President Ranil Wickremesinghe at the Presidential Secretariat today (12).
A total of 90 students including the top 10 students from the 6 streams in the 2022 Academic year & the top 5 students from the 6 streams in the 2021 Academic year were rewarded at this event.