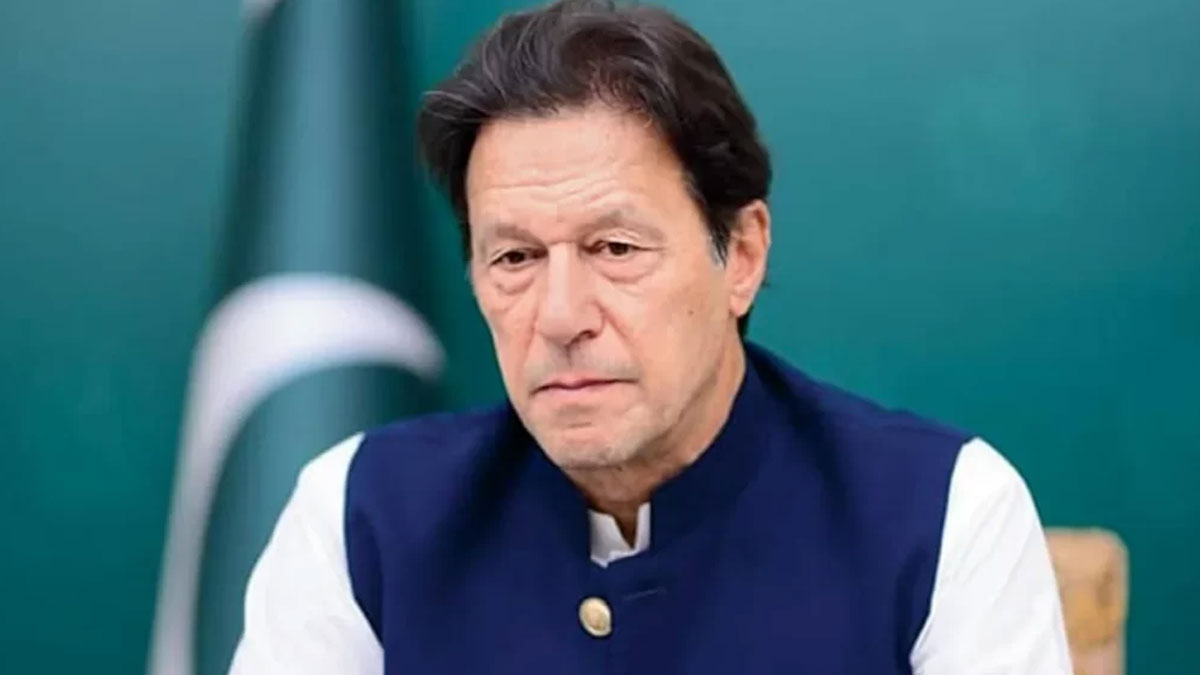 Pakistan's former prime minister Imran Khan has been arrested outside the High Court in the capital, Islamabad.
Mr Khan was appearing in court on charges of corruption, which he says are politically motivated.
Footage showed dozens of paramilitary forces in armoured vehicles detaining Mr Khan after he entered the court compound, then driving him away.
He was ousted as PM in April last year and has been campaigning for early elections since then.
General elections are due to be held later this year.
Mr Khan's Pakistan Tehreek-e-Insaf (PTI) party has called on its supporters to protest. In the hours since he was detained, violence has been reported from a number of cities including Lahore, Karachi and Peshawar.
On the streets of Islamabad, hundreds of protesters blocked one of the main highways in and out of the capital.
People pulled down street signs and parts of overpasses, lit fires and threw stones. During the hour or so that the BBC was there, no police or authorities were visible.
Protesters said they were angry about Imran Khan's arrest.
"This is absolutely the last straw," said Farida Roedad.
"What else can we do? What else is there left in Pakistan? We have never said a word against the army, I wish we had.
"Let there be anarchy, let there be chaos. If there is no Imran, there's nothing left in Pakistan. No one is there to take over."
Writing on social media, police in Islamabad said five police officers had been injured and 43 protesters arrested.
Footage from Lahore posted on Twitter appeared to show crowds breaking into the military corps commander's house, destroying furniture and belongings inside.
Protesters in the main port city of Karachi have been blocking a main road, Reuters reported.
It said at least 10 people, including six police officers, had been injured in the south-western city of Quetta in clashes with Mr Khan's supporters.
(BBC News)
Children critically injured in France knife attack
Children are in a critical condition following a knife attack in the alpine town of Annecy, south-eastern France, according to reports.
AFP reports that a total of five people are injured including four children. French media report that the injured children are around the age of three and two of them, and one man, are in a critical condition.

The attack was carried out in a park by a Syrian man, 45, who was seeking refugee status, police say.
French President Emmanuel Macron has said "the nation is in shock" following the attack.
The city's mayor has denounced the "appalling attack" and said a press conference will be held later.
Pope Francis to have abdominal surgery
Pope Francis will have surgery on his abdomen on Wednesday afternoon at Rome's Gemelli hospital.
He is expected to stay in hospital for "several days" to recover from the hernia operation, the Vatican said.
The hernia is "causing recurrent, painful and worsening" symptoms, added Vatican spokesman Matteo Bruni.
The 86-year-old has faced a series of health issues in recent years, and uses a cane and a wheelchair due to a persistent knee ailment.
In a statement, the Vatican said the pontiff's medical team had decided in recent days that surgery was needed.
"In the early afternoon he will undergo a laparotomy and abdominal wall surgery… under general anaesthesia," said Mr Bruni.
He added: "The stay at the health facility will last several days to allow the normal post-operative course and full functional recovery."
Earlier on Wednesday, Pope Francis carried out his weekly audience as normal and didn't mention his planned operation.
The day before, the Pope was at the same Rome hospital for a scheduled check-up, months after he was taken to hospital with bronchitis.
He spent three days in hospital in March to treat a lung infection, in the same month that he marked the 10th anniversary of his pontificate.
In 2021, Pope Francis spent 10 days in hospital after having a part of his colon removed, in a bid to address a painful bowel condition. He recently revealed that the complaint had returned.
Last month, Phe pulled out of his Friday audiences due to a fever.
But while his predecessor Benedict XVI quit in 2013, the Pope has dismissed the possibility of leaving office too.
"You don't run the Church with a knee but with a head," he is said to have told an aide last year.
The Pope is considered to have been in general good health during his decade leading the Catholic Church
He continues to maintain a busy schedule, and is due to visit Portugal and Mongolia from August.
(BBC News)
Russia destroys 11 tanks in Ukraine
Eight German Leopard tanks and three French AMX tanks have been destroyed by Russian attacks in Ukraine, foreign media reported.
Russian Defence Ministry Spokesman Igor Konashenkov said that Russia retaliated against a large-scale attack by Ukrainian forces in the Donetsk and Zaporizhzhia Provinces of Ukraine.
On the previous day, it was reported that 250 Ukrainian soldiers were killed by Russian attacks.
Ukrainian Deputy Defence Minister Hanna Maliar said that Ukrainian attacks have been launched in the eastern part of Bakhmut.
It has not been confirmed whether the large-scale counterattack, which is to be launched by Ukraine, has been launched yet.