Competitive tea industry must be modernised-President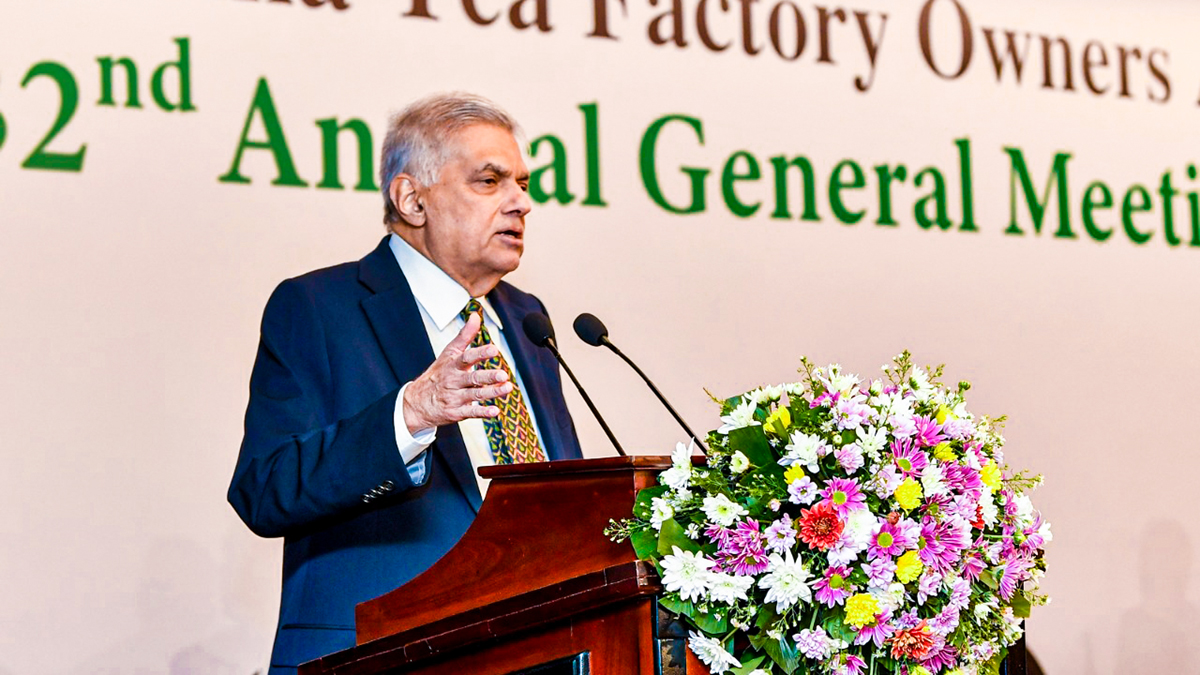 President Ranil Wickremesinghe noted that the government is aiming at an agriculture modernization programme in which tea will have a prominent place.
He said that the country has a very competitive tea industry that needs to be developed.
Addressing the 32nd Annual General Meeting of the Sri Lanka Tea Factory Owners Association at the Water's Edge Hotel in Battaramulla yesterday (30), he said that the main focus should be on producing quality tea be high-grown or mid-grown.
"It is useless for us to try to compete with those who are not having the quality. We have an opportunity. Let's go for it and develop the industry, modernize our factories, look at renewable energy, the biomass, all that is there," the President emphasized.
Plantation Industries Minister Ramesh Pathirana, Chief Executive Officer of A. Baur and Company (Pvt) ltd Rolf Blazer and President of Sri Lanka Tea Factory Owners' Association Lionel Herath also addressed at the occasion.
State Minister Lohan Rathwatte, UNP leader and Parliamentarian Wajira Abeywardena, Plantation Ministry Secretary B. L. A. J. Amarakeerthi, Sri Lanka Tea Board Chairman Niraj de Mel and office bearers and the members of the Sri Lanka Tea Factory Owners' Association participated in the event.
Following is the full speech made by the President;
"I was listening to the report by your president about a survey of the tea industry today. He came out with a tale of woes. That is understandable looking at what we have gone through this year. Now, it is my chance to come out with my tale of woes because I have taken over the titanic after it hit the iceberg. So you can just imagine where I have to start. Everything was down.
We have declared ourselves bankrupt. What have we got to do? First is to ensure that people can live and there is enough food to eat, whatever the other difficulties. With the bankruptcy that we have declared, our economy has virtually come to a halt. The inflation, the bankruptcy, and everything else that is happening have brought our economy to a grinding halt. How do we restart it? That is what we are engaged in. In addition, I thought I'd explain to you the process. Primarily, we have to conserve whatever foreign exchange we have and limit imports so that we could get fuel, fertilizer and medicine.
It has not worked fully initially, but now it's working much better. Therefore, that is how we started. Then as the revenue dried up, we faced the difficulty of paying our bills or meeting our commitments. We had to keep two things in mind, one is to pay the salaries of government servants, about 1.7 million people and service our debts. Therefore, we have had to work within this scope.
Now that we have declared ourselves bankrupt, the first issue was to ensure that the world would now accept that we have taken sufficient steps to wipe out the label of bankruptcy, which meant that we have to go to the IMF and discuss with them. Every country and organization wanted us to meet with the IMF and devise a plan.
We did have a plan until 2019 when we cancelled the last year. Therefore, we had to start original discussions with the IMF. We had no other option. Our growth rate this year is going to be -8%. Last year too we recorded minus growth. This year is also -8%, and next year it is forecast that it would be -3%.
However, there's one other factor which worries me. When that forecast was made, everyone thought the global economy will do well. Now, all the indications are that the global economy will fair badly. How will it impact, because the rising inflation in European and other countries will mean that the cost of living will rise? This in turn can somehow affect exports such as less clothing, maybe less tea, and less coffee. We have to understand that.
Therefore, we have to get through this year and then go into next year. Hence, we have to somehow manage two years. Our revenue reduced from 15% to 8.5% and we are expected to get the revenue back to 15%, which I think we have to do. The timeframe is 2026. I went in for a four-year program.
I didn't think we could bear the burden if we tried to do it in two years and it may not have been possible. I'm happy that we went for four years because 2023 looks to be a bad year globally, not only for Sri Lanka.
So we had to first come to an arrangement which meant raising money. To raise that money, we had to tax everything, which also meant agriculture.
As someone once said, if it moves tax it. We had to come to that level and we had no way out. I wish we could have done it gradually but couldn't because we needed the money. If you look at the taxes, those who paid taxes up to 2019 got a reduction 2019. Therefore, that's a loss of revenue. Now what we are trying to do is bring it back first to the 2019 level and add a little bit more. So if you look at up to 2019, your taxation then and today is one figure. However, if you look at 2020 the gap seems much bigger. The fact is that we are suffering, it's not only tax, but our rupee has also depreciated and interest rates have gone up.
Therefore, it is in this context that we have to operate. Ordinary people are finding it very difficult to live. I mean it's in that condition that we have to come back. So the first issue is to ensure that we can restructure bankruptcy. We have to start talks with our creditors. I first went to the Paris Club where all the creditors were from the West and Japan.
However, we are in a unique position today where out of our three main creditors, only one belongs to the Paris Club. Japan. The other two are not in the Paris Club. They are India and China. I mean China only started dealing with bankruptcy in Zambia. I think India has it for the first time with Sri Lanka. I have already started discussions with Japan and now with India and China. We get down to a common platform of how we can resolve it while we also have discussions on bilateral issues that affect each other's countries.
Now, this is the process, we had to move. If we can move and come to an agreement by December, which means coming to an agreement by mid-November, and going up to the IMF Board in mid-December, we will gain a big advantage. However, I don't know whether we can do it for the simple reason that in China, the focus has started now after the party conference. However, we must aim to have it by January.
Therefore, this is what we are aiming at, and it means that we have to show that we have the revenue and we can go ahead. We start from there. Then how do we go ahead to ensure next year is better? In the meantime, we have started receiving assistance from many organizations and countries. Some countries have helped us through different organizations.
So thanks to the World Bank, ADB and others, we are having FAO, and we are having enough fertilizer. Even countries like the US have assisted us. So the fertilizer issue is solved. No one will give us money for fuel. Hence, we have to use the savings on fertilizer with local foreign exchange to buy fuel.
The next issue though, is that the price of fuel has dropped now and everyone expects the price of fuel to increase in December/January due to the Ukraine war and winter. Hence, that's the next issue that we have to face. But since we have received fertilizer, the first thing was to revive agriculture, starting with Paddy and then getting on to tea and other crops.
Therefore, this is one part where if we get a good Maha crop by March/April next year, that will help to stabilize the economy. Meanwhile, once we get the agreement, the countries will come to help us. However, it takes time to get loans from bilateral loans again. Meanwhile, the World Bank and the ADB are willing to come up with bridging finance and the whole process will start.
Therefore, we have to thirdly go all out to improve our tourism. I think if we can aim for good tourist numbers by December next year as it grows progressively, then it will start working. Finally, we need foreign exchange reserves. There is no way in which you can raise it now. The only way in which we can raise foreign exchange reserves is by selling off some of our enterprises for dollars so that we can at least put $ 3-4 billion into the reserve, strengthening the rupee further. It will make life that much more affordable if you are moving to a complete market economy and a high-growth economy. This is the only step that we can take because so far having a vast state sector did not enable the economy to grow that fast.
I know the problems you have and I know many of you in the tea sector. Factory owners as much as in the rubber, coconut sector construction sector and the hotel sector are having problems with your banks, servicing your loans etc. So that's why we are hoping first to bring the rate of interest down gradually.
The Governor of the Central Bank has informed us that our inflation is peaking. So by about February or March, we can see the reduction of interest rates, if not earlier. If we take all these measures by mid-year, we'll be able to give relief on the interest rates. It's difficult when the rupee has depreciated and the interest rates rise. But you have to remember that in two years we printed Rs 2.5 trillion worth of notes. So it has to run through the system.
There is no shortcut and the only way is by getting production up again. So here it's a question about how we could help you in the tea industry. We have got the fertilizer. I know there are deficiencies in other areas. One of the main things that I asked is that we pay the fertilizer suppliers. We have decided to pay them, but the money hasn't gone yet.
I hope that with the new taxes and the collection that is coming in November-December we will be able to pay them off. We also have to pay the contractors. The whole industry has come down. So there's a long list of people with debts which the government has to honour. So that's the process. But we want the tea industry to develop. And I must assure you, the honourable minister and the State Minister have been spending a lot of their time looking at how to help you in this circumstance.
Because helping the tea industry helps us bring in foreign exchange and save rubber and additional agriculture production. Next year we have to come through with agriculture production. That is what we have to do as we add the rupee stabilizes. Certainly, people will start sending back the exchange, the foreign employment and the money will come up. But also we can't run on this economic model anymore.
We have to pay our debts. We have to take some more debt. We are to work completely on an export-oriented economy, and that's what we are working on. We'll come back to you, but you have a lot of things to do too. We know you need fertilizer. Most of the major issues are that we need replanting. We are suffering because we have not replanted. As a result, our crop per hectare is coming down. Vietnam is overtaking us. Whoever thought that Vietnam will be growing tea. That's the position. So we are looking at an agriculture modernization programme in which tea will have a big place. We have a very competitive tea industry that we have to develop. And I think we have to go for quality tea, whether it be high-grown or mid-grown. It is useless for us to keep competing with those who are not having the quality.
We have an opportunity. Let's go for it and develop the industry, modernize our factories, and look at renewable energy, biomass, and all that is there. So we need a modern industry and certainly, I think it's good that you have got Price Waterhouse and Cooper. Because you can utilize their report together with the ADB report on the regional plantation companies. Some of you are doing quite well. Others are a disgrace. So let's see how we can restructure, how we can get your help and go ahead. I thought I described this to you. I haven't got the best picture possible, but at least I am trying to take the Titanic off the iceberg and once we do that, we'll go ahead. Thank you very much for inviting me".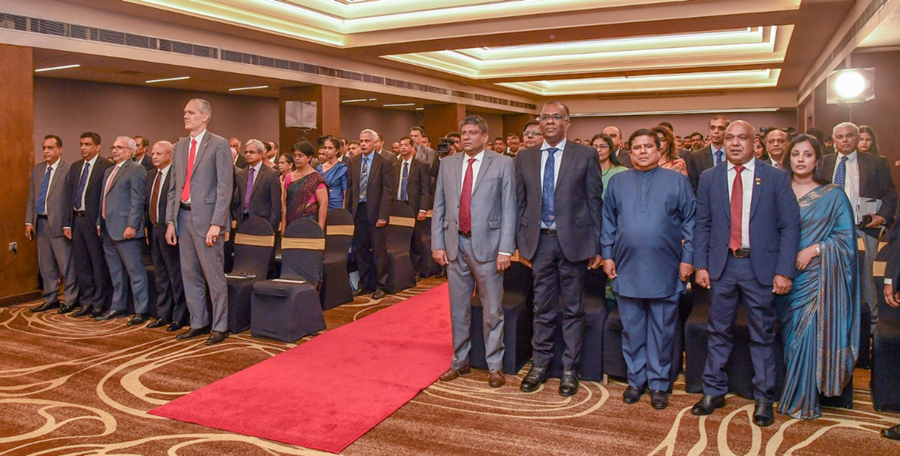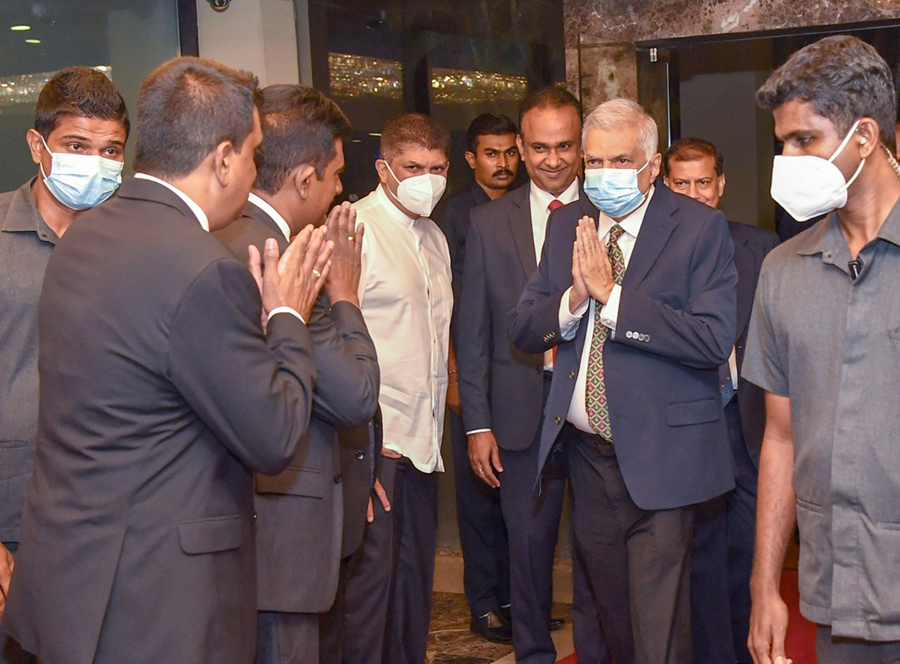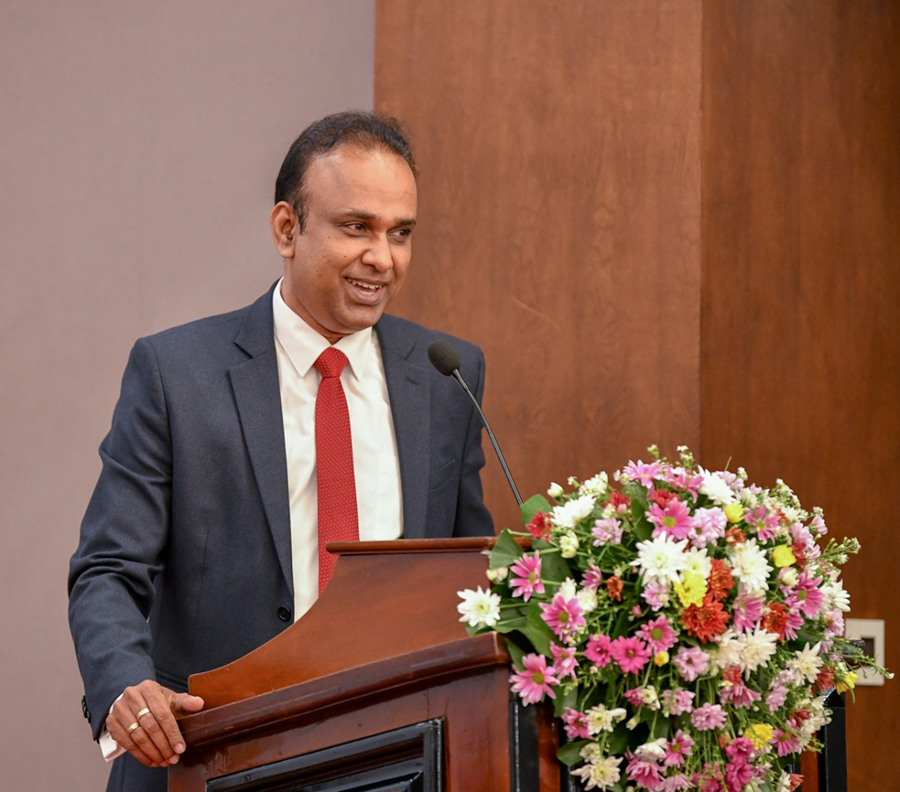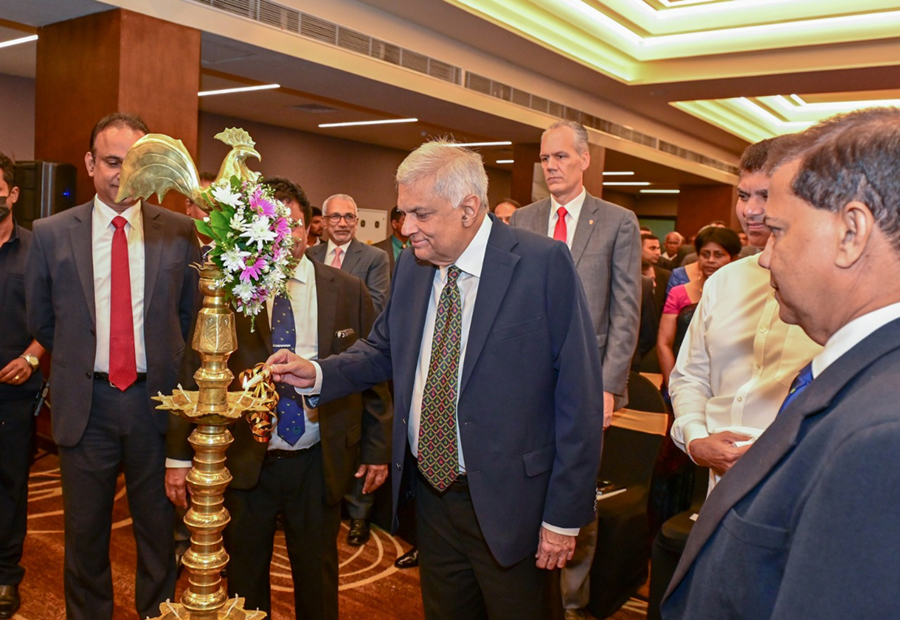 SL records record tourist arrivals in November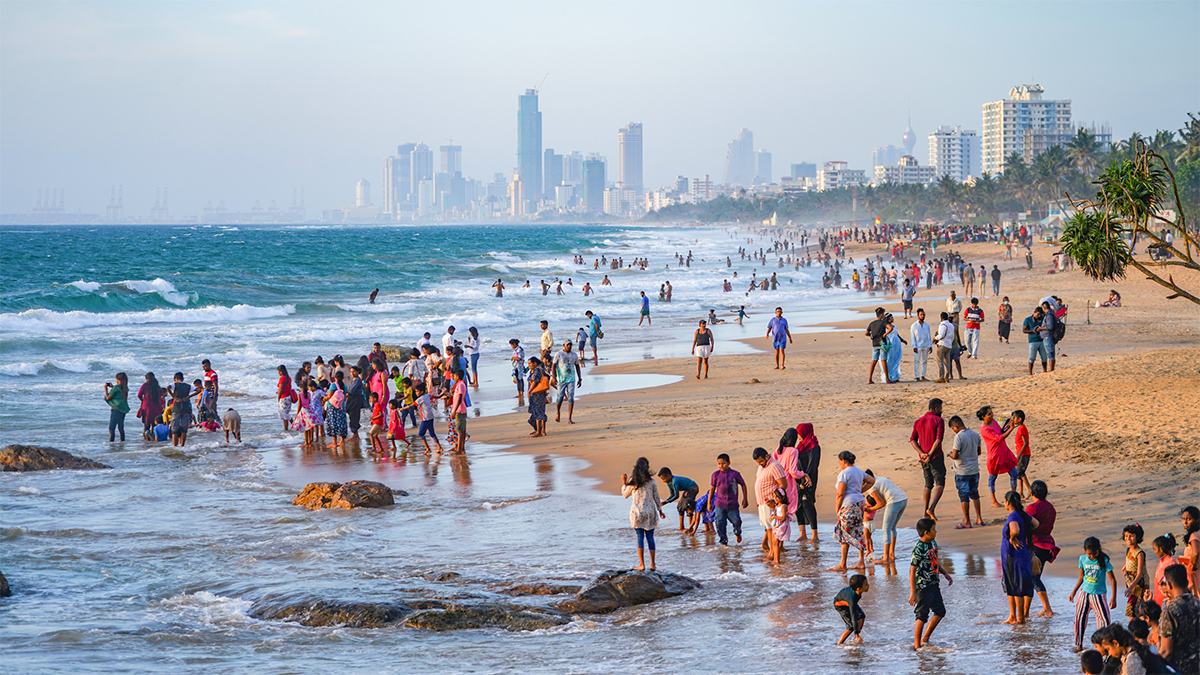 Sri Lanka Tourism has recorded its highest arrivals figure mark for a month in November after a lapse of nearly 4 years.
The November 2023 arrivals hit 151,496, passing the previous best of 143,039 recorded in July 2023.
The November arrivals figure also is a 153.5% increase against 2022 November which was 59,759.
With this the total number of arrivals from January to November end was at 1,276,951 in comparison 719,978 arrivals recorded in the entire last year.
Once again for the seventh month in succession India was the best course destination for Sri Lanka fielding 30,339 tourists and accounting to 20% of total arrivals for November.
The Russian Federation was in second place with 24,912 (16%) arrivals while Germany (12,331) and the United Kingdom (11,526) were the third and fourth source markets for Sri Lanka. Australia (7,900) and China (6,673) remained fifth and sixth.
SriLankan doubles Colombo – Mumbai daily flights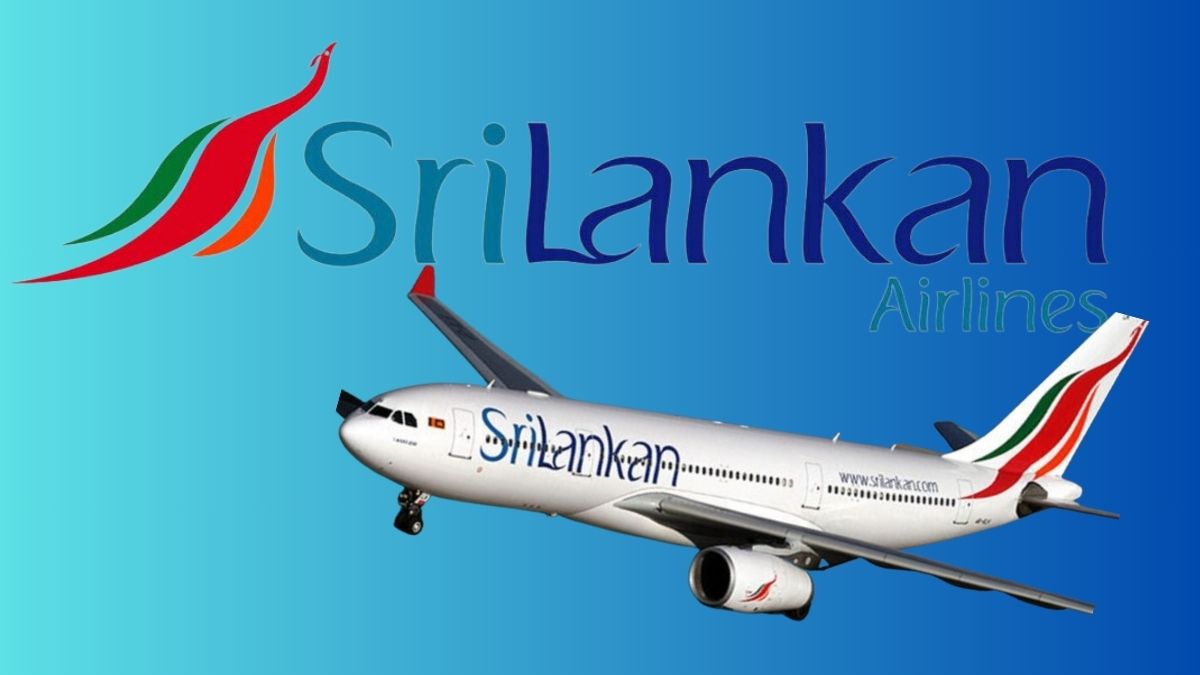 SriLankan Airlines has introduced double daily flights between Colombo and Mumbai, multiplying the convenience for passengers travelling to and from India's financial and entertainment capital, the Sri Lanka's national carrier announced.
In a statement, SriLankan Airlines said the new double daily service to Mumbai will not only give a 50 per cent boost to SriLankan's capacity on its Mumbai route, but will also strengthen the airline's already vast network in India.
Flights UL 142 and UL 144 will depart daily from Mumbai to Colombo at 3:10hrs and 20:45hrs and flights UL 141 and UL 143 from Colombo to Mumbai will depart at 23:45hrs and 17:10hrs, respectively, according to SriLankan Airlines.
Thus, passengers travelling out of Mumbai on SriLankan Airlines will now have the advantage of more flight options to Colombo and convenient connections via Colombo to popular destinations in the Far East, Europe and Australia including Singapore, Kuala Lumpur, Bangkok, London, Frankfurt, Paris, Melbourne and Sydney.
Meanwhile, the Head of Worldwide Sales and Distribution of SriLankan Airlines Dimuthu Tennakoon stated: "The Indian market has been incredibly important to SriLankan Airlines since the get-go, and with India fast becoming one of the world's largest outbound travel markets, we are only happy to expand our operations in one of India's most celebrated cities and make travel between Mumbai and Colombo extra seamless. Our frequency increase comes on the heels of Sri Lanka announcing free visa for Indian visitors and we hope that these positive developments will encourage more travellers from Mumbai to stop by Sri Lanka."
India is the only country with nine cities featured in SriLankan Airlines' network. This includes Delhi, Bangalore, Hyderabad, Kochi, Trivandrum, Chennai, Trichy and Madurai in addition to Mumbai, to which altogether SriLankan operates close to 100 flights every week.
Given the geographic and cultural proximity of the two countries, most Indians are likely to find a welcoming familiarity in Sri Lanka not found elsewhere, and SriLankan Airlines is the best bet for Indians who want to experience the best of both worlds onboard, it added.
For more information in this regard and bookings you can visit the official website of SriLankan Airlines through www.srilankan.com
Removal of VAT exemptions, doesn't affect UBER & PickME fares – CoPF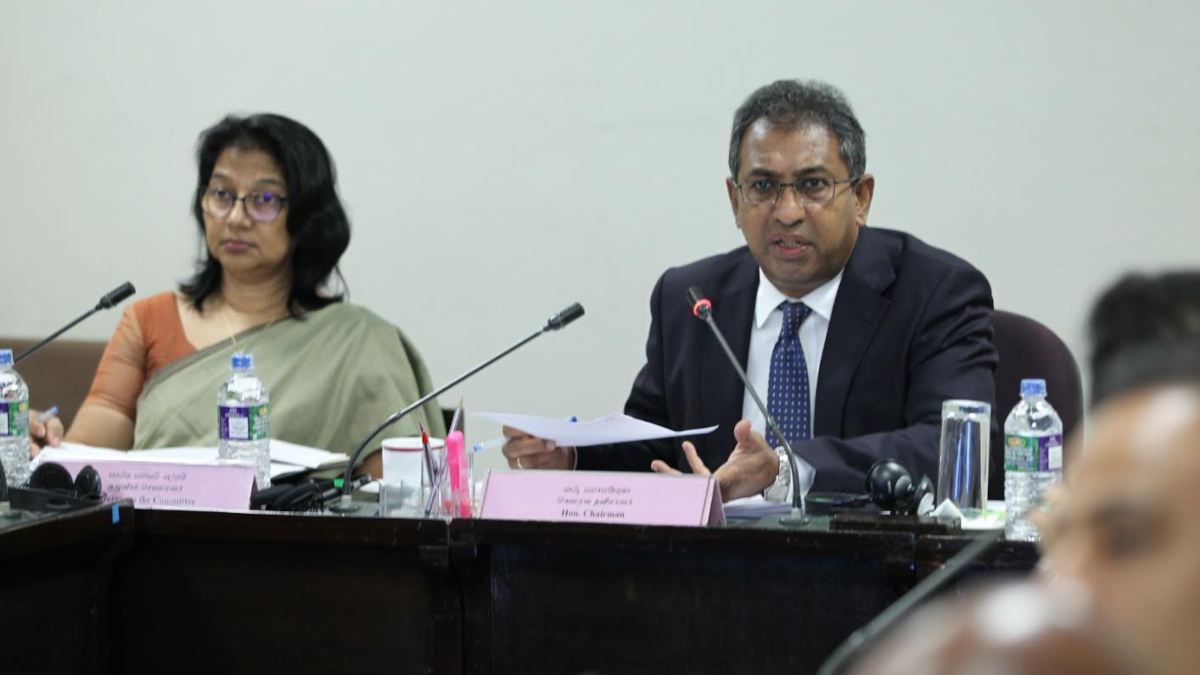 The Committee on Public Finance (CoPF) has taken into consideration the Value Added Tax (Amendment) Bill which aims to remove VAT exemptions on certain items and includes provisions to discontinue the Simplified VAT (SVAT) system.
An official representing the Ministry of Finance stated that agricultural machinery and other equipment including chemical fertilizer which was listed as exempted previously will be VAT liable under the said Bill. Adding to the said, officials stated that agricultural seeds, agricultural plants, shrimp feed inclusive of prawn feed and animal feed excluding poultry feed will however be exempted from VAT.
Thus, the Committee questioned the rationale behind including VAT for agricultural items which will impact the domestic agricultural and food industry. The aforesaid was taken up for discussion at the Committee on Public Finance held recently (28) in Parliament, Chaired by Dr. Harsha de Silva when the Committee met to consider the Value Added Tax (Amendment) Bill, The Finance Bill to amend the Finance Act, No. 35 of 2018 and the Finance Act, No. 12 of 2012 and the Imports and Exports Control Act pertaining to the Gazette No. 2353/16.
Re-evaluate
Furthermore, dairy products such as liquid milk and eggs will also be liable for the VAT. However, the Ministry of Finance stated that wheat, wheat flour or powdered milk, pharmaceutical products, drugs will be exempted. The Committee questioning the officials inquired why food products made out of grains cultivated in Sri Lanka, identified as high protein and high energy agro foods falling in the category of "Posha" is subjected to VAT in a context where Child malnourishment is considered to be on the rise.
The Committee questioned the officials as to why ambulances and medical equipment are being subjected to VAT. After thoroughly examining the Value Added Tax (Amendment) Bill, the Committee has granted approval, contingent upon the Ministry of Finance incorporating the amendments proposed by the Committee on Public Finance, provided they are in accord. Nevertheless, the Committee has urged the officials present to reevaluate VAT exemptions for medical equipment, ambulances, fertilizer, and food products derived from grains classified as high-protein agro foods and agricultural items.
No impact for UBER and PickME
The Committee of Public Finance further revealed that the elimination of VAT exemptions will not impact the fares of UBER and PickME. Dr. Harsha de Silva, the Committee Chair, emphasized that as UBER and PickME have included VAT since their inception, contrary to other beliefs, thus the proposed VAT changes will only result in a 3% rise without significantly affecting the ultimate fare that customers are required to pay.
The Committee on Public Finance also took into consideration the Finance Bill to amend the Finance Act, No. 35 of 2018 and the Finance Act, No. 12 of 2012 which propose provisions to release motor vehicles imported into Sri Lanka which were not cleared from customs due to import restrictions or non-payment of taxes. However, given the matters arising from importing and opening LCs post the suspension of motor vehicle imports by Gazette Extraordinary No. 2176/19 dated May 22, 2020, under the Import and Export Control Act, the Committee Chair instructed the Ministry of Finance to submit a report on the provisions to release 119 imported vehicles yet to be cleared from customs. The Committee thus decided to reconsider the said from thereon.
Moreover, following the consideration of the Imports and Exports Control Act pertaining to the Gazette No. 2353/16, the Committee approved the said.