Nasa names 4 astronauts on moon mission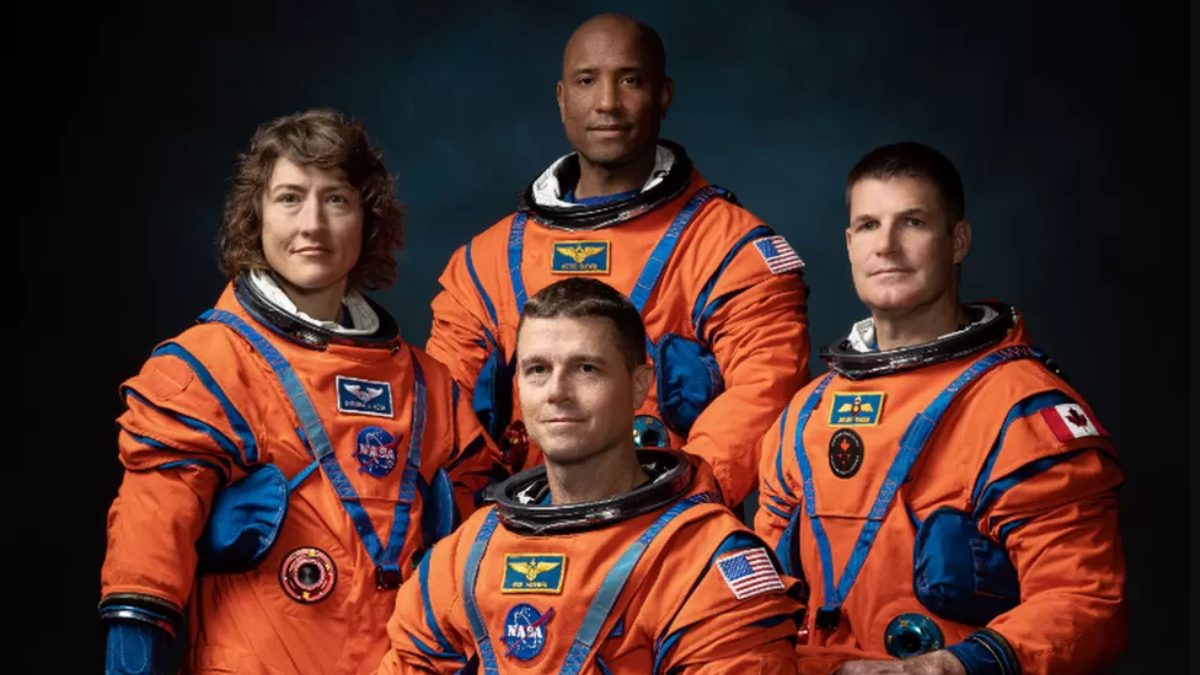 The US space agency Nasa has named the four astronauts who will take humanity back to the Moon, after a 50-year gap.
Christina Koch will become the first woman astronaut ever assigned to a lunar mission, while Victor Glover will be the first black astronaut on one.
They will join Reid Wiseman and Jeremy Hansen to fly a capsule around the Moon late next year or early in 2025.
The astronauts won't land on the Moon, but their mission will pave the way for a touchdown by a subsequent crew.
The three US citizens and one Canadian were presented to the public in a ceremony in Houston, Texas.
They will now begin a period of intense training to get themselves ready.
In selecting a woman and a person of colour, Nasa is keeping its promise to bring greater diversity to its exploration efforts. All the previous crewed missions to the Moon were made by white men.
Reid Wiseman (47): A US Navy pilot who served for a time as the head of Nasa's astronaut office. He's flown one previous space mission, to the International Space station in 2015.
Victor Glover (46): A US Navy test pilot. He joined Nasa in 2013 and made his first spaceflight in 2020. He was the first African American to stay on the space station for an extended period of six months.
Christina Koch (44): An electrical engineer. She holds the record for longest continuous time in space by a woman, of 328 days. With Nasa astronaut Jessica Meir she participated in the first all-female spacewalk in October 2019.
Jeremy Hansen (47): Before joining the Canadian Space Agency, he was a fighter pilot with the Royal Canadian Air Force. He has yet to fly in space.
"The Artemis-2 crew represents thousands of people working tirelessly to bring us to the stars. This is their crew, this is our crew, this is humanity's crew," said Nasa Administrator Bill Nelson.
"Nasa astronauts Reid Wiseman, Victor Glover, and Christina Hammock Koch, and CSA astronaut Jeremy Hansen, each has their own story, but, together, they represent our creed: E pluribus unum – out of many, one. Together, we are ushering in a new era of exploration for a new generation of star sailors and dreamers – the Artemis Generation."
Wiseman will be the commander; Glover will be his pilot; Koch and Hansen will act as the supporting "mission specialists".
The quartet are essentially repeating the 1968 mission carried out by Apollo 8, which was the first human spaceflight to reach the Moon.
Its crew took the famous "Earthrise" picture that showed our home planet emerging from behind the lunar horizon.
(BBC News)
Joe Biden 'fine' after fall on stage in Colorado
President Joe Biden is "fine" after tripping and falling over at an event in Colorado, White House officials say.
He stumbled on a sandbag while handing out diplomas at a graduation ceremony for the US Air Force Academy.
Mr Biden, who is the nation's oldest serving president at 80, was helped back onto his feet and appeared to be unhurt after Thursday's fall.
"I got sandbagged!" the president joked to reporters as he arrived back at the White House that evening.
He had been standing for about an hour and a half to shake hands with each of the 921 graduating cadets.
Footage shows Mr Biden appearing to point at one of two sandbags used to prop up his teleprompter as he was helped up by an Air Force official and two members of his Secret Service detail.
He was seen walking back to his seat unassisted and later jogging back to his motorcade when the ceremony ended.
"There was a sandbag on stage while he was shaking hands," White House communications director Ben LaBolt wrote on Twitter. "He's fine."
White House press secretary Karine Jean-Pierre said Mr Biden had boarded the plane flashing "a big smile", although one reporter noted that he did not take questions before the flight.
Elon Musk becomes the world's richest man again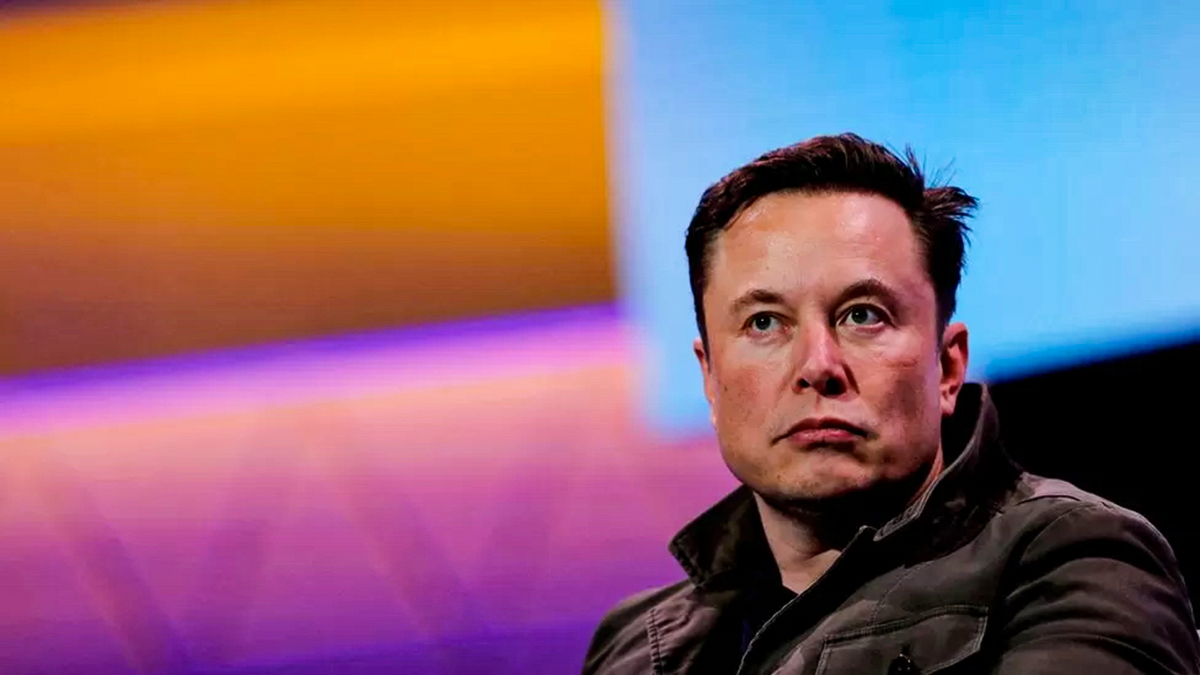 Elon Musk has reclaimed his position as the world's wealthiest person.
That's according to a Bloomberg Billionaires tally, which estimated the Tesla (TSLA) CEO's net worth is now about $192 billion, compared to LVMH (LVMHF) CEO Bernard Arnault's $187 billion.
The two centibillionaires, a term used to refer to people with fortunes of more than $100 billion, have been neck-and-neck for the top spot for months.
This week, Arnault's wealth slid after a drop in LVMH's stock Wednesday, according to Bloomberg calculations.
Arnault surpassed Musk in December, as his wealth climbed due to a boom in luxury goods sales that helped drive up LVMH's stock price. LVMH, one of the world's biggest conglomerates, is home to brands including Louis Vuitton, Dior and Celine.
Musk, meanwhile, has enjoyed a meteoric rise up the world's rich lists in recent years as his fortunes are directly linked to those of Tesla, the electric automaker. His biggest asset is the company's stock, of which he owns about 13%, according to Bloomberg.
Outside of Tesla, Musk is also CEO of SpaceX, the space exploration firm, and the owner of social network Twitter (TWTR).
LVMH's shares are up 19.7% this year, while Tesla's have risen 65.6% in the year to date.
(CNN)
Turkish President elected for a 3rd term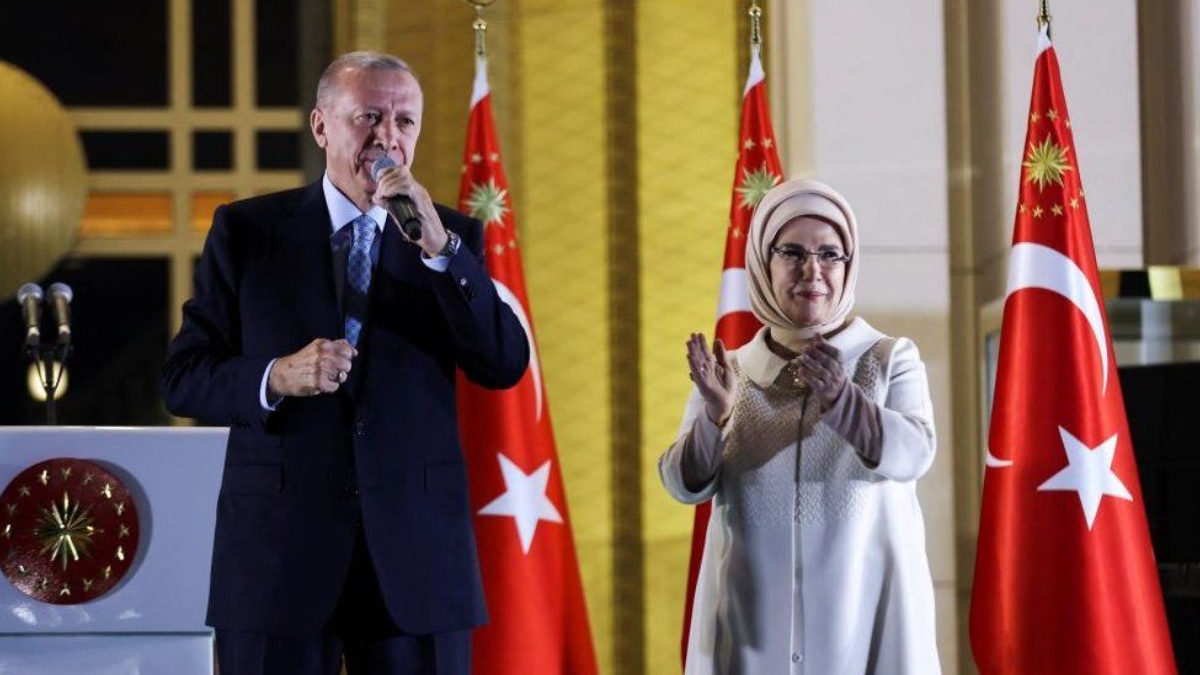 Recep Tayyip Erdogan's supporters celebrated well into the night after Turkey's long-time president secured another five years in power.

"The entire nation of 85 million won," he told cheering crowds outside his enormous palace on the edge of Ankara.
But his call for unity sounded hollow as he ridiculed his opponent Kemal Kilicdaroglu – and took aim at a jailed Kurdish leader and pro-LGBT policies.
The opposition leader did not explicitly concede victory.
Complaining of "the most unfair election in recent years", Mr Kilicdaroglu said the president's political party had mobilised all the means of the state against him.
President Erdogan ended with just over 52% of the vote based on near-complete unofficial results – almost half the electorate in this deeply polarised country did not back his authoritarian vision of Turkey.
Ultimately Mr Kilicdaroglu was no match for the well-drilled Erdogan campaign, even if he took the president to a run-off second round for the first time since the post was made directly elected in 2014.
But he barely dented his rival's first-round lead, falling more than two million votes behind.
(BBC News)